Do you want a projector that's made for gaming? The BenQ TK700 and 700STi both fit the bill, and have the picture quality and versatility to meet all your big-screen home entertainment needs. In a side-by-side comparison of the BenQ TK700 vs TK700STi, the latter comes out ahead and is the projector we recommend for most buyers (>>> Check on Amazon). Let's take a closer look at the main differences so you can see why.
BenQ TK700 vs TK700STi Side by Side:
| | BenQ TK700 | BenQ TK700STi |
| --- | --- | --- |
| | | |
| Resolution | 3840x2160 | 3840x2160 |
| Contrast | 10,000:1 | 10,000:1 |
| Brightness (Lumens) | 3,200 ANSI | 3,000 ANSI |
| Input lag | 4-16.9ms | 4-16.9ms |
| Throw Distance | 3.2' - 24.6' | 2.4' - 19.6' |
| Screen size | 30" - 300" | 30" - 300" |
| Speakers | 5.0 Watts Mono | 5.0 Watts Mono |
| Today's Best Price | Check on Amazon | ProjectorScreen.com |
Throw Distance
The BenQ TK700 has a reasonable throw distance for a standard-throw projector, but it still needs up to 10 feet to produce a 100-inch image. The short-throw lens on the BenQ TK700STi cuts that down to as little as 6.5 feet, giving it more versatility for rooms of different sizes and layouts.
Shorter throw distance: BenQ TK700STi
Wireless Capability
The winner here is obvious. The BenQ TK700 has no wireless capability. On the TK700STi, you'll get an AndroidOS interface and direct streaming from the majority of popular apps. It also supports wireless casting from devices through Chromecast or AirPlay.
Better wireless capability: BenQ TK700STi
Gaming Performance
The BenQ TK700 is a solid choice for gaming. Not only does it have a lightning fast input lag and high frame refresh rate, its black detail enhancement adds clarity for seeing enemies and loot in dark screen areas. The BenQ TK700STi takes a slight edge thanks to its multiple Game Mode presets, optimizing the image for different game styles to ensure an immersive experience.
Better for gaming: BenQ TK700STi
---
BenQ TK700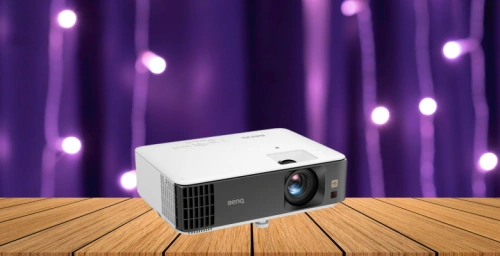 Pros
Sharp 4K image with black detail enhancement
Bright enough for lights-on viewing
Wide color gamut (96% Rec.709 spectrum)
Super responsive and ideal for gamers
Easy to install and use
Cons
No wireless or streaming capability
Longer throw distance
The BenQ TK700 is one of the top gaming projectors on the current market, and a great choice for broader home theater use, too. Its most impressive feature for gamers is its responsiveness, with a single-digit input lag and 240Hz refresh rate for full HD gaming (60Hz/16.7ms in 4K). Both gamers and movie buffs will appreciate the black detail enhancement, which brings high clarity to dark screen.
The BenQ TK700 uses XPR technology paired with a DLP display to produce the full 8.3 million pixels of a true 4K resolution. Its 6-segment color wheel covers most of the Rec.709 spectrum, with HDR and HLG support to ensure color accuracy and produce an overall immersive and realistic image.
The TK700 also has good versatility in terms of where you use it. Its 3,200-lumen lamp won't get washed out by the ambient light in a typical living room or other space around the home. While it does have a standard throw distance, it's on the shorter side, filling a 100-inch screen from between 8 and 10 feet away, with a 2D keystone correction and 1.3x zoom for fine-tuning the alignment.
---
BenQ TK700STi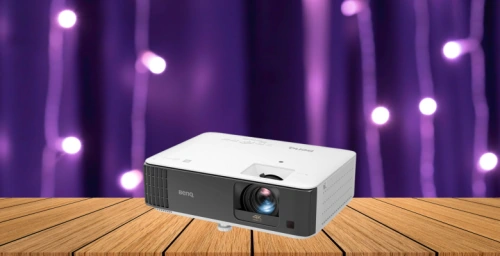 Pros
True 4K resolution with excellent color and contrast
Super-low input lag
Short throw distance
Dedicated picture modes for Sports, RPGS, and FPS
AndroidOS for built-in streaming
Good array of image alignment features
Cons
Lower lamp brightness
Higher cost
The BenQ TK700STi shares the strong gaming performance of the TK700STi above. It has an equally fast input lag and frame refresh rate (240Hz/4ms in 1080p and 60Hz/16.9ms in 4K). It also offers the same rich black levels and dark area detail, with 3 preset game modes that optimize the picture for RPGs, first-person shooters, or sports games.
The biggest improvement on the BenQ TK700STi is its short-throw lens. It fills a 100-inch screen with 6-8 feet of distance, making it easier to fit in smaller spaces. While the lamp isn't quite as bright, its 3,000 lumens are still plenty for lights-on viewing in most indoor spaces. Aligning the image to the screen is easy with Corner Fit Correction as well as 2D keystone and a 1.2x zoom.
The broader connectivity of the BenQ TK700STi also makes it a great choice for multi-use entertainment spaces. It has an Android TV interface that can download any app in the Google Play store, eliminating the need for a streaming stick and freeing up the HDMI inputs for game systems. Click here for our more in-depth review of this projector.
---
BenQ TK700 vs TK700STi: Which Should You Buy?
The BenQ TK700STi matches or outperforms the TK700 on almost every specification (>>> Find on ProjectorScreen.com). While its lamp isn't quite as bright, the shorter throw distance means that light doesn't have to travel as far, and it still supports lights on viewing. This short throw, along with its easy set-up, streaming capability, and high image quality for both movies and games, makes it worth the slightly higher price tag in our opinion.
Editors' Recommendations: