Welcome to our comprehensive guide where we explore the top 5 projectors available for under $1000. In this round-up review, we've carefully selected a range of projectors that offer the best value for their price, balancing quality, features, and user experience. We'll delve into the specifics of each projector, from their image quality to their ease of use, helping you make an informed decision for your needs and budget.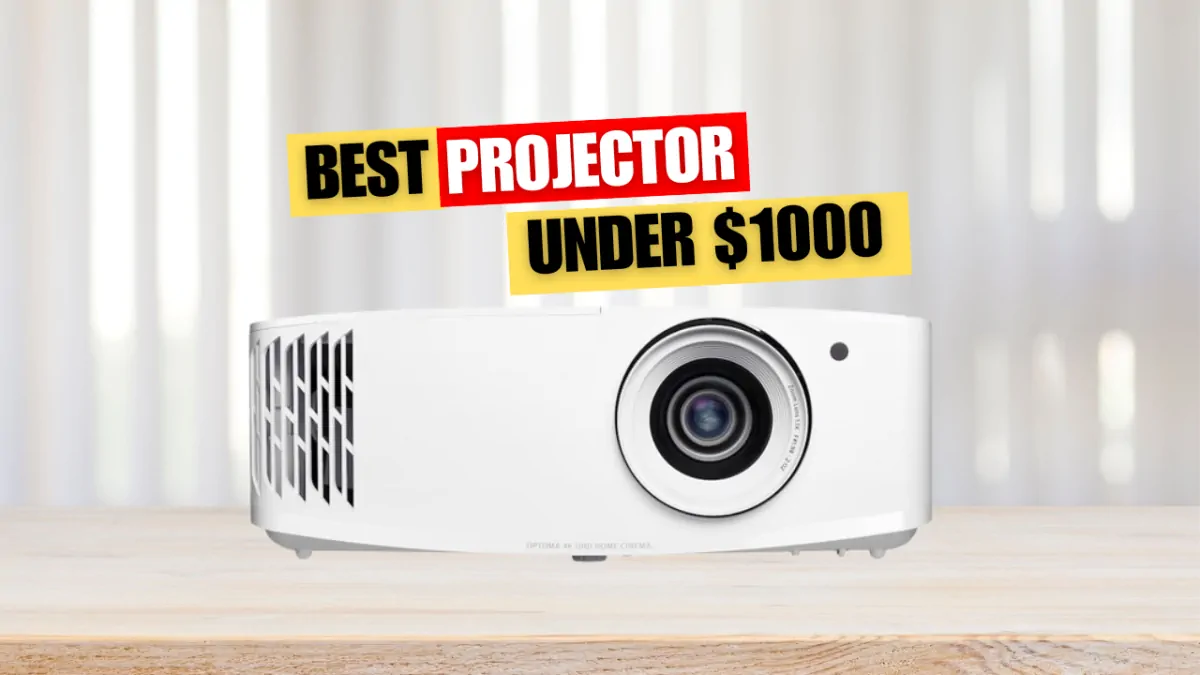 Best Projector Under 1000 Dollars – Options for 2023:
#5 JMGO N1
#4 BenQ TH685P
#3 BenQ HT2060
#2 BenQ TH690ST
---
#5 JMGO N1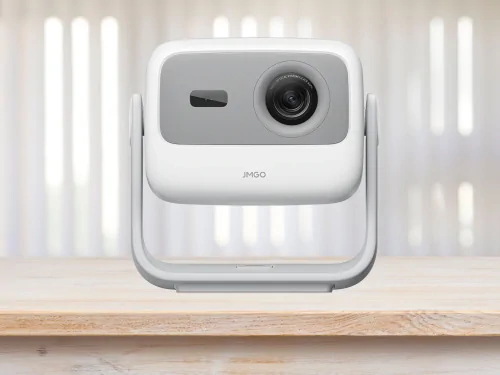 Ranked #5 in our "Best Projector Under $1000″ list, the JMGO N1 stands out as the most portable option among our selections. This projector measures 6.49″ x 7.36″ x 7.51" and weighs just 4.4 lbs, making it exceptionally convenient for those needing a compact, mobile projection solution. The JMGO N1 features a brightness of 1,200 ANSI Lumens and supports a 1920×1080 resolution, ensuring clear and vivid image quality. It boasts a contrast ratio of 1,600:1 offering sharp visuals and deep blacks.
In terms of technical capabilities, the JMGO N1 incorporates a 0.33″ DLP display and 10-bit color processing, enhancing the overall image quality. It has an impressively low input lag of 15ms at 1080p/60Hz, making it suitable for gaming and fast-paced media. The projector supports various video modes and is equipped with Full HD 3D capabilities. It uses RGB Laser lamp technology and includes a fixed focal length lens with powered focus. Despite lacking lens shift, it compensates with both digital zoom and horizontal & vertical digital keystone adjustments. Notably, the JMGO N1 features Android OS, streaming apps, Google Assistant, and comes with a soft carrying case for added portability. Its has two 5.0 Watts internal speakers, providing decent audio support for its compact size.
 Check the Latest Price on Amazon Now!
---
#4 BenQ TH685P
Securing the fourth position in our list, the BenQ TH685P stands out as the second-brightest option, making it a versatile choice for both home cinema enthusiasts and gamers. It boasts a high brightness level of 3,500 ANSI Lumens, ensuring clear and vibrant visuals even in well-lit rooms. The projector supports 1080p resolution with HDR and is 4K compatible, though its contrast ratio of 10,000:1, while adequate, is not the highest in its class. This ratio still allows for decent image depth and color differentiation.
Designed with gamers in mind, the TH685P features an exceptionally low input lag (8.3ms at 1080p/120Hz, 16ms at 1080p/60Hz, and 33ms at 4K/60Hz downscaling to 1080p). This ensures a responsive gaming experience. The projector also includes a 1.3x manual zoom and manual focus lens, and while it lacks lens shift, it compensates with a variety of video modes. It's relatively compact (4.33″ x 12.28″ x 8.86″ HxWxD) and weighs 6.2 lbs. The built-in 5.0 Watts Mono speaker, enhanced with Game Sound mode, provides a decent audio experience.
 Check the Latest Price on Amazon Now!
---
#3 BenQ HT2060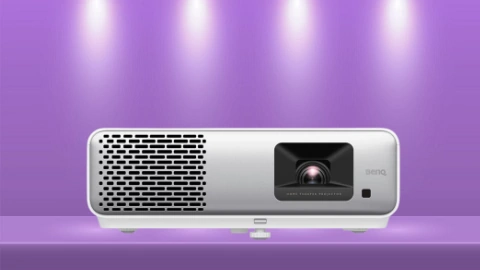 Claiming the 3rd place in our "Best Projectors Under $1000" list is the BenQ HT2060. This projector is designed with a focus on delivering a true cinematic experience, ideal for home theater enthusiasts. It features Filmmaker Mode, which disables post-processing enhancements and maintains the correct aspect ratios, colors, and frame rates. This allows movies and streaming content to be displayed as intended by the filmmakers. The HT2060 is compatible with HDR10 and HLG, providing enhanced image quality with deeper blacks and improved detail in darker scenes. Its LED lamp offers a long life while producing rich DCI-P3 and 98% Rec.709 color coverage.
The BenQ HT2060 boasts a brightness of 2,300 ANSI Lumens and a high dynamic contrast ratio of 500,000:1, ensuring vivid and detailed images. It has a resolution of 1920×1080 and a 16:9 aspect ratio, suitable for most HD content. The projector's input lag is acceptable for casual gaming (33.4ms at 4K/60 and 16.7ms at 1080p/60). It offers a range of video modes and supports Full HD 3D content. The included lens provides a 1.3x manual zoom and manual focus, with vertical lens shift adding to its installation flexibility. The HT2060 has a comprehensive connection panel, including dual HDMI 2.0 ports and supports 5.1 channel audio out. It also features horizontal and vertical digital keystone correction and two 5.0 Watt internal speakers, making it a capable and versatile projector for a high-quality home theater setup. Check our in-depth BenQ HT2060 review.
 Check the Latest Price on Amazon Now!
---
#2 BenQ TH690ST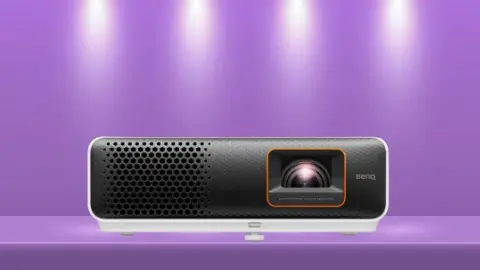 In the 2nd spot on our list is the BenQ TH690ST, which we consider to be the best offering from BenQ in this category, especially notable for its short-throw capability. The TH690ST excels in providing excellent color performance, adhering to the 84% DCI-P3 and 98% Rec.709 color standards, which are crucial for delivering lifelike and vibrant colors in movies and games. Its 1080p HDR picture quality, combined with a brightness of 2,300 ANSI Lumens and a 500,000:1 contrast ratio, ensures clear and detailed images. The projector's low input lag (16.9ms at 1080p/60 and 8.3ms at 1080p/120) makes it suitable for gaming, delivering smooth and immersive action.
What sets the TH690ST apart is its short throw distance, ranging from 1.8′ to 10.0′, which allows for large image projection in smaller spaces – a significant advantage for various room setups. The projector includes a 1.2x manual zoom and manual focus lens but lacks lens shift. It compensates with 2D keystone correction for image alignment. Despite its relatively compact size (4.60″ x 14.40″ x 9.60″) and weight of 7.9 lbs, the TH690ST is equipped with powerful Two TreVolo 5 watt chambered speakers, enhancing the audio experience. It supports a variety of video modes and has a lamp life of up to 30,000 hours in Eco mode. The connection panel includes HDMI (HDCP 2.2), HDMI 2.0, and audio outputs, making the TH690ST a versatile and effective choice for both gaming and home cinema enthusiasts looking for a short-throw projector. Related comparison: BenQ HT2060 vs. TH690ST
 Check the Latest Price on Amazon Now!
---
#1 Optoma UHD35x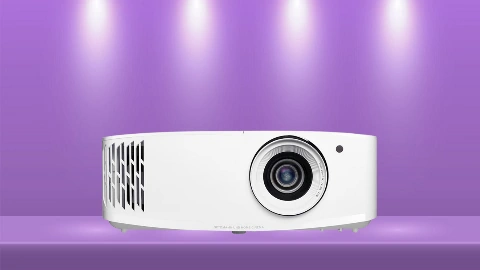 Topping our "Best Projectors Under $1000" list is the Optoma UHD35x, distinguished as the only 4K projector in this category and the brightest with 3,600 ANSI Lumens. This projector is designed for an exceptional viewing experience, offering True 4K UHD resolution and capable of projecting 8.3 million on-screen pixels. It's ideal for a range of uses from ultra HD gaming to watching TV shows and movies in a well-lit environment. The UHD35x boasts impressive cinema-quality images and supports HDR and HLG, providing excellent color depth, crystal clear detail, and high contrast for an immersive experience. Its high brightness and vivid colors produce vibrant, true-to-life visuals.
For gamers, the UHD35x stands out with an ultra-low input lag of 4.2ms and a high refresh rate of 240Hz, offering a competitive gaming advantage. The projector also features Full 3D compatibility, enhancing the versatility for various media content. Despite having no lens shift, it includes a 1.1x manual zoom and manual focus lens, and supports a wide range of video modes. The projector's size (4.65″ x 12.40″ x 10.63″ HxWxD) and weight (8.8 lbs) are manageable, and it includes two HDMI 2.0 ports for connectivity. The internal 10.0 Watts Mono speaker provides adequate sound for its size. Additionally, the UHD35x is designed with a lamp life of up to 15,000 hours in Eco mode, making it a long-lasting option for users seeking a high-quality 4K projector experience.