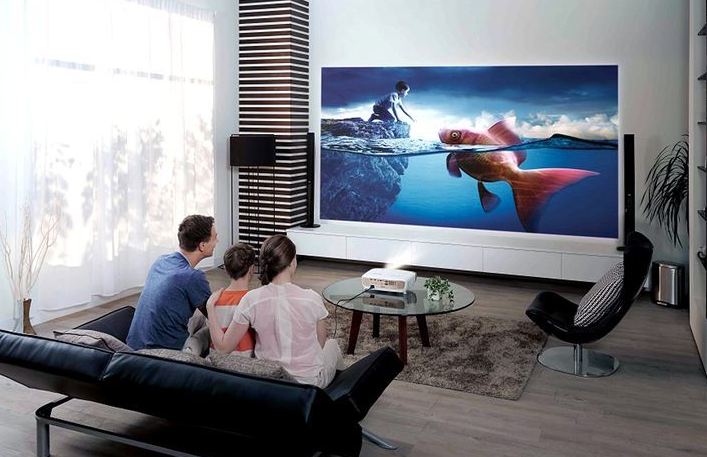 A home theater projector used to be an expensive proposition. Anymore, though, you can find some great options at a very affordable price. But what's the best projector under 1000 dollars? We've set out to answer that question, rounding up our 6 favorite options in the price range.
If you're looking for an overall winner, that's a hard determination to make. The reason is most projectors at this price point emphasize specific functions over others. Often this means sacrificing a bit on resolution and picture quality to get convenient features like a low input lag or short throw ratio.
Looking at all the factors together, our top pick for performance across categories is the Optoma EH412ST. >>> Check current price on Amazon This doesn't necessarily mean it will be the best option for everyone, though. Let's compare these projectors across the key features so you can see how they stack up side-by-side.
Best Projector Under 1000 Dollars – Options for 2021:
| | ViewSonic LS600W | Optoma EH412ST | BenQ TH685 | Optoma GT1080HDR | Optoma HD39HDR | Optoma HD146X |
| --- | --- | --- | --- | --- | --- | --- |
| | | | | | | |
| Resolution | 1280x800 | 4K | 4K | 1080p (supports 4K content) | 4K | 1080p |
| Brightness | 3,000 lumens | 4,000 lumens | 3,500 lumens | 3,800 lumens | 4,000 lumens | 3,600 lumens |
| Contrast ratio | 3,000,000:1 | 50,000:1 | 10,000:1 | 50,000:1 | 50,000:1 | 25,000:1 |
| Throw distance | 3.5' - 29.1' | 1.3' - 11.2' | 3.2' - 24.6 | 1.3' - 11.1 | 3.3' - 24.5' | 3.3' - 32.2' |
| Max screen size | 300" | 307" | 300" | 306" | 300" | 301" |
| Input Lag | 16ms | 32ms | 8ms | 8.4ms | 8.4ms | 16ms |
| Price | Check on Amazon | Check on Amazon | Check on Amazon | Check on Amazon | Check on Amazon | Check on Amazon |
Brightness
The brightness of a lamp determines how well it maintains the quality of the picture when it has to compete with ambient light. In a completely dark room, you can get away with a projector that has as little as 1,000-1,500 lumens of brightness. With even a small amount of ambient light, though, a light that dim will become washed out, losing color and clarity.
You can always control the light level in your room by using dimmable bulbs and installing black-out curtains on the windows. If you don't want to have to make these concessions, though, a brightness of at least 2,500-3,000 lumens is recommended for moderately to brightly lit rooms.
Brightest projector: Optoma EH412ST, Optoma HD39HDR
Throw Distance
The throw ratio measures the relationship between the size of the image a projector generates and the horizontal distance between the lens and the screen. Most projectors have a throw ratio somewhere in the neighborhood of 1-2:1. With this standard throw ratio, a 60" (5-foot) image would need 5-10 feet of distance, while a 120" (10-foot) image would need 10-20 feet of distance. Find the best short throw projector options. 
For smaller rooms, you may want to consider a short throw projector. These models have a throw ratio lower than 1:1, projecting a 60" image from just 2-3 feet away.
Shortest throw ratio: Optoma EH412ST
Resolution and Picture Quality
The majority of projectors on the market today offer a resolution of at least 1080p, which is equivalent to standard HD found on televisions. While most 4K ultra HD projectors cost much more than $1,000, you can find many options that support 4K input at this price range. It will still play at 1080p, but this allows you to watch whatever content you want, and prevents the projector from becoming outdated as quickly.
Resolution determines the sharpness and detail of the picture, but it's not the only relevant statistic. A quality picture also requires bright, accurate colors and deep on-screen contrast between bright and dark areas. For the best picture quality, look for a projector that offers HDR10 color support and a high contrast ratio.
Best picture quality: Optoma EH412ST 
Input Lag
Also called input latency, this is a measure of the delay between the user's input and what shows on the screen. It is most important for gamers. A delay of even a fraction of a second can make a very big difference in your ability to be competitive in first-person shooters, racing games, and fighting games. Check 4K projectors for gaming buying guide here
An input lag of 30ms or less is recommended for competitive gaming. In truth, the lower the better, and you can find some projectors on this list with an input lag of less than 10ms. On the other end, anything over 60ms is generally considered unsuitable for gaming.
Lowest input lag: BenQ TH685
Best Projector Under $1000: Full Reviews
Optoma HD146X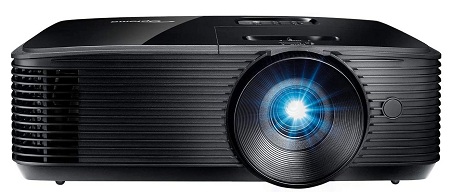 There are two key qualities you'll get with the Optoma HD146X that you wouldn't expect for the price: an ultra-bright lamp and a super-low input lag. It's an excellent option if you're looking for multi-use functionality in your home theater projector. The Optoma HD146X can easily take the place of a television in any living room without much modification of the space.
We like the picture quality of the Optoma HD146X, as well. The color is cinema quality, with a Rec. 709 color wheel that gives accurate and vibrant hues. While it doesn't offer the best resolution on the list, the image quality is on par with what you'll get from an HD TV—just a lot bigger.
Setting up and installing the Optoma HD146X is also very easy. It includes vertical keystone correction for easier ceiling-mounted set-ups, which you might need to use since it is a standard throw projector. The sophisticated DLP single-chip design makes aligning the image a snap. It also uses HDMI-CEC technology so you can control all connected content sources with the projector remote. All-told, a very user-friendly and versatile projector at a great value.
Pros
Bright lamp still gives a great picture quality in well-lit rooms
Super-short input lag in Enhanced Gaming Mode
High contrast ratio for excellent image depth
Long lasting, low maintenance lamp
Aligning the image is easy
Vertical keystone correction
Best value
Cons
Doesn't offer 4K resolution
May cause rainbow effect for those sensitive to it
---
Optoma GT1080HDR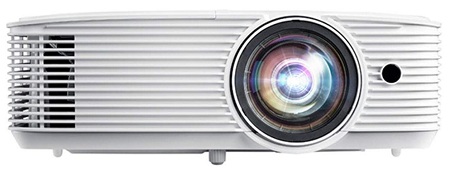 Here's another one from Optoma that's a great choice for gamers: the Optoma GT1080HDR. While it costs a bit more than the Optoma 146X above, it's still comfortably in the under-$1,000 price range, and it offers some appealing additional features.
The Enhanced Gaming Mode on the Optoma GT1080HDR drops the input lag to 8.4ms—one of the lowest you'll find at any price range. It pairs this with a 120Hz refresh rate for even smoother, more responsive on-screen action. You can play day or night thanks to the bright lamp. It has a long lamp life, too, so you won't need to replace or maintain it for years, even if you tend to have marathon sessions.
Another advantage of the Optoma GT1080HDR is its short throw ratio. You only need about 4 feet of distance to get a 120" picture. That makes it a lot more workable in small spaces, and also makes it easier to adjust the image. There's also a vertical keystone adjustment and other helpful easy-to-use image settings. Check full review of Optoma GT1080HDR.
Pros
Bright lamp with sharp, accurate colors
Easy to set up and adjust the image
Supports 3D content from all sources
Short throw ratio for easy set-up in smaller rooms
Incredibly low input lag
Long lamp life
Cons
Color settings often need adjustment out of the box
Image adjustment features difficult for 3D
---
BenQ TH685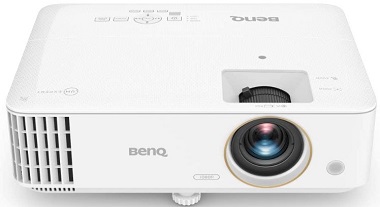 Another excellent option for gamers is the BenQ TH685. It gives an input latency as low as 8.3ms when it's in Enhanced Gaming Mode. That's supported by its high 120Hz frame refresh rate, which keeps the on-screen image sharp even when you're playing fast-paced, graphic-intensive games.
Home theater users will love the BenQ TH685, as well. It supports a wide range of content, first of all, including 3D content and 4K input. The picture quality is high, as well, employing HDR10 technology for a sharper contrast and wider color gamut. One thing to note is you will most likely want to use external speakers. It has high-quality audio signal processing with CinemaMaster Audio+, but the pair of 5-watt speakers that come installed can't do it justice. The fan can get rather loud, as well, which makes it even more difficult to hear your shows and movies using the speakers that come installed.
This minor issue aside, the BenQ TH685 is an excellent choice for any home theater or media room. Its bright lamp allows for lights-on viewing and it has a user-friendly set-up and installation, with a range of adjustment options including lens shift, keystone correction, and a 1.3x zoom.
Pros
High color accuracy with HDR10
Bright enough for lights-on viewing
Wirelessly stream content right to projector
Full 3D support
Enhanced Game Mode reduces lag to 8.3ms
Robust image adjustment features
Cons
Contrast ratio not as high as other options
Fan can get loud in high performance modes
---
Optoma EH412ST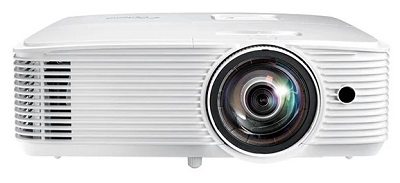 If you're looking for a projector that can work just as well for meetings and presentations as it does for movies and TV, the Optoma EH412ST is a great choice. Its lamp is even brighter than most at 4,000 lumens, letting you use it in classrooms and conference rooms without a worry.
You'll also appreciate the versatility and set-up ease of the Optoma EH412ST. With a short throw distance, you won't need as much space for a large screen. It's very portable, too, weighing less than 10 pounds and with a durable build that will stand up to being transported from place to place.
The picture quality of the Optoma EH412ST is high for the price, as well. It supports all the colors of the Rec. 709 spectrum for vibrant, accurate hues across content sources. The black levels are equally impressive, with more depth than most projectors in this price range can produce.  (A more detailed review of this projector can be found here)
Pros
Vivid colors with high contrast
Short throw ratio
Bright lamp is ideal for well-lit spaces
Compact, portable design
Wide range of inputs, including VGA, USB, RS232, and HDMI
Cons
Not as easy to align the image with the screen
No Bluetooth or wireless support
---
ViewSonic LS600W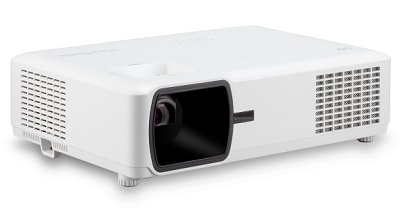 The ViewSonic LS600W is a low-maintenance, user-friendly option for your home theater. It uses an LED light source with a longer lifespan than most projector lamps—up to 30,000 hours, depending on the use conditions. Along with that, the IP5X Dust Prevention system reduces the need to clean filters or perform maintenance. Basically, the LS600W is built to last without any demands on the user.
The set-up and installation of the ViewSonic LS600W is easy, too. Along with standard alignment options like zoom and keystone correction, its 4-corner adjustment system simplifies the process, letting you quickly eliminate warp. You can also use this projector with remote monitoring and control programs, which is helpful for use in office or classroom settings. Since it supports 360° orientation, it doesn't need to be completely flat to operate, something else that's helpful in display settings.
The native resolution of the ViewSonic LS600W is WXGA, or standard definition, so the picture isn't as detailed or sharp as from a 1080p or higher projector. That said, it has excellent color support and a high dynamic contrast, so it will still give you a nice viewing experience. It simply doesn't have the realism you'll get with a higher resolution.
Pros
Wide color gamut supports hues beyond Rec. 709
Easy set-up with 4-corner adjustment and 2D keystone
Intuitive navigation and control
Can be set up at any angle
Advanced anti-dust system makes it truly no-maintenance
Long lamp lifespan (up to 30,000 hours)
Cons
Image is low-resolution
Relatively long throw distance
---
Optoma HD39HDR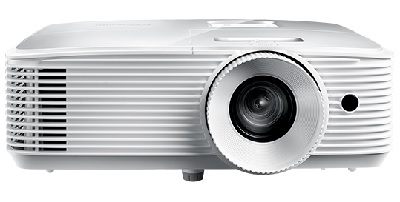 Optoma projectors are known for providing a great value for the money, so it's no surprise they have another strong contender on the list: the Optoma HD39HDR. This projector is ideal for living rooms, media rooms, and other multi-use spaces, with a powerful lamp that will produce a bright picture no matter the room's ambient light level. It also has the specs gamers look for, with a high frame refresh rate and a low input lag.
The Optoma HD39HDR has a 1080p resolution, with support for 4K input. It's also compatible with HDR10, giving it more picture depth and rich black levels. The 6-segment color wheel supports the full Rec. 709 color range, and we found the image remarkably life-like overall. One thing to note is that the use of a color wheel may cause a rainbow effect for those viewers who are sensitive to it.
Since it has a standard throw distance, you will need a good amount of space to get a large picture with the Optoma HD39HDR. The zoom and keystone correction do give it good set-up flexibility, and we found it simple to both install and operate overall. Add in the range of input options and the 3D support and it has everything most home theater owners look for in a projector.
Pros
Sharp picture with excellent color and contrast
Full 3D support
Flexible installation
Fan is quiet, even at higher performance modes
Low input lag and fast response time are great for gaming
Cons
Longer throw distance
Can be prone to rainbow effect
The Bottom Line
There are a lot of excellent options in the under $1,000 price range for projectors. It really comes down to deciding which factors are the most important for you. Gamers will want to look at the input lag and refresh rate, while for movie buffs resolution, color, and contrast will be the key factors.
How the projector generates the image can have a lot to do with your decision. If you tend to be bothered by common visual issues like the rainbow effect or the screen door effect, go for one of the projectors that uses 3-chip technology. Looking at all the factors together, our top pick for performance across categories is the Optoma EH412ST. >>> Check price on Amazon
Whatever your needs or situation, one of these projectors will give you the quality and features you're looking for. We hope this review and comparison has been helpful for your search!
REFERENCES AND FURTHER READING: