Your home theater setup needs a projector that delivers amazing video without lag, vibrant colors, crystal clear contrast, and all the features you expect for 2020s life. Today, we're looking at two projectors from Optoma: the UHD55 and the UHZ50 (>>> Check on Amazon). So which is the better projector for your situation? This Optoma UHD55 vs UHZ50 review will help you decide.
Optoma UHD55 vs UHZ50 Side by Side:
| | Optoma UHD55 | Optoma UHZ50 |
| --- | --- | --- |
| | | |
| Resolution | 3840x2160 | 3840x2160 |
| Contrast | 1,200,000:1 | 2,500,000:1 |
| Brightness (Lumens) | 3,600 ANSI | 3,000 ANSI |
| Input lag | 4ms | 4ms |
| Throw Distance | 3.9' - 26.6' | 4.0' - 26.6' |
| Screen size | 34" - 302" | 34" - 302" |
| Speakers | 10.0 Watts Mono | 10.0 Watts × 2 |
| Today's Best Price | ProjectorScreen.com | ProjectorScreen.com |
Optoma UHD55 Features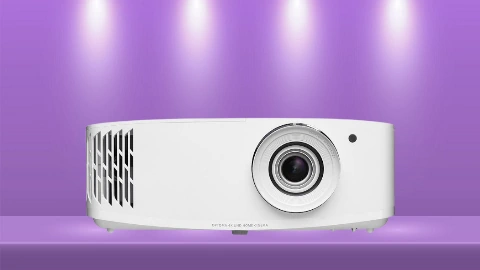 Pros
Beautiful 4K picture
Nearly lagless gaming
Full 3D experience.
Cloud storage
Cons
Only one lagless HDMI port
The UHD55 delivers on the home cinema experience in 4K UHD, with 3,600 lumens to make the picture look amazing even in brightly lit rooms. The UHD55 also boasts an Enhanced Gaming Mode for gamers, giving you 4ms input lag at 1080p, 240Hz, or 15 ms at 4K UHD.
The Optoma UHD55 also comes with 97% DCI-P3 color gamut coverage for some of the most robust colors imaginable. With three color modes, you can customize your experience. It also has HDR10 and HLG compatibility for the most vivid content experience possible. With four HDR modes, you don't need to worry about adjusting your picture. In addition, 3D content looks beautiful.
In addition, it has several smart features, including cloud storage, so you can watch your media without needing a laptop. You can also connect your devices via its HDMI 2.0 ports.
Full review: Optoma UHD55
---
Optoma UHZ50 Features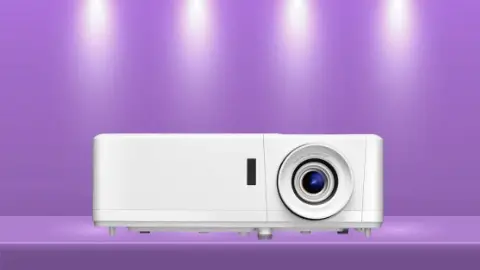 Pros
Gorgeous video and robust sound quality
Gaming mode so you can play without worrying about lag
High-quality sound
Cons
The UHZ50 boasts 4K UHD with 8.3 million pixels and a 2000000:1 contrast ratio. With 3,000 lumens, it's excellent for either night or day enjoyment. In addition, it has over 30,000 hours of battery life.
One feature it boasts is its agile HDR adjustments. You can choose from four picture modes and various brightness settings to give you the best picture according to your needs. In addition, it has a gaming mode giving you up to 4ms of lagless gaming.
With its eRAC support, the UHZ50 also allows you high-quality sound. It also has several smart features, including screen mirroring and PureMotion to create the smoothest video possible. If you're interested in smart projectors, be sure to check out this guide!
Full review: Optoma UHZ50
---
Which Has a Better Video?
Both produce stunning 4K video that's fit for home theater setups. If you choose either, you will undoubtedly be greeted with vibrant colors, bright pictures, and gorgeous graphics for your video games. (You can check out the roundup review of the best 4K projectors for gaming on Projectortop.com.) 
However, the UHZ50 looks better overall. With double the contrast ratio, everything stands out more. It has a much sharper picture, especially for the experienced reviewer. Some people may not tell much of a difference, but objectively, there is only one option here.
Which is Better for Gaming?
Both support similar gaming functions, with lagless gameplay up to 4ms. This means you can play competitive games in your home theater and create an environment that puts everyone on equal footing. We choose the UHZ50 because the picture looks sharper, and the contrast ratio may help you in certain situations.
What About Sound?
Both support speakers, but which has better sound in a vacuum? The UHZ50 excels in sound due to its eRAC support. The sounds were much clearer, and we felt more immersed while watching. While the UHD55 still has some fantastic sound, we have to choose a clear winner, the UHZ50.
What About the Price?
The UHZ50 is more expensive than the UHD55 because it's more advanced. While the price can vary depending on sales, this may affect your decision. If you have a tight budget, deciding whether to pay extra for more features and a sharper picture is a question you must answer. The UHD55 suffices if you have a tight budget.
The Verdict
This comparison was a no-brainer. Because we're comparing two of the same brand, the more expensive of the two, the UHZ50, will naturally have better sound, better picture, and better bells and whistles.
This sentiment is not to say the UHD55 isn't a great projector. If you are on a smaller budget, you should buy that, then spend your money on equally powerful speakers or receivers. However, if budget is not much of a concern, we must go with the UHZ50 (>>> Find on ProjectorScreen). With better contrast, you will be immersed in your movies like never before.