The LG HU810PW is a smart 4K projector, designed to bring movie theater-level entertainment to the average home. But does it live up to this intent? That's the question we set out to answer in this LG HU810PW review.
Overall, the LG HU810PW delivers on its promise, with a true 4K resolution and stunningly vibrant colors across content formats. It's a convenient choice, too, versatile across different light conditions and with voice control and streaming support for modern entertainment systems. (>>> Check the current price on Amazon)
Want to know more? Let's break down the performance of the LG HU810PW so you can decide if it's a good fit for your home.
LG HU810PW Review of Main Specs:
| | LG HU810PW |
| --- | --- |
| | |
| Resolution | 3840x2160 |
| Brightness (Lumens) | 2,700 ANSI |
| Contrast Ratio | 1,000,000:1 |
| Input Lag | 53ms |
| Included Lens | 1.6x manual zoom |
| Throw Distance | 6.1' - 28.4' |
| Screen size | 40" - 300" |
| Speakers | 5.0 Watts × 2 |
| Price | BHPhotoVideo.com |
Set-up and Installation
Let's get the bad news out of the way: the LG HU810PW has a long throw distance, even by projector standards. You'll need up to 15 feet of distance for a 100" image, limiting the HU810PW's use in smaller rooms.
As long as you have the space, though, the LG HU810PW is relatively flexible during installation. Along with vertical keystone correction and a wide 1.6x zoom, it has both horizontal and vertical lens shift. That's especially good news for ceiling-mounted installations, taking a lot of the frustration out of aligning the image with the screen.
Broad connectivity helps here, too. For wired connections, there are 3 HDMI ports and 2 USB inputs. The LG HU810PW also supports wireless screen sharing through Miracast or AirPlay and has built-in Bluetooth connectivity for pairing speakers and peripherals.
Picture Quality
The dual laser light source in the LG HU810PW produces the full 8.3 million on-screen pixels you'd expect of a true 4K resolution. Its advanced lens design limits the impact of ambient light on the picture, making the most of the light it produces. Thanks to that, you can use it with the lights on without sacrificing the image quality.
The color and contrast of the LG HU810PW are impressive, as well. Its DLP display produces about 97% of the hues in the DCI-P3 color space for a more nuanced and realistic image. A high adaptive dynamic contrast produces rich black levels and adds more texture and clarity across the picture, and it supports HDR10 and HLG so you'll know you're seeing shows and movies the way they were intended.
Pros
True 4K resolution
Wide color gamut (97% of DCI-P3 color space)
Play shows right on the projector through webOS 5.0 interface
Voice control through Google Assistant or Alexa
Flexible installation with lens shift and keystone correction
Wireless connectivity through Wi-Fi or Bluetooth
Cons
Long throw distance
Input lag is too high for serious gaming
Smart Features
The webOS 5.0 interface on the LG HU810PW might mean you don't need external content sources to watch your favorite shows and movies. As long as you're within Wi-Fi range you can stream content directly through built-in apps like Amazon Prime, Disney+, and YouTube.
Smart home users will appreciate the LG HU810PW, as well. It supports voice control through either Amazon Alexa or Google Assistant. And not just for voice searches, either. You can change the volume, switch channels, or stop and start the video without touching the remote.
Can the LG HU810PW Be Used for Gaming?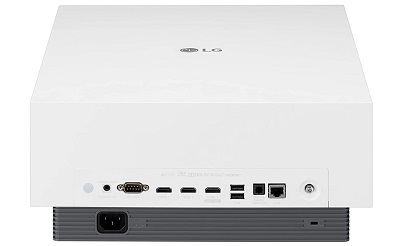 In some cases, yes. The LG HU810PW supports modern gaming consoles and has a relatively high refresh rate, with smooth on-screen action and no frame tearing or compression issues. The only concern here is the input lag. Serious gamers look for an input lag of 30ms or less, which is fast enough even competitive gamers won't detect a lag.
The average input lag of the LG HU810PW measures around 50ms. That's slow enough to be noticeable, especially if you're playing modern first-person shooters and other reflex-dependent games. It's responsive enough for less sensitive users, though, particularly if you more often play RPGs or turn-based games. If you're buying it for a kids' playroom or all-purpose media space the LG HU810PW will do nicely, but it's not the best choice for dedicated gaming set-ups. Check comparison vs. Optoma UHZ50.
The Bottom Line: LG HU810PW Review
You'll need a large room to get the most out of the LG HU810PW, but that doesn't necessarily need to be a dedicated home theater space. Its advanced laser light source performs well, even in brighter spaces, with a high contrast and vibrant colors on par with high-end home theater projectors. If you want theater-quality entertainment in your living room, the LG HU810PW is an excellent way to get it. (>>> Check on Bhphotovideo)
REFERENCES AND FURTHER READING: