If you're looking for two mid-range projectors, the Optoma UHZ50 and the LG HU810PW are great picks. However, which is the best for you? This Optoma UHZ50 vs. LG HU810PW overview hopes to help you figure this out. Let's begin.
Optoma UHZ50 vs LG HU810PW Side by Side:
| | Optoma UHZ50 | LG HU810PW |
| --- | --- | --- |
| | | |
| Resolution | 3840x2160 | 3840x2160 |
| Contrast | 2,500,000:1 | 1,000,000:1 |
| Brightness (Lumens) | 3,000 ANSI | 2,700 ANSI |
| Input lag | 4ms | 47.9ms |
| Throw Distance | 4.0' - 26.6' | 6.1' - 28.4' |
| Screen size | 34" - 303" | 40" - 300" |
| Speakers | 10.0 Watts × 2 | 5.0 Watts × 2 |
| Today's Best Price | BHPhotoVideo.com | BHPhotoVideo.com |
Video Quality
Both deliver stellar video quality. While neither uses a true 4K chip, their upscaling technologies reach that resolution without much loss in quality.
Both have their pros and cons. The HU810PW has a better lens, and you can zoom much better compared to the UHZ50, which has a little lacking lens. However, the UHZ50 has more technologies to deliver better contrast and a smoother experience.
These two projectors are both valid options, but the Optoma UHZ50 edges it out slightly. Our tests indicated that the video quality is slightly better. With that said, we cannot stress that the HU810PW has a better lens, which may affect your decision depending on your situation.
Winner: Optoma UHZ50
Brightness
Both work well for bright rooms, but Optoma UHZ50 has more lumens at 3,000 versus the HU810PW's, 2700.
However, this does not tell the full story. The HU80PW does have bright and dark room modes, giving you the best settings depending on your situation. Our tests indicated a better experience using those modes. However, with more lumens, the UHZ50 stood out in the darkest of rooms.
Winner: Tie
Gaming
The Optoma UHZ50 has an Enhanced Gaming Mode. This mode uses technologies such as auto low-latency mode for those unaware of delivering the least possible lag. It markets itself with up to 4ms of lag at 1080p. For those looking to play competitively, this is an excellent setting. Our tests indicated that the gaming mode works as promised, and there is virtually no lag.
Meanwhile, the HU810PW lacks a gaming mode, and it shows. Our measurements indicated that you get about 50 ms. So you may not see much of a difference if you're a casual gamer. However, if you're a competitive gamer, you will see the difference when you need lightning-fast reflexes.
Winner: Optoma UHZ50
Price
Both are about the same price range, with the cost depending on which store you buy them from. Neither is significantly more expensive than the other overall.
Winner: Tie
---
Optoma UHZ50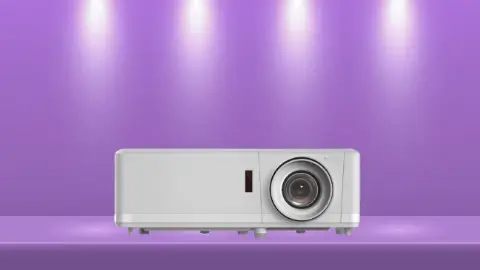 Pros
Gorgeous video and audio
Four HDR modes
Gaming setting for the least possible lag
Plenty of smart features
Cons
The Optoma UHZ50 is a 4K UHD projector with 8.3 million pixels, a 2,000,000:1 contrast ratio, and 3,000 lumens. It's designed to bring a cinematic experience as close to the real thing as possible, thanks to its cinema display mode. In addition, it uses eARC, meaning you only need an HDMI to get the best audio quality.
It also includes four HDR picture modes and an easily adjustable brightness setting to give you the perfect picture every time. For gamers, it also comes with an enhanced gaming mode, with up to a 4ms response time at 1080p or 16.9 at 4K. In addition, its PureMotion frame interpolation technology also ensures that you get the smoothest video experience possible.
Finally, this projector includes many smart features, such as Alexa compatibility and screen mirroring support.
---
LG HU810PW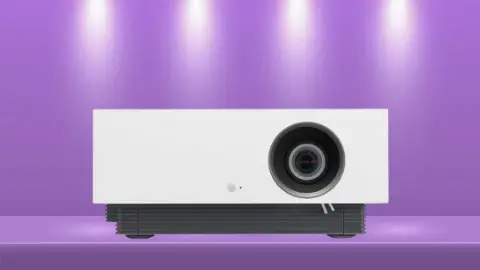 Pros
Excellent picture quality
Several modes allow you to get the best possible picture
Sharp contrast
Cons
The LG HU810PW is a 4K UHD projector with 2,700 lumens and a 2,000,000:1 contrast. With its Dynamic Tone Mapping and Filmmaker Mode, you can view your favorite movies closer to how the original filmmaker intended. In addition, it supports other technologies such as HDR10, HLG, and HgiG.
It also comes with a bright room and a dark room mode, allowing you to watch the movies in the best possible settings according to your room. In addition, this projector supports several smart features, including Bluetooth and casting from your phone.  More in-depth LG HU810PW review.
---
Optoma UHZ50 vs LG HU810PW: The Verdict
Both are amazing mid-range projectors, but we have to choose one. It is tough, as both have their distinct pros and cons. However, the Optoma UHZ50 edges it out. The video quality is better, and the gaming mode makes this projector worth the price.
Of course, this comes at the sacrifice of a high-quality lens. If you want a lens that has more variety, choose the HU810PW. However, our pick is the UHZ50 (>>> Find on ProjectorScreen).
We hope this comparison was helpful. Check out our other comparison articles if these two projectors aren't doing it for you.