Laser projectors are a convenient choice for modern home theaters, with a long light source lifespan that makes them an excellent long-term value. All the options on the market can make it a bit overwhelming to decide which one is right for your home, thought. Looking at the LG HU810PW vs. Epson 5050UB, the Epson is the overall winner for most spaces and users (>>> Check on Amazon), but the LG has its strengths, too. Let's look at where they differ so you can see which offers the features you're looking for.
LG HU810PW vs Epson 5050UB Side by Side:
| | Optoma UHD30 | Optoma UHD60 |
| --- | --- | --- |
| | | |
| Resolution | 3840x2160 | 3840x2160 |
| Brightness (Lumens) | 3,400 ANSI | 3,000 ANSI |
| Contrast Ratio | 500,000:1 | 1,000,000:1 |
| Input Lag | 16ms | 56ms |
| Throw Distance | 4.2' - 33.0' | 4.3' - 30.5' |
| Screen size | 34" - 302" | 27" - 302" |
| Speakers | 5.0 Watts Mono | 4.0 Watts × 2 |
| Today's Best Price | | |
Resolution
The Epson 5050UB uses a technology known as pixel-shifting to achieve a resolution sharper than full HD. its native resolution is 1080p, which is roughly doubled through the pixel-shifting to a resolution best referred to as 2K—still Ultra HD, but not as sharp as the true 4K display of the LG HU810PW. With the LG, you'll get the full 8.3 million on-screen pixels that define a 4K resolution.
Higher resolution: LG HU810PW
Color
The advanced display technology of the LG HU810PW covers most of the DCI-P3 spectrum, with image technology like Dynamic Tone Mapping that optimize the color frame-by-frame. Here, though, it's the Epson 5050UB that takes a slight edge. Its 3LCD display produces the full DCI-P3 spectrum, with none of the flickering or other issues that can be triggered by single-chip displays, providing a more vibrant, better viewing experience for all watchers.
Better color: Epson 5050UB
All-in-one Performance
The Epson 5050UB is a solid projector, but it's not designed to operate on its own, lacking built-in speakers, wireless connectivity, and integrated streaming support. The speakers on the LG HU810PW aren't exceptional, but they're acceptable for basic TV watching or gaming. Its webOS interface also means many users won't need wired content sources, with built-in streaming platforms and the option to mirror content from a phone or tablet. This makes it an especially convenient choice for first-time projector owners, who would need to buy a soundbar and streaming stick to use the HU810PW.
Better all-in-one performance: LG HU810PW
Gaming Performance
The LG HU810PW can support casual gaming, particularly slower-paced puzzle games or RPGs that don't require quick reflexes. Some players may notice a delay, however, which could make it frustrating to use especially in online multi-player contexts. The Epson 5050UB is a much better choice for gamers, with a measured input lag as low as 23ms and a higher framer rate, allowing for smoother, lag-free play.
Better gaming performance: Epson 5050UB
---
LG HU810PW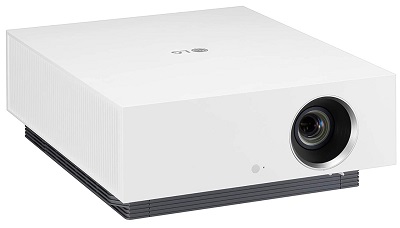 The LG HU810PW uses a dual laser phosphor light source with an advanced DLP display and support for visual technology like HDR10 and HLG. This gives it a crisp true 4K resolution and wide color gamut, covering 97% of the DCI-P3 spectrum. Its high picture quality doesn't stop there, either. It uses Dynamic Tone Mapping and Adaptive Contrast to optimize the image to the content, for colors that are brighter and rich black levels across the image.
The HU810PW has a similarly adaptable lens. Its Iris Modes include settings for dark or bright spaces, making it easy to adjust the brightness to your light level. That said, it's not the most powerful lamp, and may struggle in brighter spaces to maintain full image saturation. It also does have a long throw distance and will need a larger space. On the plus side, it has both horizontal and vertical lens shift, along with a wide zoom and vertical keystone correction, so it's relatively easy and flexible to install.
The webOS 5.0 interface on the LG HU810PW supports wireless connectivity from a variety of sources, including Bluetooth for devices and Airplay and Miracast for casting content. It also has streaming apps like Amazon Prime and YouTube built-in, with support for Google Assistant and Amazon Alexa voice control.. This makes it a good choice for modern smart home theaters and entertainment spaces.
Pros
Sharp true 4K resolution
Vibrant, high-contrast display with Dynamic Tone Mapping
2D lens shift adds installation flexibility
Wireless casting through Miracast or AirPlay
Iris modes optimize brightness for space
Built-in streaming apps and voice control
Cons
Sensitive viewers my experience rainbowing
Input lag too high for serious gamers
---
Epson 5050UB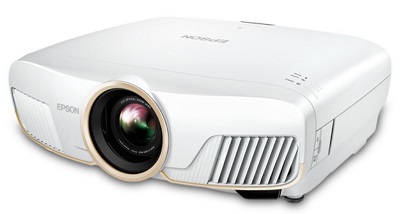 From a space perspective, the Epson 5050UB has similar strengths and limitations as the LG HU810PW. Its throw distance is fairly long, and while you don't need a completely dark space to use it, it's best in dimmer spaces with little ambient light. Its alignment features are similar, though both its lens shift and zoom are wider, which can give it a leg up when it comes to installation flexibility.
The Epson 5050UB is a very responsive projector, and that's excellent news for gamers. It accepts video signals up to 4K resolutions with a fast 60Hz frame rate and has a low measured input lag, below the 30ms limit commonly cited for serious gaming. While it's not as sharp as a true 4K projector, its resolution is still higher than 1080p thanks to pixel shifting. Real-time 12-bit processing and 3LCD color prevent common image issues like flickering, banding, and blocking, good news for both gaming and home theater use.
One thing to keep in mind is that you will need some accessories to use the Epson 5050UB. For one thing, it has no speakers built in, and can't be connected to Bluetooth speakers—you'll need to attach them through the wired input. It's also lacking any direct streaming or mirroring support. On the plus side, its rear panel has more options, including a VGA input as well as dual HDMIs.
Pros
Pixel-shifted resolution higher than 1080p
3LCD color with no rainbowing
UltraBlack contrast with HDR10 color processing
Low input lag ideal for gamers
More wired connection options (HDMI or VGA)
Wide lens shift and zoom
Cons
Not a true 4K resolution
No built-in streaming or voice control
---
LG HU810PW vs Epson 5050UB: The Verdict
As is often the case, knowing where and how you'll use your projector makes the choice between the LG HU810PW and Epson 5050UB fairly easy. The versatility, color performance, and flexible installation of the Epson 5050UB are points in its favor (>>> Find on ProjectorScreen). That said, though, smart home owners will prefer the LG HU810PW, and its sharper resolution could make it a better choice in some home theaters. We hope this review has helped you pick the right one for your home!