Portable projectors make backyard movies and road trip entertainment a snap, but most lack the sound output for a truly immersive experience. The BenQ GV30 has an integrated 2.1-channel speaker system, giving it sound quality and volume on par to most Bluetooth speakers—and it can work as one of those, too, making it a multi-purpose device for on the go entertainment. (>>> Check on Amazon) The big question is: how does it perform as a projector? Let's take a closer look in this BenQ GV30 Review.
BenQ GV30 Review of Main Specs:
| | BenQ GV30 |
| --- | --- |
| | |
| Resolution | 1280x720 |
| Brightness (Lumens) | 300 ANSI |
| Contrast Ratio | 100,000:1 |
| Input Lag | 51ms |
| Throw Distance | 2.6' - 8.8' |
| Screen size | 30" - 100" |
| Speakers | 4.0 Watts × 2 |
| Price | BHPhotoVideo.com |
Portability
The BenQ GV30 looks more like a speaker than a home theater projector, and this unique design is part of what makes it so portable. It's less than 5 inches wide, with a diameter of about 7 inches, and weighs less than 5 pounds.
Since most of that space and weight goes to the speaker system, it can serve double duty as a Bluetooth speaker, saving even more space when you're packing for your trip. A built-in leather strap makes it easy to carry around, and it comes with a soft-sided case for longer journeys.
The built-in battery on the GV30 is another plus from a portability standpoint. Its lifespan per charge is about the length of a movie at around 2 hours. While you'll need to be in Wi-Fi range to use its streaming and screen mirroring, its Bluetooth connectivity and HDMI ports can be used anywhere.
Picture Quality
The GV30 can accept signals with a resolution up to 4K, but it has a native resolution of 720p. Content with a higher resolution will be downgraded, and that will mean some loss of detail and sharpness.
Despite this relatively low resolution, the color and contrast of the BenQ GV30 are strong. Its Optimized Picture Mode gives the highest picture quality, with Cinematic Color that covers most of the Rec.709 spectrum.
Pros
Super portable design
Accepts content up to 4K
Built-in 2.1-channel speaker system
Integrated battery with 2-hour life per charge
Android streaming interface with Google voice control
Convenient Smart Control app
Cons
Standard resolution
Low lamp brightness
Built-in Speakers
The BenQ GV30 is one of the few projectors whose sound quality is on par with its visual output. The dedicated woofer is a big part of this, giving it a powerful low end that's perfect for music and movie sound effects. Dual tweeters complete the 2.1-channel system, and match the woofer for power and detail. The overall effect is an immersive listening experience that turns any space into a temporary home theater.
Space and Setup
Many portable projectors suffer when it comes to the lamp brightness, and unfortunately this is true of the BenQ GV30 as well. Its LED light source is what makes it so light and compact, but can only put out around 300 ANSI lumens. That limits its use to completely dark spaces since any amount of ambient light can disrupt the picture.
On the plus side, the BenQ GV30 has a reasonable throw distance. You'll need around 9 feet for a 100" screen, and it can go as small as 30" from about 3 feet away for smaller spaces like tents or RVs. Its autofocus feature takes the hassle out of setting it up, with automatic vertical keystone correction and a wide 135° viewing angle that give it good placement flexibility.
Streaming and Smart Features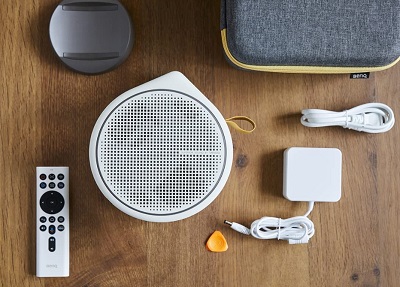 The GV30 has an Android TV interface for navigating content. This also gives it access to the Google Play store, letting you download most popular streaming apps for direct streaming. It also supports Chromecast and AirPlay for wireless mirroring from phones and tablets.
The automatic setup features aren't the only smart thing about the GV30. It supports Google Assistant for hands-free voice searches and playback control. You can also control it through your phone using the BenQ Smart Control App, giving users easy and intuitive access to settings and content.
BenQ GV30 Review In Summary
The BenQ GV30 is a convenient, multi-functional device and an exceptional value at the price. Like most portable projectors, it has some limitations. The low brightness can be an issue in some spaces, and its picture quality can't match the sharp resolution of pricier projectors. While it's not perfect, it's a lightweight one-device entertainment machine that can serve as a Bluetooth speaker or projector, making it one of the most versatile portable projectors on the market. (>>> Check the current price on Bhphotovideo)