The BenQ TK800M is the update of their TK800 model—one of the first home theater projectors to offer 4K resolution in the mid-range price point. The BenQ TK800M improved on the original design in a number of ways, most notably expanded color support and a shorter throw distance.
Thanks to these improvements, the BenQ TK800M is a user-friendly projector with an excellent picture quality. It's also a very versatile projector, with a bright enough lamp to use in well-lit rooms and a decent gaming performance. Let's take a closer look at its key features so you can decide if it's the right projector for you!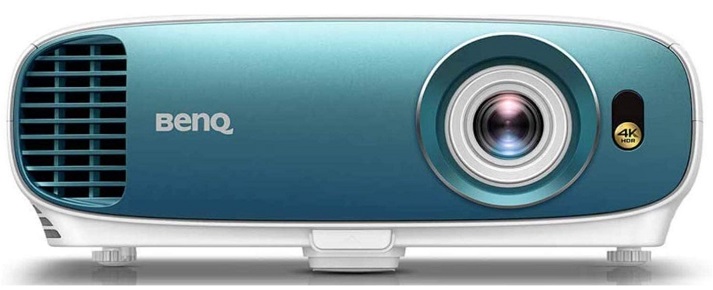 BenQ TK800M Review of Main Specs:
| | BenQ TK800M |
| --- | --- |
| | |
| Resolution | 3840x2160 |
| Brightness (Lumens) | 3,000 ANSI |
| Contrast Ratio | 10,000:1 |
| Included Lens | 1.1x manual zoom |
| Throw Distance | 3.6' - 32.7' |
| Screen size | 30" - 300" |
| Speakers | 5.0 Watts Mono |
| Price | Check on Amazon |
Installation
The BenQ TK800M is easier to install than most standard-throw projectors. This is thanks to its automatic vertical keystone correction, which takes the user effort out of eliminating warp and skew from the picture. Along with that, manual focus and zoom adjustment let you fine-tune the image after installing the projector.
Since it is a standard-throw projector, you'll need a larger space to get the most out of the BenQ TK800M—between 10 and 12 feet for a 100" screen, depending on how you set the zoom. For most users, that means a ceiling-mounted installation is the best choice, and your maximum screen size may be limited in smaller spaces.
One advantage of the BenQ TK800M from an installation perspective is its compact, light-weight design. It weighs less than 10 pounds, with a housing that's both durable and portable. Paired with the quick set-up, that makes it a great choice for backyard movie nights, as well as home theater applications.
Picture Quality
The true 4K resolution of the BenQ TK800M is its main advantage from a picture quality standpoint. The DLP technology and all-glass lens array keep the image detailed without any pixilation. You'll also get pretty good black levels from the TK800M since the lens optimizes light penetration, for a sharp picture with great realism and depth.
The color performance of the BenQ TK800M is impressive, as well. Its 4-segment color wheel covers about 96% of the Rec. 709 spectrum, the current standard for color for home theater projectors. It also supports advanced image technology like HDR10 and HLG. For the viewer, that translates to realistic hues with a high degree of color accuracy across content sources.
The dedicated picture modes of the BenQ TK800M are worth noting, too. It's especially great for sports watchers, with a Sport Mode and a Football Mode, along with other cinema-oriented picture modes. These make it easy to optimize the picture to your content, and are another factor that adds to the TK800M's versatility.
Pros
True 4K resolution with 8.3 million distinct pixels
Bright lamp suitable for lights-on viewing
Automatic keystone correction for easier set-up
Compact and portable design
Input lag is low enough for casual gaming
Wireless connectivity for direct streaming
Cons
Long throw distance
No Bluetooth connectivity
Gaming Performance
We wouldn't necessarily call the BenQ TK800M a gaming projector. Its input lag is a bit on the high side for serious and competitive gamers. Having said that, though, it's definitely within the acceptable range for casual players, and most people will find the lag is low enough that it doesn't impact their playing. It also supports gaming in 4K through modern consoles. That makes the BenQ TK800M a great choice for media rooms and other multi-use spaces.
Connectivity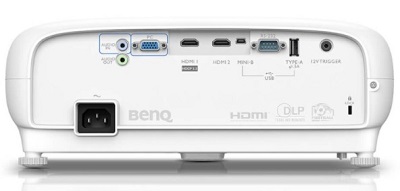 The input panel on the BenQ TK800M has the usual array of options you'd expect from a modern projector. This includes dual HDMI ports, a USB input, and a VGA in, along with network and audio hook-ups.
Along with wired content options, the BenQ TK800M can support content mirroring with the addition of the QCast Mirror dongle. It doesn't have any built-in wireless connectivity, though, and no support for Bluetooth devices like speakers, which could be limiting in some home theater set-ups.
BenQ TK800M Review: The Bottom Line
The BenQ TK800M is mostly marketed to sports lovers, and it's easy to see why. The crisp, sharp picture and smooth on-screen action are ideal for watching fast-paced live sports. This responsiveness and high picture quality also make it a top choice for movie watching and casual gaming. While the longer throw and lack of wireless connectivity may be a concern for some users, for most its strengths outweigh its weaknesses. (>>> Check on Amazon)
REFERENCES AND FURTHER READING: