Not every 4K projector offers the same resolution. Projectors that achieve Ultra HD through technology like pixel shifting don't have as many on-screen pixels, which limits the amount of detail they show. If you care about getting the best picture quality, a true 4K resolution is what you want.
You'll get this sharp resolution from both the BenQ TK800M and the Optoma UHD30. These projectors are similarly priced, as well, and anyone looking for a 4K projector under $1,500 likely has these models on their radar. Comparing the BenQ TK800M vs. Optoma UHD30, both are versatile with a high picture quality.
If pressed to pick a better option, we'd say the UHD30 is the better overall option (>>>Check current price on Amazon), but the TK800M will be a more appealing choice for some users. Let's take a closer look at the key specs side-by-side before jumping into the full reviews.
BenQ TK800M vs Optoma UHD30 Side by Side:
| | BenQ TK800M | Optoma UHD30 |
| --- | --- | --- |
| | | |
| Resolution | 3840x2160 | 3840x2160 |
| Brightness (Lumens) | 3,000 ANSI | 3,400 ANSI |
| Contrast Ratio | 10,000:1 | 500,000:1 |
| Input Lag | No data | 16ms |
| Throw Distance | 3.6' - 32.7' | 4.2' - 33.0' |
| Screen size | 30" - 300" | 34" - 302" |
| Speakers | 5.0 Watts Mono | 5.0 Watts Mono |
| Price | Check on Amazon | Check on Amazon |
Color and Contrast
The color gamut of the BenQ TK800M is pretty broad, covering nearly the entire Rec. 709 spectrum. Its contrast ratio of 10,000:1 is fairly high, as well, giving the picture good depth and texture in both bright and dark areas of the screen.
As strong as the image on the BenQ TK800M is, the Optoma UHD30 is even better. It uses an 8-segment color wheel with both HDR10 and HLG support that broadens the color gamut to cover the DCI-P3 spectrum. Along with that, it uses Dynamic Black technology for an incredible 500,000:1 dynamic contrast ratio.
Better color and contrast: Optoma UHD30
Installation Ease
The Optoma UHD30 is plug and play and usable right out of the box. Because it's a standard throw projector, it may need to be wall- or ceiling-mounted, which can complicate the installation. Once you have it put up, though, it's fairly easy to align the image to the screen, with an intuitive settings interface and good adjustment options.
The BenQ TK800M edges out the Optoma by a hair thanks to its offer of automatic keystone correction. This is especially helpful for first-time projector owners, sparing you the need to correct the image geometry manually.
Easier to install: BenQ TK800M
Gaming Performance
Input lag and frame rate are the main specs you want to pay attention to if you're a gamer. Serious and competitive players look for an input lag of 30ms or lower, with a processing speed of at least 120Hz. More casual players can get away with a slightly higher input lag (60ms or lower, is a good rule of thumb) but will still want a fast and responsive projector.
The BenQ TK800M is fine for casual gaming, with an input lag measuring around 48ms. For serious gamers, though, the Optoma UHD30 is the better choice, with an input lag under 30ms even at 4K resolutions.
Better for gamers: Optoma UHD30
BenQ TK800M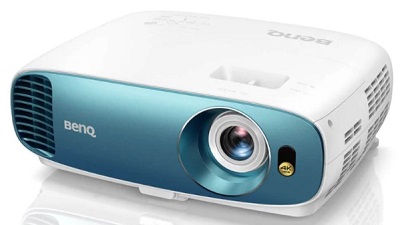 The all-glass, 7-element lens array of the BenQ TK800M provides a true 4K resolution, with more than 8 million on-screen pixels for the ultimate detail and clarity. The DLP display technology prevents image issues like pixilation and motion blur, making this a great projector for sports lovers as well as movie buffs. For color, the BenQ TK800M uses a 4-segment color wheel with 10-bit HDR processing. That gives a decently wide color gamut, covering 96% of the Rec. 709 spectrum.
There are both pros and cons with the BenQ TK800M from a design perspective. On the plus side, it's fairly compact, weighing less than 10 pounds. It's also quick and easy to set up thanks to the automatic keystone correction. That makes it an ideal option for indoor/outdoor use around the house. The lamp has a good brightness, too, with enough power to use during lights-on viewing.
The BenQ TK800M uses a standard-throw lens. For a 100" image, you'll need about 10-11 feet of distance between the lens and screen. That could be a problem in smaller spaces. Another potential issue is the lamp's lifespan. If you use eco mode it can last up to 15,000 hours, but its lifespan may be as short as 4,000 hours in higher performance modes.
On the whole, though, the BenQ TK800M is a high-performing projector with a good amount of versatility. Its reasonable input lag makes it an option for casual gaming in media rooms, and its bright lamp makes it a good option for living rooms as well as home theaters.
Pros
7-element lens array maximizes brightness and clarity
True native 4K resolution with DLP technology
Automatic keystone correction
Low enough input lag for casual gaming
Compact, lightweight design
Cons
Relatively short lamp lifespan in higher performance modes
Long throw distance
---
Optoma UHD30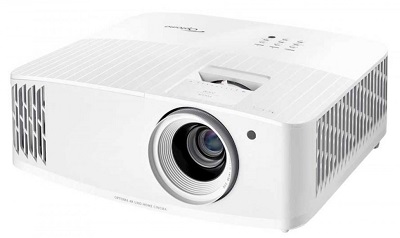 The advanced visual technology employed in the Optoma UHD30 makes it one of the best home theater projectors in the mid-range market. The DLP display is backed by UltraDetail and Dynamic Black technology. This enhances the native 4K resolution even further for a remarkably sharp picture with excellent texture and realism.
The color on the Optoma UHD30 is just as impressive. It supports both HLG and HDR10, with an 8-segment color wheel that can reproduce the entire DCI-P3 color space. This gives the picture a remarkable realism, especially combined with the fast frame processing that prevents motion blur and other issues from affecting the picture.
The Optoma UHD30 is just as great for gamers as it is for movie watchers. The fast 240Hz frame rate mentioned above is part of this. It also has a low input lag, as low as 16ms in Enhanced Gaming Mode, and rising only to about 26ms when you game in 4K. Since the lamp puts out a powerful 3,400 lumens, you can use the Optoma UHD30 in any light conditions without worrying it'll affect the picture.
Setting up the Optoma UHD30 is a fairly quick and easy process, and it includes manual alignment options like zoom and vertical keystone correction. Like the BenQ TK800M above, though, its throw distance is on the long side, which can be a challenge in some spaces.
Pros
True 4K resolution with UltraDetail enhancement
High contrast ratio with Dynamic Black technology
Wide color gamut with HLG and HDR10 support
Input lag is low enough for even serious gamers
Includes keystone correction and zoom for image alignment
Bright lamp suitable for lights-on viewing
Cons
No automatic image correction functions
Long throw ratio
---
The Verdict
The throw distance and resolution of the BenQ TK800M and Optoma UHD30 are similar. For most users, the wider color gamut and superior gaming performance of the Optoma UHD30 will make it a better choice. (>>> Find on Amazon)Having said that, though, the set-up ease of the BenQ TK800M makes it a good option for first-time projector users, and its picture quality is certainly high enough to satisfy most viewers. We hope the comparison in this review has helped you decide which one belongs in your home theater.
REFERENCES AND FURTHER READING: