True 4K projectors are much more affordable than they used to be, and that's great news for anyone who wants to upgrade their home theater. For many people searching the mid-range projector market, their choice comes down to the BenQ TK800M vs. Optoma UHD50X.
Both of these projectors have a lot of strong qualities. Overall, the Optoma UHD50X outperforms the BenQ TK800M in most performance categories and will be the better choice for most. Having said that, there are some features you'll only find on the BenQ that can make it the superior choice for a certain kind of user.
Not sure which projector is best for you? Let's take a look at the key differences so you can see how they stack up.
BenQ TK800M vs Optoma UHD50X Side by Side:
| | BenQ TK800M | Optoma UHD50X |
| --- | --- | --- |
| | | |
| Resolution | 3840x2160 | 3840x2160 |
| Brightness (Lumens) | 3,000 ANSI | 3,400 ANSI |
| Contrast Ratio | 10,000:1 | 500,000:1 |
| Included Lens | 1.1x manual zoom | 1.3x manual zoom |
| Throw Distance | 3.6' - 32.7' | 4.0' - 26.6' |
| Screen size | 30" - 300" | 34" - 303" |
| Speakers | 5.0 Watts Mono | 5.0 Watts Mono |
| Price | Check on Amazon | ProjectorScreen.com |
Brightness
For lights-on viewing, you want a projector that generates at least 3,000 lumens. This is especially important for standard throw projectors since the light has further to travel, presenting more opportunities for environmental interference.
The 3,000 lumens of the BenQ TK800M are bright enough to withstand low to moderate ambient light levels without any quality loss. The advanced 7-element lens array helps here, optimizing the light penetration for a stronger overall output. Even so, the 3,400 lumen lamp of the Optoma UHD50X is noticeably brighter, and holds up better to natural light pollution through windows or during outdoor use.
Brighter projector: Optoma UHD50X
Picture Quality
Both the BenQ TK800M and the Optoma UHD50X have a true 4K resolution, with 8.3 million on-screen pixels. They also share a high frame rate and processing speed, avoiding issues like choppiness or motion blur.
Where they mainly differ is their color and contrast. The 8-segment color wheel of the Optoma UHD50X produces a wider color gamut than the 4-segment color wheel of the BenQ TK800M. Along with that, the Optoma has a higher contrast and wider HDR format support. Together, that produces a brighter, more realistic image than what you'll see from the TK800M.
Better picture quality: Optoma UHD50X
Gaming Performance
For reflex-based games, an input lag of around 30ms or less is low enough to avoid noticeable delays between your input and the on-screen action. Slower-paced games like RPGs and puzzle games have a higher threshold, though you're still ideally looking for a lag of 60ms or lower.
The BenQ TK800M has a lag of about 48ms, putting it in the acceptable range for slower-paced games and casual players. For serious gamers, the 16ms input lag of the Optoma UHD50X makes it the better choice. As an added bonus, the Optoma's Enhanced Gaming Mode also gives players a faster frame rate and optimizes the picture settings for gaming.
Better gaming performance: Optoma UHD50X
Set-up Ease
Standard throw projectors like the BenQ TK800M and Optoma UHD50X can be more complicated to install than their short-throw counterparts. Since they take up more space, you're more likely to need a ceiling or wall mount to prevent things in the room from interfering with the image. Having adjustment options like keystone correction, lens shift, and zoom makes it easier to keep the image square and centered on the screen, giving you more installation flexibility.
The Optoma UHD50X has all the alignment options mentioned above. They're all manual, however, so if you don't know how to use those functions, there can be a bit of a learning curve. The automatic keystone correction on the BenQ TK800M does that work for you, making the set-up process easier and faster, especially for projector newbies.
Easier set-up: BenQ TK800M
Full Reviews: BenQ TK800M vs Optoma UHD50X
BenQ TK800M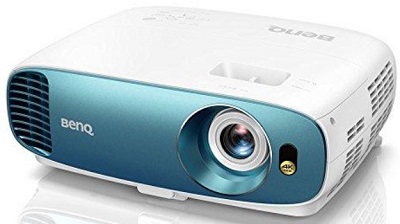 The BenQ TK800M is an excellent projector for a casual all-purpose entertainment around your home. The all-glass lens array gives viewers a true 4K resolution with excellent detail and clarity. It also prevents ambient light from interfering with the image. Combined with the powerful 3,000 lumen bulb, that makes it a great choice for viewing parties and everyday use since you can use it with the lights on.
Sports lovers will particularly enjoy the dedicated viewing modes of the BenQ TK800M. It has separate viewing modes for indoor and outdoor sports and a high frame rate to keep the on-screen action smooth for both. The image is vibrant and realistic no matter what you're watching, with a fairly wide color gamut that covers 96% of the Rec. 709 spectrum. Our only complaint from an image quality standpoint is that the contrast is on the lower side, and the image lacks some depth and richness in darker areas.
It's relatively easy to set up the BenQ TK800M, even for home theater beginners. The automatic keystone correction is a huge help in this regard, sparing users the work of removing warp and skew manually. There are also manual zoom and focus controls for fine-tuning. Changing visual settings is easy, too, with an intuitive menu layout and well-designed remote. Overall, this makes it a convenient way to bring big-screen entertainment into your living room. If you want to read our more in-depth review of the BenQ TK800m click here.
Pros
True 4K resolution
Smooth on-screen action
Lamp is bright enough for lights-on viewing
Realistic image with wide color gamut
Dedicated sport modes
Easy set up with automatic keystone correction
Cons
Input lag is on the high side for serious gamers
Lower contrast
---
Optoma UHD50X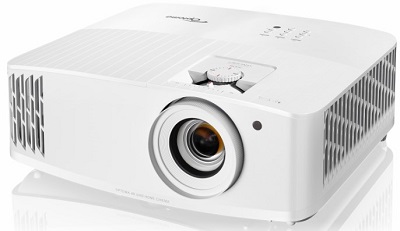 The Optoma UHD50X is a particularly exciting option for gamers. Its Enhanced Gaming Mode drops the input lag to an impressive 16ms in Full HD, or 25ms if you're gaming in 4K. This is backed up by a fast frame refresh rate and a high image contrast for maximum on-screen clarity with no frame tearing or other annoying issues.
These features are appealing for home theater users, too. The Optoma UHD50X enhances its 4K resolution with proprietary UltraDetail and Dynamic Black technologies. Whether you're watching live sports or blockbuster movies, you'll get vibrant colors and deep black levels.
The bright lamp of the Optoma UHD50X gives it a lot of versatility when it comes to your space. It's great for living rooms, media rooms, or even driveway drive-ins. Keep in mind it uses a standard throw distance, so you'll need a good amount of space for a large image (roughly 9-12 feet for a 100" screen).
That means a ceiling-mounted installation for many, and the Optoma UHD50X comes with the alignment features to support this, including a wide keystone correction and a vertical lens shift. All of these controls are manual, however, so if you've never set up a projector before it might take a bit longer to get started than with the BenQ above. If you want to read our more in-depth review of this projector click here.
Pros
True 4K resolution with HLG and HDR10 support
Low input lag, even in 4K
Smooth response with no motion blur
Excellent color and contrast
Can be used in any light level
Good array of image alignment functions
Cons
Requires manual image alignment
Needs a lot of space
---
What's the Verdict?
For most users—and especially gamers—the Optoma UHD50X is the better projector >>> Check the current price on ProjectorScreen. On the other hand, the automatic image adjustment and intuitive navigation of the BenQ TK800M make it more user-friendly. The BenQ may also be the preferred option for sports lovers thanks to its dedicated image presets for indoor and outdoor sports. Whichever one you buy, you'll get a versatile 4K projector that will give you years of big-screen entertainment.
REFERENCES AND FURTHER READING: