Are you looking for a compact and versatile 4K projector? In this side-by-side comparison, we'll look at two models that fit the bill: the BenQ TK800M vs. Optoma UHD38. Both projectors weigh less than 10 pounds and can produce a massive 4K image up to 300" diagonally. While the Optoma UHD38 is the better performer overall (>>> Check on Amazon), the BenQ TK800M is more affordable, and a great way to get big-screen 4K entertainment without breaking your budget. Let's take a closer look at the key differences.
BenQ TK800M vs Optoma UHD38 Side by Side:
| | BenQ TK800M | Optoma UHD38 |
| --- | --- | --- |
| | | |
| Resolution | 3840x2160 | 3840x2160 |
| Brightness (Lumens) | 3,000 ANSI | 4,000 ANSI |
| Contrast Ratio | 10,000:1 | 1,000,000:1 |
| Input Lag | 49.8ms | 4.2ms |
| Throw Distance | 3.6' - 32.7' | 4.0' - 32.7' |
| Screen size | 30" - 300" | 33" - 300" |
| Speakers | 5.0 Watts Mono | 10.0 Watts Mono |
| Today's Best Price | Check on Amazon | |
Brightness
Most people don't have a dedicated home theater space, and don't want to turn all the lights off just to watch a TV show. The 3,000-lumen lamp of the BenQ TK800M supports lights-on viewing, and is powerful enough to maintain a high picture quality in the majority of indoor spaces.
If your viewing area has a lot of windows, or you want a projector that can handle daytime use outdoors, the brighter Optoma UHD38 will be the better option. Not only does it have a more powerful 4,000-lumen lamp, it also has a dedicated Bright picture mode that optimizes the picture to compensate for high ambient light.
Brighter projector: Optoma UHD38
Gaming Performance
There are two main specs of importance for gamers. The input lag tells you how much delay there will be between your input on the controller and what happens on the screen, and should ideally be under 30ms for reflex-based games, especially if you're a competitive player or often play with others online. The frame refresh rate indicates the number of frames you see per second, with a higher number indicating a smoother image.
With an input lag of around 50ms, players may notice a slightly delay when gaming on the BenQ TK800M. That said, it's still low enough more casual players may not find the lag disruptive, especially for slower-paced game styles. Conversely, the Optoma UHD38 has a lightning-fast 4.2ms input lag, paired with a high 240Hz refresh rate, making it one of the best gaming projectors on the market.
Better for gaming: Optoma UHD38
Image Quality
Both the BenQ TK800M and Optoma UHD38 have a true 4K resolution with a full 8.3 million pixels. Each also covers the Rec.709 color spectrum, and has a sharp HDR contrast for realistic, immersive images. (Check out this roundup review if you're looking for the best 4k projector under $2000)
Where the Optoma UHD38 takes a slight edge is its upscaling capabilities. It enhances full HD and standard definition content, playing it nearly at 4K levels of detail. The UHD38 also has a wider variety of picture modes for optimizing your image settings to your content.
Higher image quality: Optoma UHD38
---
BenQ TK800M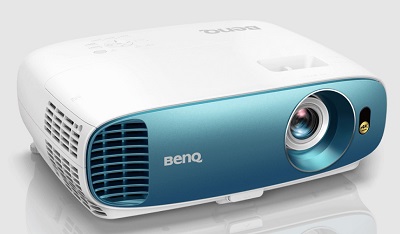 The DLP display and all-glass 7-element lens array of the BenQ TK800M produce a stunning Ultra HD picture, with a high native image contrast that ensures sharp definition and a high level of detail in both bright and darker areas of the image. The hyper-realistic image is further optimized for live sports with the dedicated Football and Sport modes, while coverage of 96% of the Rec.709 spectrum means realistic and vibrant colors for all types of content.
The BenQ TK800M is relatively compact, weighing less than 10 pounds, and offers good versatility for a variety of viewing areas. While its standard throw distance does mean it's best in larger rooms, its 3,000-lumen lamp is bright enough to compete with even high levels of ambient light, so you don't need a dedicated home theater space for it. It's also relatively easy to install, with automatic vertical keystone correction to ensure a square image.
While the input lag of the TK800M is on the high side for serious gamers, it's within the acceptable range for casual players. Combined with its high image quality, this makes it a solid choice for all-purpose entertainment spaces, particularly for sports fans who will appreciate its smooth on-screen movement.
Pros
True 4K image with high contrast
Bright enough for most indoor spaces
Dedicated Sport and Football modes
Automatic keystone correction
Excellent value
Cons
Input lag is too high for serious gamers
Weak built-in speaker
---
Optoma UHD38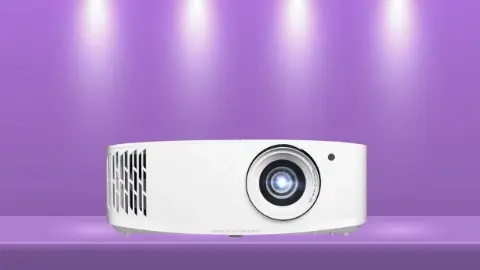 From an installation and versatility standpoint, the Optoma UHD38 is very similar to the BenQ above. It's a compact and lightweight projector with a standard throw distance that's at its best in larger spaces. However, the UHD38 is an even better choice for indoor/outdoor use because of its powerful lamp, which produces the same detailed and colorful image in bright spaces as it does in dimmer environments.
For gamers, the responsiveness of the Optoma UHD38 is its most exciting feature. It has a 4.2ms input lag for full HD games with a high 240Hz frame refresh rate for super smooth on-screen movement. Even for 4K games the input lag is a reasonable 16.7ms, which is still well within the standards for serious players. Check the comparison vs. UHZ45
The Optoma UHD38 is equally impressive when playing movies and TV shows. Not only does it support 4K resolutions, it upscales lower-resolution content to nearly 4K detail. Support for HDR10 and HLG ensures the accuracy of content, while the Dynamic Black contrast and variable picture modes ensure a crisp picture with rich black levels. For our more in-depth review of this projector, click here.
Pros
Sharp 4K image with excellent image contrast
Upscales lower-resolution content nearly to 4K detail
Super-powerful lamp works even in bright rooms
Single-digit input lag
4-corner keystone correction
Supports various 3D formats
Cons
---
BenQ TK800M vs Optoma UHD38: Which One's Better?
Taking cost out of the equation, the Optoma UHD38 is the clear winner over the BenQ TK800M (>>> Find on ProjecorScreen.com). It has a brighter lamp, is more responsive, and produces a better overall image quality for all types of content. However, it also has an MSRP that's about $1,000 higher, and while you can often find it on sale for less, it still carries a higher price tag than the TK800M. This makes the BenQ TK800M the better overall value, especially for those who don't plan to use their projector for gaming. We hope this comparison has helped you decide which one is the better choice for your home!