Not everybody has the budget (or the space) for a dedicated home theater. In the real world, most people need their projectors to be versatile entertainment machines, capable of playing movies, TV shows, and games—and without you needing to rebuild your entire living room.
Looking at the Optoma UHD35 vs. BenQ TK800M, you'll see both are reasonably priced, easy to set up, and offer that versatility that most everyday users are looking for. For most, the Optoma UHD35 will be the better choice thanks to its brighter lamp and lower input lag (>>> Check on Amazon). Let's dig deeper into the features and differences so you can choose the perfect projector for your home.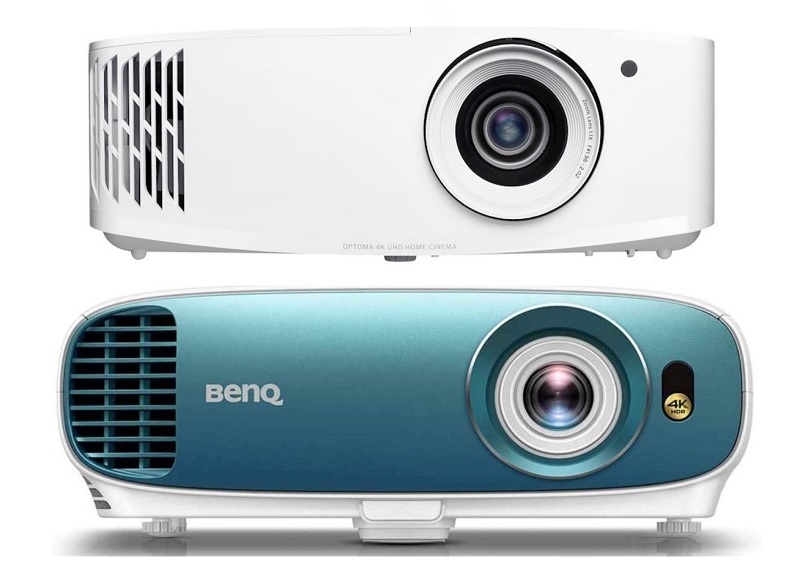 Optoma UHD35 vs BenQ TK800M Side by Side:
| | Optoma UHD35 | BenQ TK800M |
| --- | --- | --- |
| | | |
| Resolution | 3840x2160 | 3840x2160 |
| Brightness (Lumens) | 3,600 ANSI | 3,000 ANSI |
| Contrast Ratio | 1,000,000:1 | 10,000:1 |
| Input Lag | 4ms | 48ms |
| Throw Distance | 4.0' - 32.7' | 3.6' - 32.7' |
| Screen size | 33" - 300" | 30" - 300" |
| Speakers | 10.0 Watts Mono | 5.0 Watts Mono |
| Today's Best Price | BHPhotoVideo.com | Check on Amazon |
Picture Quality
Both the Optoma UHD35 and the BenQ TK800M have an Ultra HD resolution with a high contrast ratio. The UltraDetail technology and 8-segment color wheel of the UHD35 give it a good color performance, too, and it supports image technology like HDR10 to ensure the accuracy of the picture.
While the UHD35 performs well in this regard, the BenQ TK800M is even better. Its color space is broader, for one thing, producing a wider range of hues for more nuanced color performance. Along with that, its dedicated picture modes give you more options for optimizing the image so you'll see all your content in its best form.
Better picture quality: BenQ TK800M
Brightness
The 3,000-lumen lamp of the BenQ TK800M is bright enough for most indoor viewing areas. You can leave lamps on without worrying about washout, though you may still need to draw the curtains over any windows during daytime viewing.
The Optoma UHD35 has a more powerful 3,600-lumen lamp. That extra brightness gives it an edge in well-lit viewing areas, maintaining the picture quality even in spaces with some natural light.
Brighter lamp: Optoma UHD35
Gaming Performance
Casual gamers can play on the BenQ TK800M without a problem. Its input lag measures around 48ms for full HD gaming, and it has a high enough frame refresh rate to avoid blurring and other issues during play. For serious gamers, though, the Optoma UHD35 is a much better option. It's a true gaming projector, with a single-digit input lag in full HD and the connectivity you need for both console and PC gaming.
Better gaming performance: Optoma UHD35
Built-in Sound
Many people already plan to use external speakers with their projector, so if this is the case for you the speaker that comes installed isn't much of a concern. That said, you'll need to have a sound system when you're using the BenQ TK800M. Its single 5-watt speaker is thin and relatively weak, failing to produce the immersive soundscape most people want in their home theater. The Optoma UHD35 doesn't exactly produce surround sound, but it at least has the volume and clarity you need to understand dialogue and hear sound effects when you're watching movies or playing games.
Better built-in sound: Optoma UHD35
---
Optoma UHD35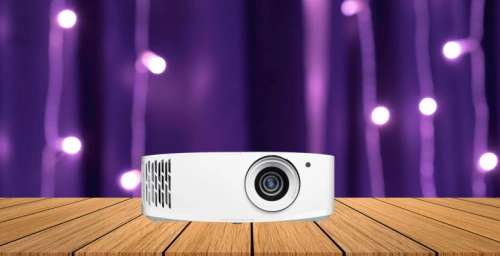 The Optoma UHD35 uses a true 4K DLP display with an 8-segment color wheel and an impressively high dynamic contrast ratio. Its UltraDetail technology, along with support for HDR and HLG, ensures the accuracy of the content, too, and it has full 3D support, to boot. The end result is a sharp and colorful picture with a high level of detail that will do justice to whatever content you're watching on it.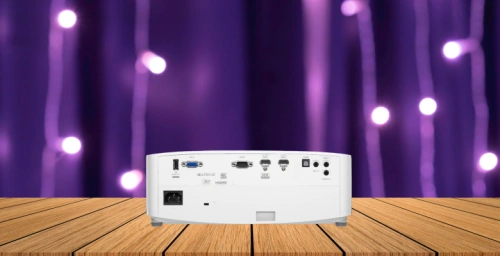 The UHD35 is even more impressive when it comes to its gaming capabilities. Its input lag measures as low as 4ms in 1080p, paired with an incredible 240Hz frame refresh rate for buttery smooth on-screen action with no blurring, lagging, or other issues. If you'd rather game in 4K it doesn't raise the input lag much—it still measures a very reasonable 16ms, plenty fast enough for even competitive gamers.
With its standard throw distance, the Optoma UHD35 will need a slightly larger space if you want a massive screen, which can be a limitation in some viewing areas. Light levels in your viewing area shouldn't be a problem, though, thanks to its powerful lamp, which is bright enough to compete with any indoor lighting.
Pros
True 4K image with high dynamic contrast
Bright lamp suitable for lights-on viewing
Super-low input lag for gamers
Full 3D support
Wide connectivity, including VGA
Cons
Relatively long throw distance
---
BenQ TK800M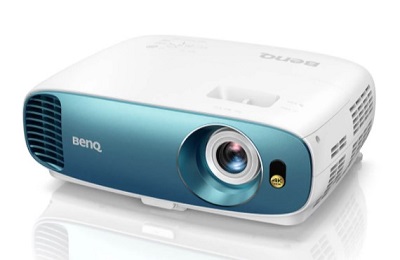 The all-glass 7-element lens of the BenQ TK800M maximizes the sharpness and clarity of the picture, bringing you one of the clearest 4K images you'll find in the price range. The colors are equally accurate and vibrant, with coverage for the majority of the Rec.709 spectrum and a good contrast that brings nice richness to darker areas of the screen. It's especially great for watching sports, with dedicated picture modes that optimize the picture for this type of fast-paced content.
The 3,000-lumen lamp of the BenQ TK800M will be bright enough for most viewing areas, even with the lights on. Similar to the Optoma above, it has a standard throw distance and will need a good bit of space to generate a large picture, though it has a relatively easy set-up as long as you have the room for it.
For casual gamers, the BenQ TK800M performs well. Its input lag is under the 60ms threshold where most people will start to notice a delay. Even if you're into fast-paced FPS and other reflex-based games, it should perform well, though it is on the high side for serious gamers or professionals.
Pros
Sharp and realistic 4K image
Wide color gamut (96% of Rec.709 space)
Dedicated sports modes optimize picture
Good connectivity for home theater use
Bright enough lamp for lights-on viewing
Low enough input lag for casual gaming
Cons
Speaker is weak and quiet
Limited image alignment options
---
Optoma UHD35 vs BenQ TK800M: The Bottom Line
Based on the specs, the Optoma UHD35 performs better than the BenQ TK800M (>>> Find on Amazon), with superior gaming performance, a brighter lamp, and a better built-in speaker. The picture quality of the BenQ is a bit better, though, and while these two models have a similar MSRP, you can often find the BenQ TK800M for a few hundred dollars less on the real-world market. This makes it a better value for those who only plan to use their projector for watching shows and movies. We hope this comparison has helped you decide which one is better for you!
REFERENCES AND FURTHER READING: