ProjectorTop is thrilled to share news from BenQ, the global frontrunner in crafting digital lifestyle gadgets, who recently unveiled their latest series of portable ceiling projectors. These cutting-edge devices promise to level up home entertainment with Full HD 1080p ceiling projection and the integration of Android TV, inclusive of Netflix.
President of BenQ Corporation, Conway Lee, eloquently stated, "Our brand-new GV31 is designed to captivate and inspire. It marries the distinctive ability to project onto ceilings, a certified Android TV platform, and high-fidelity audiovisual performance. With our ceiling projectors, we're reshaping how people indulge in their beloved content at home."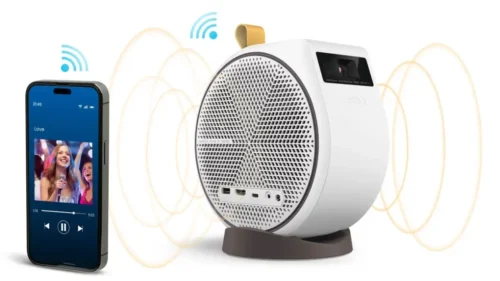 Building on years of leadership in DLP projection technology, BenQ ceiling projectors deliver an assured, top-tier audiovisual experience backed by their much-applauded CinematicColor™ expertise. The GV31, a star in the new ceiling projector lineup, offers Full HD 1080p resolution, a rotating angle projection design, autofocus, and an auto vertical keystone to unfold immersive panoramas on any ceiling or unique spots in your home with utmost comfort.
These projectors go beyond by enhancing modern lifestyles. Each one is equipped with rich integrated audio, with the GV31 boasting a powerful 16W 270-degree 2.1-channel sound and extended bass. Plus, the GV31 doubles as wireless speakers, promising up to 3 hours of video playback or 6 hours of music with a single charge.
BenQ's ceiling projectors are your ticket to immersive experiences, whether you're streaming shows, movies, or supersized video games. With a certified Android TV and integrated Netflix, you've got all-in-one entertainment at your fingertips, no matter when or where.
The cherry on top is the projectors' modern USB-C connectivity, DisplayPort output (DP Alt Mode), and power delivery (PD inputs and outputs). These BenQ ceiling projectors pave the way for an improved lifestyle, offering unlimited projection angles and Android TV for the most cozy streaming experiences, whether on your bedroom ceiling or any cosy corner at home.
As soon as the GV31 goes on sale, we'll review it and compare it against its predecessor, the GV30.
Source: