After unveiling its state-of-the-art projector in early May, BenQ, the renowned leader in vibrant and colorful projectors, has confirmed that the BenQ V5000i ultra short throw projector will be available for purchase by the end of August 2023.
Fresh off the accolades from the award-winning BenQ V7050i, which still ranks among the best single laser ultra short throw projectors, BenQ aims to raise the stakes even higher with the V5000i.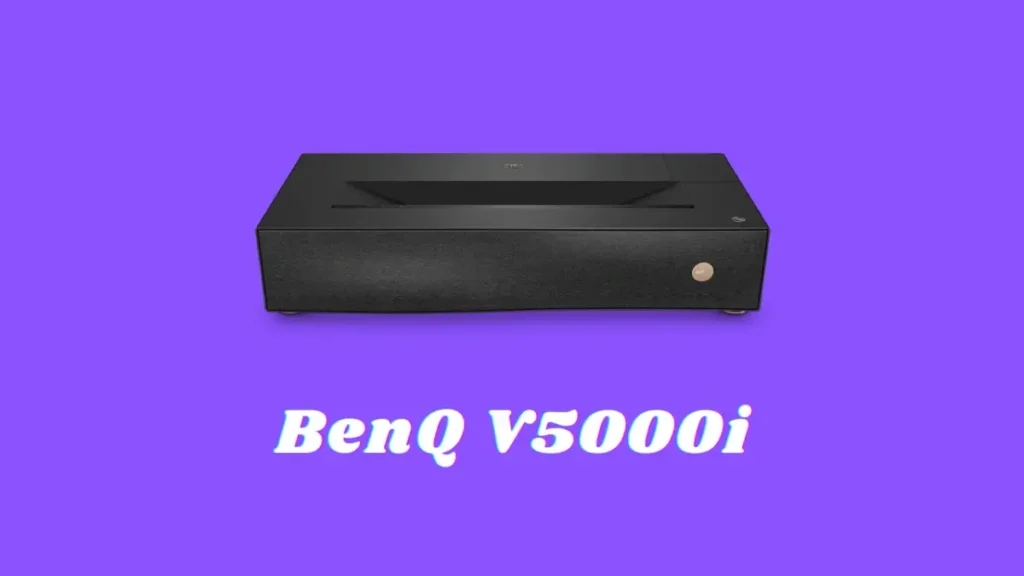 Key Features of the BenQ V5000i Include:
Ultra Clarity: 4K UST delivers highly detailed imagery, accompanied by a DLP chipset.
Triple Laser Magic: True RGB triple laser light source, bright 2,500 Lumen output, and a stellar 95% coverage of The BT.2020 color gamut & 98% DCI-P3 CinematicColor.
Gaming Excellence: Offers 4K gaming at 120Hz, promising super low input lag, setting the stage for potentially the best video gaming experience in the UST category.
Stunning Visuals: 2,000,000:1 Dynamic contrast, HDR10+ and HDR-PRO compatibility, local contrast enhancer, and tone mapping ensuring perfection in every frame.
Audiophiles Rejoice: 40W Trevolo sound system boasting Dolby and DTS compatibility.
Easy Connectivity: Features AndroidTV 11 interface, built-in apps including Netflix, Disney+, Hulu, 3 HDMI ports, HDMI eARC, USB-A and S/PDIF ports, and wireless connectivity via Wi-Fi 6 and Bluetooth.
Optimal Viewing: Comes with a 100-inch Fresnel-based Ambient Light Rejecting (ALR) screen.
Expected Retail Price: ~ $3,500.
Feedback on the BenQ V5000i: The BenQ V5000i has received mixed reactions from industry experts. The triple laser design, reminiscent of its predecessor, is a commendable addition. Its support for 4K gaming at 120Hz has grabbed the attention of gamers everywhere, holding promise as potentially the best video gaming projector in the UST class. With Netflix included and the provision of three HDMI ports, it is set to provide an excellent user experience.
Yet, the final verdict will only be known post-release. The company and its patrons have high expectations. The BenQ V5000i holds promise, but will it surpass its predecessor's acclaim? Only time will tell. Stay tuned for our hands-on review!
Source: BenQ US