The BenQ X1300i certainly looks different than most projectors you'll find. This compact and user-friendly projector is advertised as a versatile unit, equally impressive in home theater and gaming contexts. But does it live up to this hype—and is it the right projector for you? We'll answer those questions and more in this BenQ X1300i review. (>>> Check the current price on Amazon)
BenQ X1300i Review of Main Specs:
| | BenQ X1300i |
| --- | --- |
| | |
| Resolution | 1920x1080 |
| Brightness (Lumens) | 3,000 ANSI |
| Contrast Ratio | 5,000,000:1 |
| Input Lag | 8ms |
| Throw Distance | 3.4' - 28.4' |
| Screen size | 30" - 300" |
| Speakers | 5.0 Watts × 2 |
| Price | BHPhotoVideo.com |
Installation
The BenQ X1300i offers more placement flexibility than many projectors. It can be placed upright or upside-down, with adjustable magnetic feet for easy alignment. Along with that, it includes helpful adjustment options like a 1.2x zoom and both vertical and horizontal keystone correction, making it easy to remove warp or skew from the picture.
With a 3,000-lumen light source, the BenQ X1300i can be used for lights-on viewing, and won't get washed out by most ambient light sources. It's standard throw distance does mean you'll need a decent amount of space for it—between 9 and 11 feet for a 100" screen. Within that limitation, however, it has a good amount of versatility.
Picture Quality
The BenQ X1300i accepts 4K input, but has a maximum native resolution of 1080p (full HD). This is its main limitation from a picture quality standpoint, especially since 4K projectors are increasingly affordable, and quickly becoming the standard for home theaters. Having said that, the dynamic contrast ratio is exceptionally high. The picture won't be as nuanced as a 4K projector, but it's still sharp and crisp with excellent on-screen detail.
The color performance is equally strong for most users. Its 6-segment color wheel covers about 98% of the Rec.709 spectrum, so it produces a good range of on-screen hues. This is further enhanced by its Auto Color calibration, which prevents color loss over time and ensures the image will always be vibrant and saturated. Since it does use a color wheel it can trigger rainbowing in sensitive viewers, but for most the color and contrast are exactly what you want in a home theater projector.
Pros
Low input lag and high refresh rate for gaming
Multiple gaming modes optimize picture for content
Wide color gamut with automatic color calibration
Bright and long-lasting LED light source
2D keystone correction for easier installation
Android TV system supports direct content streaming
Voice search through Google Assistant
Cons
Netflix not available through app store
Color wheel may cause rainbowing
Gaming Performance
This is where the BenQ X1300i is at its most impressive. To start with, its one of the most responsive projectors on the market, with a super-low 8.3ms input lag and a high 120Hz frame refresh rate. Combined, this makes the on-screen action functionally instantaneous, with no lag, blur, or tearing that can impact your play. Find our
The multiple game modes on the X1300i are its most unique feature from a gaming perspective. Separate image modes for RPGs, first-person shooters, and spots games optimize the image to suit your gaming style. All modes use GameMaestro detail adjustment so you never miss an enemy (or the loot they drop).
Smart Features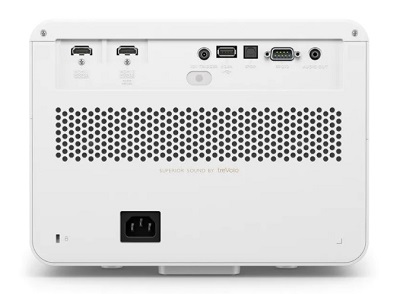 The Android TV interface that comes installed on the BenQ X1300i gives you access to more than 6,500 apps through the Google Play store. This includes popular streaming apps like Hulu, Prime Video, and Disney+. The only notable omission is Netflix, which isn't supported natively by the X1300i. The only way to wirelessly watch Netflix is mirroring it from another devices through AirPlay or Chromecast.
Google Assistant and Voice Search are built in to the BenQ X1300i, as well. You can use the full features of Google Assistant, including things like checking the weather or traffic, along with finding content on many installed streaming apps using your voice.
The Bottom Line: BenQ X1300i Review
The BenQ X1300i is an especially appealing option for gamers, with a user-friendly design and strong color and contrast that also make it a great option for home theater use. While its full HD resolution may knock it off the list of true movie buffs, its versatility makes it an excellent choice for media rooms, living rooms, and anywhere you want to watch and play on a big screen. (>>> Check on Bhphotovideo)
REFERENCES AND FURTHER READING: