Most home theater projectors work best when they're mounted. The best projector ceiling mounts are easy to install, universally compatible, and give users a full range of motion so you can adjust the lens placement to align with your screen.
While the mounts in this review meet all of these criteria, the Dynavista Full Motion is our top pick for its wide adjustment options and easy installation (>>> Check on Amazon). Of course, it all depends on the size, weight, and design of the projector you use, and what kind of mount will work best in your home.
Let's take a closer look at some of the top projector mounts on the market so you can find the one you need.
Best Projector Ceiling Mount – Top Picks for 2023:
| | Peerless-AV PRG-UNV | VIVO Universal | DYNAVISTA Full Motion | QualGear Pro-AV | CGOLDENWALL Projector Lift | Vogel's PPC 1540 |
| --- | --- | --- | --- | --- | --- | --- |
| | | | | | | |
| Weight capacity | 50 lbs | 29.7 lbs | 30 lbs | 70 lbs | 44lbs | 33lbs |
| Item Dimensions LxWxH | 6.38 x 13.56 x 3.25 inches | 27.5 x 27.25 x 5.5 inches | 12.12 x 12.12 x 43.6 inches | 25.2 x 4.6 x 27 inches | 20 x 20 x 13 inches | 10.4 x 5.4 x 16.9 inches |
| Mounting Type | Tilt | Ceiling | Ceiling | Ceiling | Ceiling | Ceiling |
| Item Weight | 1 pounds | 17.4 pounds | 3.3 pounds | 5.9 pounds | 33lbs | 7.26lbs |
| Price | | Check on Amazon | Check on Amazon | Check on Amazon | Check on Amazon | Check on Amazon |
Projector Compatibility
There are two factors to consider when you're choosing a mount to match your projector: the mounting configuration and the weight limit. Projectors use either a 3-screw or a 4-screw configuration.
While you can often manipulate the mounts to accommodate any projector, finding one that matches perfectly will make your installation easier.
As to the weight, most home theater projectors weigh 20 pounds or less and will work with any mount. Larger models built for permanent installations can weigh up to 40 pounds or more, however, and call for a more heavy-duty mount as a result.
Best projector compatibility: QualGear Pro-AV
Installation Ease
Mounts that come fully-assembled have a faster installation than those you need to put together yourself. It also helps if it includes high-quality bolts and screws in a variety of sizes, sparing you the need for a trip to the hardware store before you start the process.
Easiest mount to install: Dynavista Full Motion Universal Projector Mount
Adjustment Options
Aligning the projected image with your screen is easier if you can adjust the mount as well as the screen and projector lens. Ideally, you want to look for a mount that has full 360° rotation, as well as tilt and swivel options for fine-tuning.
The Vogel's PPC 1540 gives you those options, though it can't quite match the full adjustment capabilities of the Dynavista mount.
Widest adjustment options: Dynavista Full Motion Universal Projector Mount
---
Best Projector Ceiling Mount: Full Reviews
Peerless-AV PRG-UNV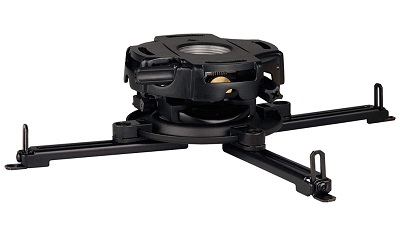 Pros
Universal compatibility with high weight capacity
Gear design for tool-free alignment
Quick release mechanism so you can easily remove the projector
Built-in cable management system
Pre-assembled for faster installation
Covered by a 5-year warranty
Cons
Not suitable for low ceilings (under 8 feet)
Too little space between mount and projector for some models
The Peerless-AV PRG-UNV has a fast and easy installation as well as broad projector compatibility. It comes with a universal spider adapter plate that's designed to fit most models of projector and can even accommodate larger projectors, with a weight capacity up to 50 pounds.
Adjusting the projector's placement is easy when you use this mount, too. Its innovative gear system lets you change the projector's positioning and angle by turning the two knobs on the mount, no need to break out the tool box to make adjustments. The quick release mechanism makes it easy to remove the projector for maintenance.
We also appreciate the unobtrusive look of the Peerless-AV PRG-UNV mount. It can be mounted flush with the ceiling thanks to its wrench access slots and has a cable management system that keeps the projector wires and power cable out of sight for a cleaner look.
---
VIVO Universal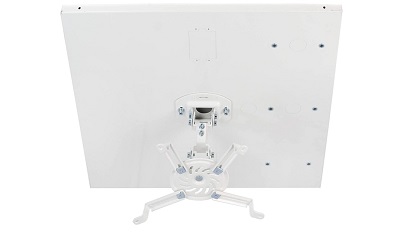 Pros
Replaces any 2'X2' drop ceiling tile
Durable steel construction
15° tilt and swivel with full 360° rotation
Adjustable mounting points for broader compatibility
3-year warranty protection
Cons
Lower weight capacity than other options
Included screws are too short for some projectors
For projector installations in rooms with drop ceilings, the VIVO Universal Drop Ceiling Projector Mount is a great option. It easily replaces 2' square drop ceiling tiles so installing it is a breeze. Attaching most projectors is just as simple thanks to the adjustable mounting points.
The VIVO Universal Mount is built to last, too. It's made of high-quality stainless steel and comes with a reinforcing cable for added stability and security.
Having said that, its weight capacity is lower than we'd expect given the quality of the construction. It can only hold projectors up to around 30 pounds—which is most models, to be fair, but something to be aware of if you have a larger model.
Adjusting the projector's placement is easy using the VIVO Universal Mount. It can be fully rotated and has tilt and swivel options up to 15° each direction, with a good amount of space between the mount and projector so you can make needed adjustments.
Integrated cord management ensures the mount will have a clean, organized look once it's installed.
---
Dynavista Full Motion Universal Projector Mount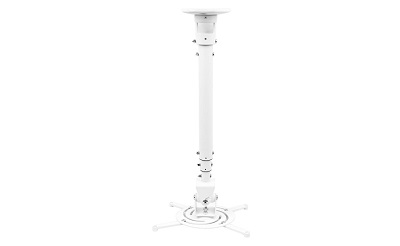 Pros
Full rotation with 25° tilt and 90° swivel
Extension arm gives a range of projector heights
Heavy-duty steel construction
Pre-assembled and easy to install
Compatible with most popular projector brands
Cons
Not suitable for large and heavy projectors
Doesn't work with sloped ceilings
The Dynavista Full Motion Universal Projector Mount is the ideal choice if you want a full range of motion for your projector. It has full 360° rotation, along with wide swivel and tilt options and a collapsible extension arm, so you can install the projector anywhere from 8.9 inches to 43.6 inches from the ceiling.
This is an easy mount to install, too. It comes fully assembled with all the needed hardware included. Just mount the plate, attach the projector, and screw everything together.
The high-quality materials and construction ensure a stable and secure mount, with quick release hooks so you can remove the projector easily when you need to.
The Dynavista Universal mount works with most home theater projectors from brands like BenQ, Optoma, Epson, and Sony that weigh 30 pounds or less. It does need a flat surface to mount to, however, so it's not the best option for those with textured or sloped ceilings.
Our more detailed Review: Dynavista Full Motion Universal Projector Mount
---
QualGear Pro-AV Projector Mount Kit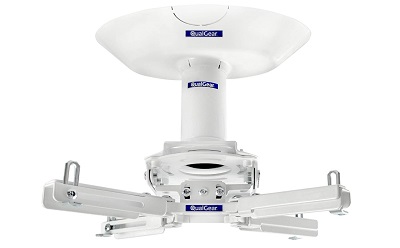 Pros
Full rotation with 12 adjustment points
High weight capacity
Built-in cable management system
Threaded pipe has lengths from 3" to 3 feet
Works with flat concrete or wood ceilings
5-year warranty coverage
Cons
Can be tricky to install projectors with 3-hole mounting configuration
Included bolts are low-quality and strip easily
The QualGear Pro-AV mount is a sturdy system for installing projectors of any size or weight. It's a 4-point mount, so projectors that use 3-point configurations (such as many Epson models) may require some fiddling before they fit perfectly, something that's the case for many universal mounts.
This version of the QualGear Pro-AV mount is made to work with flat ceilings, so homes with vaulted or drop ceilings will need a different model (QG-KIT-VA or QG-KIT S2). It's easy to install on concrete or wood ceilings, with a full-color installation manual and pre-sorted hardware so it's accessible even for those who aren't A/V experts.
The QualGear mount gives you a lot of alignment and adjustment options, too. It has full 360° rotation and 12 adjustment points for pitch and roll, up to 20°. The projector cables run up through the threaded pipe for a clean look.
Our only major quibble is that the included bolts are soft and strip easily, so most people will want to upgrade those before installing.
---
CGOLDENWALL Projector Lift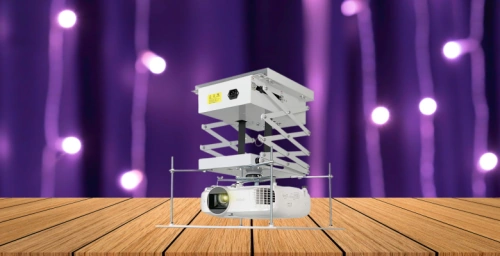 Pros
Motorized projector height adjustment
Supports hidden projector installations
Weight capacity to support most projectors
Suitable for home theaters or conference and event spaces
Durable with a high build quality
Cons
High cost
More complicated installation than most mounts
With most mounts, the projector is fixed in place once it's installed. With the CGOLDENWALL Projector Lift, you'll get a motorized mount that can raise and low the projector on your command, even hiding it in the ceiling out of sight when it's not in use.
Now, that extra capability doesn't come cheap, and the CGOLDENWALL Projector Lift costs more than some projectors. It's designed primarily for commercial and public spaces, like conference rooms or event spaces, but there are situations where this could be useful in a private home, too.
For example, if you have a multi-purpose entertainment space and want to keep the projector safe and out of the way when it's not in use.
Another plus of the CGOLDENWALL Projector Lift is that it will fit nearly any projector. It has a fairly high weight limit, with a durable dual motor and high-quality materials that assure the projector stays safely mounted.
---
Vogel's PPC 1540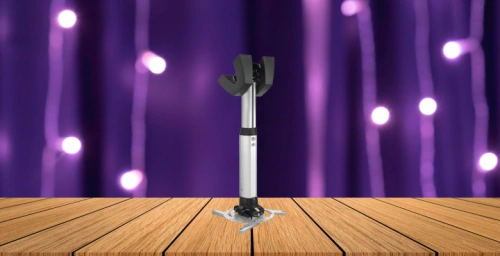 Pros
Adjustable height, angle, and swivel
Can be used on both flat and sloped ceilings
Secure and stable once mounted
Anti-theft screws for public installations
Includes a cover for false ceilings
Sophisticated cable inlay system
Cons
Doesn't fit some popular projectors
Instructions are poorly written
The Vogel's PPC 1540 gives users a lot of options for adjusting the positioning of the projector. Not only can the height be adjusted, but it also has a tilt of up to 15° and can roll a full 360°, giving users a lot of options for aligning the projected image to their screen.
This is another mount that can work well in both homes and public or commercial spaces. It comes with anti-theft screws so you can install a projector worry-free in public spaces.
It can also work on both flat and angled ceilings, and can even be used with drop ceilings or false ceilings thanks to the included cover.
We also appreciate how easy the mount is to install and use. The cable system keeps cords hidden and secure, and you can route cables through it even after installing the mount.
The secure click-in attachment gives you peace of mind that the projector is secure once installed, and stays in place securely once you've set it to your ideal angle, height, and position.
---
What's the Bottom Line?
The first thing to consider when you're choosing a projector mount is what style of ceiling you have in your viewing area. Flat ceilings, vaulted ceilings, and drop ceilings each have their own ideal mount systems. Consider the height of your ceilings, as well. A shorter mount will work better in spaces with a low clearance.
For larger projectors, models with a high weight capacity like the QualGear Pro-AV (>>> Find on Amazon) and Peerless-AV PRG-UNV (>>> Check on Bhphotovideo) are the best choice, sparing you the worry that your projector will fall and break. For hidden installations, the motorized CGOLDENWALL Projector Lift is a great choice, while the versatility of the Vogel's PPC 1540 lets it work in almost any space.
A high-quality projector mount is the last piece of the puzzle most people need to set up their home theater. We hope this review has helped you find the ideal mount for your projector and space!
FAQs
How do you choose a projector ceiling mount?
Step one is to make sure you know the weight of your projector and what type of screw pattern it uses. Next, you want to identify the needs of your space, including whether the ceiling is flat or tilted and the ideal height of an installed projector.
 
Using these two guidelines will narrow your options down to those that will physically work with your equipment and home. From there, you can decide what other features you're looking for, like tilt and swivel adjustment or a quick-release function.
Can you install a projector on a drywall ceiling?
Not by screwing it into drywall alone. Drywall can only support about 20 pounds, which is lower than the weight of many projectors, not to mention with the weight of the mount added in.
Even for a relatively lightweight projector, the safest option is to identify the ceiling joists and bolt the mount directly into those. You can use a stud finder to locate the ceiling joists under the drywall if you're not sure where they're located.
Can a projector be installed on a false ceiling or dropped ceiling?
You should not attempt to install a projector directly onto a dropped or false ceiling. Most dropped ceiling tiles are made from vinyl or polystyrene, both very lightweight materials that aren't equipped to bear any extra weight.  
 
The good news is, you have a few options that will let you install a projector in spaces with these ceilings. You can find projector mounts specifically designed for these ceilings that are basically an entire tile you fit into the ceiling frame.
These ceilings also make it very easy to install a hidden projector, by using an extendable mount installed on the true ceiling.