For most homes and projectors, a ceiling mount is a necessary accessory to get a stable, consistent picture—and there are more factors in choosing the right projector mount than you might think as a first-time projector owner.
In this Dynavista Full Motion Projector Mount review, we'll break down those factors so you can decide if it's a good fit for your home. Overall, it's a top choice for portable projectors, and its wealth of adjustment options is its main strength, but it may not be the best fit for larger models. (>>> Check the current price on Amazon)
Dynavista Full Motion Projector Mount Review of Main Specs:
| | Dynavista Full Motion Projector Mount |
| --- | --- |
| | |
| Weight capacity | 30 lbs |
| Item Dimensions LxWxH | 12.12 x 12.12 x 43.6 inches |
| Mounting Type | Tilt |
| Item Weight | 3.25 lbs |
| Price | Check on Amazon |
Installation Ease
The Dynavista Full Motion Projector Mount comes pre-assembled, giving it an easy 3-step installation process: just mount the ceiling plate, attach the mount to the projector, and hook the pieces together. The included instructions are detailed and easy to follow, no matter your level of experience with projectors.
We also appreciate that the Dynavista Full Motion Projector Mount is all-inclusive. It comes with all the hardware you'll need in the box, and the included bolts are high-quality so you won't feel the need to swap them out for the sake of durability.
One thing to keep in mind is that this Dynavista mount is designed for installation on flat ceilings. There's no angle adjustment in the mounting plate, and that can throw off your image angle if the ceilings are even slightly sloped. Where it really excels are in rooms with especially high, flat ceilings. The extendable arm of this mount gives you more potential distance than other styles, sparing you the need for aggressive keystone correction in tall-ceilinged rooms.
The mounting apparatus of the Dynavista mount screws directly into the projector, but it connects to the arm using quick release hooks. Just loosen the mounting bolts and you can easily un-mount the projector. This is another reason we say it's ideal for portable projectors. You won't need to fight with the mount when you want to travel with the projector (or even just take it out to the backyard).
Pros
Compatible with most home theater projectors
Heavy-duty steel construction
Pre-assembled for quick installation
Quick release hooks let you easily remove projector
Full 360° rotation
Wide swivel and tilt options
Cons
May not support heavier projectors
Not suitable for sloped ceilings
Projector Compatibility
The Dynavista Full Motion Projector Mount works seamlessly with most projectors. Its mounting arms are fully-adjustable, and can be arranged to easily align with the mounting holes on projectors from brands like Epson, Acer, BenQ, Optoma, and more. You'll get the easiest alignment with 3-hole projectors, but 4-hole models can be mounted with it too—it just might take a bit of extra fiddling.
While the Dynavista mount can be physically mounted to most projectors, that doesn't necessarily mean it can support all of them. Its recommended maximum weight load is 30 pounds. Most home theater projectors come in under this weight limit, but some high-end models can weigh 40 pounds or more, and will need a heavier-duty mount as a result.
Adjustment Options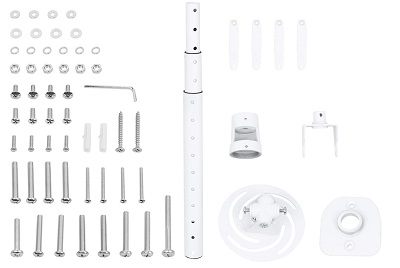 This Dynavista mount is advertised as "full motion" and on the projector side of it, it lives up to that billing. This starts with full 360° rotation, sparing you the need to perfectly align the front of the mount to the screen. It can also swivel 90° left to right and has a 25° up and down tilt, so you'll get full control over your viewing angle.
The extendable arm of the Dynavista Full Motion Projector Mount is another helpful feature. For low ceilings, you can remove the arm entirely, putting the projector just 8.9 inches from the ceiling. With the arm, the projector can be anywhere from 23"-43.6" from the ceiling, giving you more options for taller rooms than you'll get with most mounts.
The Bottom Line: Dynavista Full Motion Projector Mount Review
The Dynavista Full Motion Projector Mount fits most projectors and homes and far surpasses most projector mounts when it comes to versatility. It does have its limitations, and for sloped ceilings and heavy projectors, you may need to look elsewhere. For most, though, its adjustability and flexibility make this Dynavista mount a smart, user-friendly choice. (>>> Check on Amazon)
REFERENCES AND FURTHER READING: