At the heart of any great home theater set-up is an equally powerful receiver. These devices serve as the hub for your speakers, projector or TV, and content sources, optimizing the signal that goes to each along with making them more convenient to control.
In the world of high-end receivers, Denon is one of the names you'll hear often. The company makes a range of options suitable for a modern home theater, with the AVR-X2700H and AVR-X2700H being among their newest and most advanced models.
Comparing the Denon AVR-X2700H vs AVR-X2700H, you'll see both offer impressive sound and video quality, along with smart features like voice control. While the AVR-X3700H offers more connections and power for larger home theater systems, the lower price of the AVR-X2700H makes it a better value for smaller home theaters. Before we get into the full reviews of each receiver, let's take a look at the main places these receivers differ, so you can see why the Denon AVR-X3700H is the more powerful (and more expensive) option (>>> Check Price on Amazon).
Denon AVR-X2700H vs AVR-X3700H Side by Side:
| | Denon AVR-X2700H | Denon AVR-X3700H |
| --- | --- | --- |
| | | |
| Channels | 7.2 | 9.2 |
| Watts per channel | 95W | 105W |
| Wireless connectivity | Wi-Fi, Bluetooth | Wi-Fi, Bluetooth |
| Dimensions | 17.1" X 13.4" X 6.6" | 17.1" X 15.3" X 6.6" |
| Weight | 25.3lbs | 27.6lbs |
| Price | BHPhotoVideo.com | BHPhotoVideo.com |
Channel Configuration
The Denon AVR-X2700H supports 7.2 channels, meaning you can use it to power up to 7 speakers and 2 subwoofers at the same time. This can be modified into a 5.1.2 arrangement, integrating overhead speakers for a more immersive sound experience.
With the Denon AVR-X3700H, you'll get 9 dedicated amplifiers. This provides native support for 9.2 systems, with processing for up to 11.2 systems. More amplifiers also gives you more options for overhead speakers, so you'll get more versatility with the AVR-X3700H.
More channels: Denon AVR-X3700H
Connectivity
For a receiver to be a good fit for your home theater you need the inputs and outputs to support all the components. Both the Denon AVR-X2700H and AVR-X3700H have an impressive range of connection options, with wireless connectivity as well as all commonly used wired connections, including HDMI, component, composite, and coaxial.
If you're looking for the most inputs and outputs, the AVR-X3700H is your best choice. It has 10 spaces for HDMI connections alone, along with a huge array of inputs and outputs that let you connect turntables, use third-party control systems, and more.
Most connection options: Denon AVR-X3700H
Set-up and Installation
You don't need to be an A/V expert to set up either of these receivers. Both come with Denon's on-screen setup assistant, which walks you through the process of connecting and calibrating your speakers and content sources. While the sheer number of inputs and outputs on the AVR-X3700H can make it a bit overwhelming to look at, they're clearly labeled and intuitively laid out.
The Denon AVR-X3700H gets a slight edge in the set-up category because of how easily it adapts to custom installations. It integrates easily with a range of third-party control devices and has additional calibration systems that let you optimize the sound coming from all your speakers, even in multi-room setups. The quick select buttons on the front panel let you save sound settings and quickly switch between them, so it's as easy to use as it is to install.
Easier to install: Denon AVR-X3700H
---
Denon AVR-X2700H vs AVR-X3700H: Full Reviews
Denon AVR-X2700H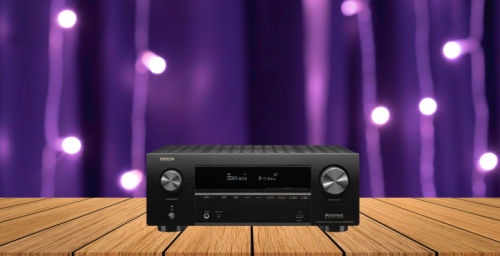 The Denon AVR-X2700H uses the most advanced visual and audio processing technology you'll find on the current market. This includes 8K-ready video processing, with dynamic HDR10+ support for impressive contrast, color, and clarity for all your movies and TV shows.
The processing speed is high on the AVR-X2700H, too. It has quick media switching to reduce the delay when changing inputs. You'll also get 120Hz 4K video processing, which is fast enough to enable 4K gaming and makes sure all on-screen action is smooth and blur-free. Gamers will also appreciate the variable refresh rate and Auto Low Latency Mode. You'll play lag-free when you're using the Denon AVR-X2700H.
As well as it performs for visual signals, the sound processing on the Denon AVR-X2700H is even more impressive. It has Dolby Atmos Heigh Virtualization technology so you can add an overhead speaker, giving you an even more immersive experience than traditional surround sound. Along with that, you'll enjoy DTS:X and IMAX sound technology for realistic, powerful sound with no signal loss.To top it all off, the Denon AVR-X2700H is user-friendly, with an on-screen setup guide that walks you through the installation process. It's great for smart home users, too, with voice control through Amazon Alexa, Apple Siri, or Google Assistant, and easy integration into systems like Control 4 SDPP and Josh.ai. Click here for full Denon AVR-X2700H review.
Pros
Superior sound quality with Dolby and IMAX technology
Supports video resolutions up to 8K
Compatible with Airplay 2 and HEOS multi-room music
Easy to integrate into smart home systems
Full voice control with Alexa, Siri, or Google Assistant
On-screen setup assistant for easy, fast installation
Excellent value at the price
Cons
Fewer input options than the X3700H
Included remote isn't great
---
Denon AVR-X3700H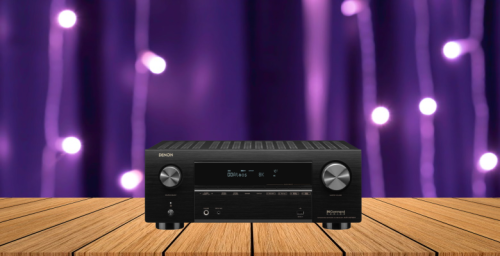 For sound and video quality, you'll get the same impressive stats from the Denon AVR-X3700H that you'll find on the X2700H above. This includes Dolby Height Virtualization, DTS:X and IMAX sound, and support for video resolutions up to 8K. It's a great system for both movies and music, with support for multi-room music and direct streaming from apps like Pandora and Spotify.
The Denon AVR-X3700H is also easy to integrate into smart home theater systems. It has the same wide voice control compatibility and comes with the on-screen setup app that makes it easy to get started. We appreciate the inclusion of the Audyssey MultEQ speaker calibration system, which lets you calibrate all your speakers together to optimize your listening experience.
Where the Denon AVR-X3700H really excels is in its versatility. It's built to power 9.2 systems right out of the box, with processing power that allows you to expand that to 11.2 systems. This also opens up the option of 5.1.4 or 7.1.2 3D sound systems with overhead speakers, so you'll get more configuration options as well as the power to drive more speakers.
The inputs and outputs on the Denon AVR-X3700H are equally robust. There are 10 HDMI ports in total, along with a range of other connections that even includes a phono input for record players. This is in addition to its Bluetooth and Wi-Fi connectivity. Even the largest and most complex home theaters will be able to run through the Denon AVR-X3700H. A more detailed review of Denon AVR-X3700H can be found here.
Pros
Processes video signals up to 8K resolution with HDR 10+ support
Exceptional sound quality for both music and movies
Capable of driving speaker systems up to 11.2 channels
Wide range of inputs and outputs with 10 total HDMI ports
Smooth lag-free 4K gaming with VRR and ALLM
Quick select buttons for storing audio settings
Audyssey MultEX speaker calibration with 2 presets
Full voice control support for easy smart home integration
Cons
---
What's the Verdict?
The Denon AVR-X2700H and AVR-X3700H use the same high-level audio and video processing technology, so they'll both give you a superior home theater experience. Both also work well with an array of smart home systems and are 8K ready, making them great long-term investments.
Choosing between these two projectors really comes down to the size of your system. For most, the 7.2 surround sound system on the AVR-X2700H is sufficient for their needs, and it will have plenty of input options for your needs. Those with larger, more complex systems will appreciate the versatility offered by the Denon-X3700H, which supports speakers systems up to 11.2 and has a wider variety of configuration options (>>> Find on ProjectorScreen).
Ultimately, you'll be impressed with the convenience and quality of either of these receivers. We hope this comparison has helped you decide which is the right choice for your home theater!