If you're setting up a full home theater, a high-end receiver should be on your list of necessary equipment. Along with the convenience of controlling all your electronics from one source, a receiver optimizes the audio and visual signals, giving you the best viewing and listening experience possible.
Denon is one of the leading names in home theater receivers. The company's reputation for quality and consistency is a big reason why they're so popular with consumers. In this Denon AVR-X3700H review, we'll check out its full features and functions—all the info you need to decide if it's the right fit for your home theater. >>> Check the current price on Amazon
Denon AVR-X3700H Review of Features:
| | Denon AVR-X3700H |
| --- | --- |
| | |
| Channels | 9.2 |
| Watts per channel | 105W |
| Wireless connectivity | Wi-Fi, Bluetooth |
| Dimensions | 17.1" X 15.3" X 6.6" |
| Weight | 27.6lbs |
| Price | BHPhotoVideo.com |
Audio Performance
The sound processing on the Denon AVR-X3700H provides a high level of performance for both listening to music and watching movies or TV. It supports all the latest 3D audio formats, including DTS:X, Dolby Atmos, and IMAX enhanced, giving users a fully-immersive sound experience.
One thing we love about the AVR-X3700H for home theaters is how versatile it is in terms of the surround sound set-up. It's designed to support a 9.2 system, with 9 separate amplifiers so the audio on each channel has consistent output and power. You can also expand that system with the 11-channel processing and the addition of a 2-channel power amplifier. This lets you add overhead speakers to the usual surround sound set-up, and works beautifully with 5.2.4 and 7.2.2 speaker set-ups, as well.
The Denon AVR-X3700H also supports a wide range of content and formats for listening to music. You can playback MP3s, WAV files, or other high-resolution audio formats easily. With built-in wireless, you can even stream content from Pandora or Spotify straight to the receiver, and it also works with systems like Apple AirPlay and HEOS.
Pros
Quick start guide for easy, fast set-up
High video and audio quality
Convenient and intuitive controls
Versatile across a variety of surround sound set-ups
Wide range of input and connection options
High refresh rate and low latency are great for gaming
Voice control through Alexa, Google Home, or Siri
Supports latest 3D formats and audio/video technology
Cons
Doesn't work well with Sonos equipment
No ChromeCast support
Visual Performance
You'll never have to worry about signal loss with the Denon AVR-X3700H at the center of your home theater system. It supports 8K signal pass-through, which is a higher resolution format than most TVs and projectors can even display.
For 4K and 1080p systems, you'll get fast 120Hz signal processing, which makes this receiver powerful enough for graphic-intensive gaming as well as TV and movie watching. Gamers will also appreciate the Variable Refresh Rate and automatic low latency mode, which eliminates lag for smooth, frustration-free playing.
Those who enjoy optimizing their picture settings will love the calibration controls on the AVR-X3700H. They're certified by the Image Science Foundation for accuracy, with day and night video modes and a range of picture adjustment options.
As far as video content, you can view basically anything through this receiver. All of the HDMI ports have HDCP 2.3 processing. Along with that, you'll enjoy full 3D support. Whatever content you want to watch, the AVR-X3700H can handle it.
Connectivity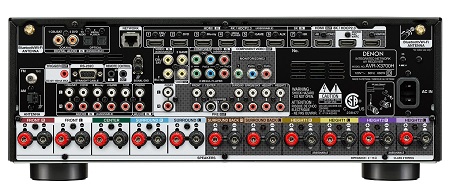 The variety of wired connections on the AVR-X3700H has enough options for even the most complex home theater set ups. This starts with 10 HDMI ports (7 in, 3 out), along with component, composite, and coaxial connections.
Wireless connectivity expands these options even further. The Denon AVR-X3700H has both Wi-Fi and Bluetooth. That lets you wirelessly send the signal to speakers or headphones, along with streaming audio and video content to the receiver.
Smart Features
The Denon AVR-X3700H works with a range of voice control systems. You can use Amazon Alexa, Google Assistant, Apple Siri, or Josh.ai. Whatever you've used to build your smart home, this receiver will integrate easily into it.
You'll get smart control of this receiver, as well. The smart TV connectivity of the Denon AVR-X3700H gives you quick, easy access to all your sound and video settings through your TV or projector using your usual remote
Denon AVR-X3700H Review: Our Verdict
For a modern, high-end home theater, the Denon AVR-X3700H is one of the best receivers you'll find. The inclusion of 8K support makes it an excellent long-term investment, with the connections and versatility to adapt to almost any set-up. >>> Check the current price on ProjectorScreen
Most importantly, you can count on the Denon AVR-X3700H to provide the best possible audio and visual quality for your content. Whether you're listening to music or gaming in 4K, this receiver will help you get truly immersed in your entertainment.
REFERENCES AND FURTHER READING: