If you're in the market for a high-quality home theater projector, the Epson EpiqVision Ultra LS500 and Optoma CinemaX P1 are probably both already on your radar. These two ultra-short throw 4K laser projectors earn high marks for picture quality, usability, and reliability, so it's easy to see why they're consistently among the top-rated projectors on the market. Comparing the Epson LS500 vs. Optoma P1, it's hard to come up with a clear winner. Both are easy to set up with a sharp, bright picture and a reputation for reliability. Choosing between them ultimately comes down to how you plan to use the projector in your home. Let's look at the key features so you can see how they stack up.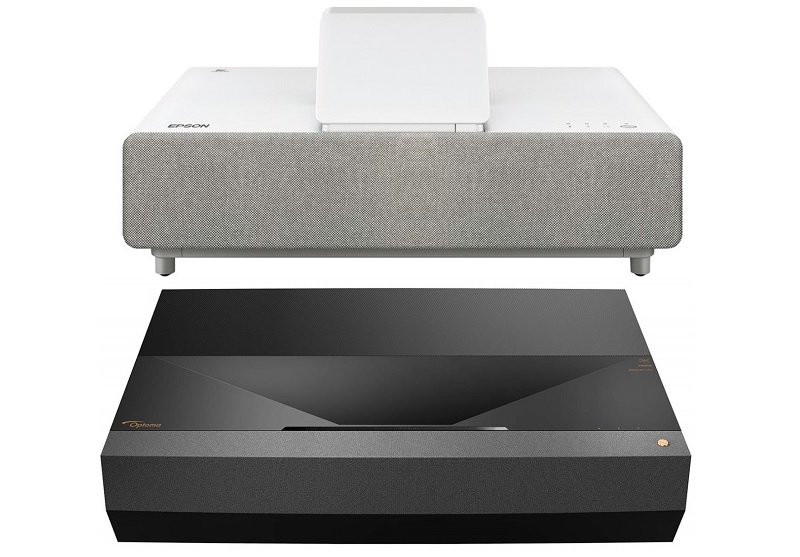 Epson LS500 vs Optoma P1 Side by Side:
| | Epson LS500 | Optoma P1 |
| --- | --- | --- |
| | | |
| Resolution | 1920x1080 4K w/pixel shifting | 3840x2160 |
| Brightness (Lumens) | 4,000 | 3,000 |
| Contrast Ratio | 2,500,000:1 | 1,500,000 |
| Throw Distance | 0.7' - 1.9' | 1.5' - 2.2' |
| Screen size | 70" - 130" | 85" - 120" |
| Input lag | No data | 55ms |
| Speakers | 10.0 Watts × 2 | No |
| Price | BHPhotoVideo.com | Check on Amazon |
Included Accessories
The Optoma P1 comes with the standard accessories you expect from a projector, which basically consists of the connecting wires you'll need and a remote for navigation. For users who want the best picture quality, this means you'll need to buy a projection screen if you don't have one already.
With the Epson LS500, a 100" screen comes included—and not just any screen, either. The high-resolution ambient light reducing (ALR) screen is designed to enhance the image quality. It's also great for large groups and viewing parties, with virtually no glare and a wide 178° viewing angle.
Better included accessories: Epson LS500
Sound
The built-in speakers on the Epson LS500 are fairly standard, as projectors go. With 10 watts of power, they provide enough volume for basic TV watching and have decent clarity and sound quality for mid-range sounds like dialogue. They're not enough to give you immersive movie theater-style sound, but they'll get the job done.
The Optoma P1 comes with an integrated NuForce soundbar that has two mid-range drivers and two dedicated woofers for bass frequencies. With Dolby 2.0 processing for the audio signal and 40 watts of power, both the volume output and the overall sound quality are far superior to what you'll get from the LS500. You can still connect external speakers if you want to use a surround sound system, but for most users the soundbar on the Optoma P1 is sufficient on its own.
Better sound: Optoma P1
Gaming Performance
Input lag or latency refers to the delay between your actions and what you see on the screen. This is an especially important spec for gamers, especially if you're playing reflex-based games like first-person shooters. Serious gamers look for an input lag below 30ms. For more casual play, most users won't notice a delay of around 60ms or lower.
The Optoma P1 can produce an input lag as low as 49ms. However, if you use the SmartFIT app or PureMotion technology, that can go as high as 75ms, which is high enough some players may find it obtrusive. The Epson LS500 is a much better choice for gaming, with an input lag of 16.7ms that will satisfy even the most hardcore gamers.
Better gaming performance: Epson LS500
Smart Features
The Epson LS500 has a streaming-friendly operating system, letting you wirelessly cast content from iOS and Android devices as well as streaming directly to apps on the projector. It also comes with some support for Google Assistant voice control, though it's limited to voice searches.
The Optoma P1 has far more options for smart home owners. It supports voice control through both Alexa and Google Assistant, which you can use to adjust the volume or start and stop playback as well as searching. Best of all, it's compatible with IFTTT. This enables you to work it into custom recipes and routines, opening up a plethora of automatic adjustments or voice commands that aren't available on the Epson LS500.
Best smart features: Optoma P1
Epson LS500 vs Optoma P1: Full Reviews
Epson LS500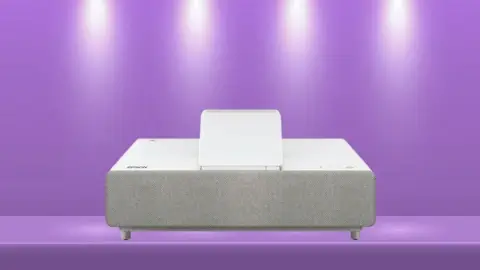 With the Epson EpiqVision Ultra LS500 you get everything you need in one box, including an ambient light rejecting screen with a wide viewing angle and all the hardware you'll need to mount it. The ultra-short throw distance simplifies the set-up process. A range of alignment functions, including a zoom and both digital and horizontal keystone correction, means you have a lot of flexibility when it comes to projector placement.
Versatility is another strength of the Epson LS500. It's an ideal home theater projector, with a sharp Ultra HD picture, HDR10 processing, and 3LCD chip color technology. It's just a great for gaming, too, with a low input lag and a high processing speed to prevent lags and glitches. This makes it a great choice for media rooms, living rooms, and other multi-purpose spaces. The 4,000-lumen lamp is powerful enough to prevent picture loss even in bright ambient light, so you can use it anywhere without worrying about light control.
The Epson LS500 uses an Android operating system and navigation is intuitive for anyone familiar with streaming interfaces. You can stream content from many channels right to the projector, including popular services like Netflix and Hulu. While its smart functions are somewhat limited, it does support voice search through Google Assistant, and supports Chromecast for streaming directly from Android or iOS devices. Click here for our more detailed review of Epson Ultra LS500.
Pros
Comes with 100" ALR screen
Wide color gamut with no rainbow effect
Bright enough for use in well-lit rooms
Excellent for gaming
Android TV OS is intuitive and easy to navigate
Supports voice control through Google Assistant
Cons
Limited smart features and voice control options
Built-in speakers aren't great
---
Optoma P1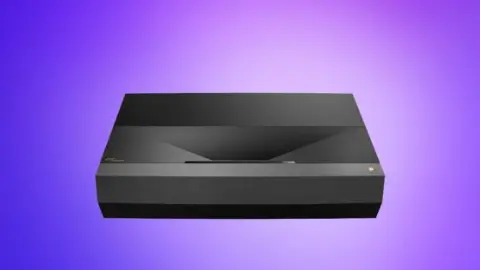 The Optoma P1 makes the ideal centerpiece to any smart home theater or media room. It gives users a lot of options for integrating it into a smart network, with support for both Amazon Alexa and Google Assistant as well as IFTTT. When you're not watching movies, the InfoWall function lets you use the Optoma P1 to see the day's news, check the weather, or view your calendar. The info shown is easy to customize through the Optoma Connect app.
The Optoma P1 is a smart choice even if you're not concerned with smart features. The ultra-short throw ratio eliminates the need for ceiling mounts. To align the picture, you can use the SmartFIT app to automatically correct the geometry, and there's also an automatic focus for fine-tuning the image.
Once you have it up and running, the picture quality is spectacular, with a sharp true 4K resolution and a high dynamic contrast that give you a stunningly realistic image. The Optoma P1 is also one of the few projectors whose on-board sound lives up to the picture quality, and the dual woofers on the NuForce soundbar put out surprisingly good bass for their size.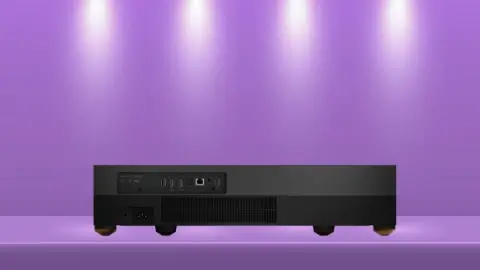 The Optoma P1 can be used for casual gaming if you disable features like SmartFIT that drive up the input latency, but it's not what we'd call a "gaming projector". It's designed for movie and TV watching and that's where it excels, with a user-friendly interface and an outstanding picture quality.
Pros
Vibrant true-to-life colors with deep black levels
SmartFIT app and auto-focus for fast image set-up
Impressive volume and sound quality from NuForce soundbar
Compatible with both Alexa and Google voice control
Support for IFTTT
Customizable InfoWall
Cons
Input lag is on the high side for serious gamers
DLP technology may cause rainbow effect
---
The Verdict
Both the Epson LS500 and the Optoma P1 have a lot of advantages. If you want something you can use for both movie watching and gaming, the Epson LS500 is your best choice. It's also the more convenient option since it comes with a screen and supports more content streaming options. >>> Check it's current Price on ProjectorScreen
Keep in mind, though, that included screen with the LS500 isn't exactly free. The Optoma P1 costs significantly less than the LS500, so if your budget is a factor (or you already have a screen), it's going to be the more appealing option. Smart home users will also find the Optoma P1 better-suited to their needs.
The good news is, whether you buy the Optoma P1 or the Epson LS500, you'll get a user-friendly projector with an outstanding picture quality and a lot of versatility. We hope this comparison has helped you figure out which one is the perfect fit for you!
REFERENCES AND FURTHER READING: