Laser projectors have a lot of advantages. Compared to traditional lamps, they're brighter, have a longer lifespan, and often also have a shorter throw ratio. That means an easier user experience as well as an overall better picture quality. If you're looking for the best 4K laser projector, you're probably comparing the Epson LS500 vs. Optoma P2. Both of these models check all the boxes, with sharp resolution, brilliant colors, and fast, easy installation. Looking at all the factors, we'd say the Epson LS500 is the overall better projector. On the other hand, the Optoma P2 is by no means a bad projector, and it outperforms the LS500 in some areas.
Curious which model offers the features you need? Read on to see the main differences compared side-by-side so you can pick the perfect projector for your home theater.
Epson LS500 vs Optoma P2 Side by Side:
| | Epson LS500 | Optoma P2 |
| --- | --- | --- |
| | | |
| Resolution | 1920x1080 | 3840x2160 |
| Brightness (Lumens) | 4,000 | 3,000 ANSI |
| Contrast Ratio | 2,500,000:1 | 2,000,000:1 |
| Input Lag | 16.7ms | 50ms |
| Throw Distance | 0.7' - 1.9' | 1.5' - 2.2' |
| Screen size | 70" - 130" | 85" - 120" |
| Speakers | 10.0 Watts × 2 | 40W NuForce soundbar |
| Price | BHPhotoVideo.com | BHPhotoVideo.com |
Picture Quality
The Epson LS500 and Optoma P2 both offer 4K resolution with a high contrast ratio. In layman's terms, that means a sharp, detailed image with excellent depth, texture, and realism. The main difference between them is their color technology.
The 6-segment color wheel used on the Optoma P2 produces a wide color gamut, but can also cause problems for some viewers. The 3LCD chip design of the Epson LS500 produces a more consistent color space, with the same broad coverage of the Rec. 709 spectrum you'll get from the P2.
Better picture quality: Epson LS500
Smart Features
The Android TV interface on the Epson LS500 supports popular streaming channels like Netflix and Hulu, and even supports live TV streaming apps. It's compatible with Google Assistant voice control, too, though you can only use it for voice searches and the commands are limited.
Comparatively, the smart features on the Optoma P2 are far more robust. Even the set-up process is smart thanks to the SmartFIT app, which automatically corrects the screen geometry to get you watching faster. The Optoma P2 can be used with both Alexa and Google Assistant voice control, supporting playback controls as well as searches. It can also be worked into custom routines and recipes using IFTTT, which also allows you to connect it with other smart devices in your home.
Better smart features: Optoma P2
Gaming Performance
The main spec gamers care about is the input lag. This indicates how much delay you'll experience between your input on the controller and what you see on the screen. Serious gamers look for an input lag of 30ms or less, though anything under 60ms can work for casual gaming.
The 16.7ms input lag of the Epson LS500 is ideal for gamers, and noticeably more responsive than the Optoma P2, whose lag hovers around 60ms even in its Enhanced Gaming Mode. The Epson LS500 also has a high frame rate, with 120Hz processing at 4K resolutions. That translates to smooth on-screen action and no frustrating lag so you can focus on playing your game.
Best gaming performance: Epson LS500
Included Accessories
The Optoma P2 includes the accessories you'd expect from any projector: a remote to control it and the wires to power it. For most, this means you'll need to buy a screen to project the image onto before you can use it to its full effect.
The screen comes included with the Epson LS500. And not just any screen, either. The 100" ambient light rejecting (ALR) screen is high-definition and anti-glare, with a wide 178 degree viewing angle. In short, it makes the great picture from the LS500 look even better. It's great for viewing parties, too, since every seat will get the same view.
Better included accessories: Epson LS500
Sound
If you already have a surround sound system in your home theater, the quality of the speakers on the projector isn't a big concern. That's why many projector manufacturers don't give much thought to the speakers. Epson falls in this category, and the dual 10-watt speakers on the LS500 are functional but lacking in mid-range clarity and bass power. The 40-watt NuForce soundbar on the Optoma P2 is a much better option if you plan to use the projector for sound as well as picture
Better sound: Optoma P2
---
Epson LS500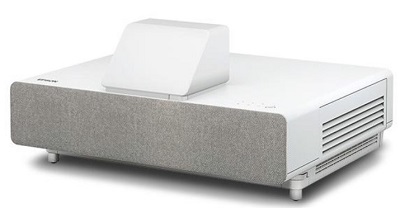 The Epson EpiqVision LS500 is advertised as an all-in-one entertainment machine, and it mostly lives up to this promise. A big part of this is the inclusion of a 100" ambient light rejecting screen, which spares you the need to buy a screen separately. The LS500 is streaming-ready, too, with a smart Android interface so you can download streaming apps right to the projector.
The built-in sound of the Epson LS500 is the only thing keeping it from being truly self-contained. The 10-watt stereo speakers are fine for casual TV watching but don't do justice to movie sound effects or music, and most people will want to use external speakers.
Of course, visual quality is the more important consideration for a projector, and on that front the Epson LS500 delivers. Its laser array puts out 4,000 lumens for a bright, ultra HD image in any light conditions. The 3LCD chip color technology produces the full Rec. 709 spectrum with consistent brightness and no annoying image issues like rainbowing. Since it's great for gaming, too, that makes the Epson EpiqVision LS500 a versatile choice for all home entertainment systems.
Pros
4K resolution with 10-bit HDR processing
Wide color gamut with no rainbow effect
Low input lag is great for gaming
Includes 100" ALR screen
Ultra-short throw distance
Android TV OS with Google Assistant voice control
Cons
Voice control is limited to searches
Weak sound and output from built-in speakers
---
Optoma P2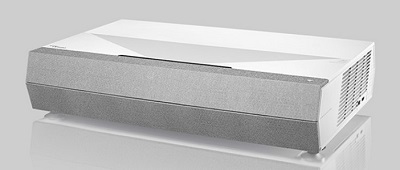 The Optoma CinemaX P2 is one of the smartest projectors on the current market. This starts with voice control support for both Amazon Alexa and Google Assistant. You can go beyond searches, too, using your voice to control playback or even setting up custom recipes. It also supports IFTTT, allowing full integration into smart home systems.
We also appreciate how easy the Optoma P2 is to set up and install. The ultra-short throw produces a massive picture with right around 2 feet of distance. Aligning the image is easy, as well, especially if you use the SmartFIT app to automatically adjust the geometry. You may not need to connect external speakers, either. The NuForce soundbar built into the Optoma P2 has similar volume output and sound quality to most Bluetooth speakers, with Dolby Audio support to enhance the sound further.
The laser light source in the Optoma P2 puts out 3,000 lumens, plenty bright enough for lights on viewing. The image quality is high overall, though it should be noted it uses a 6-segment color wheel. This produces a broad color gamut with vibrant, accurate hues, but may also trigger the rainbow effect for those sensitive to it. Click here for our more detailed review of the Optoma CinemaX P2
Pros
Ultra HD resolution with excellent contrast
Bright, low-maintenance laser with 30,000 hour lifespan
Exceptional sound quality with NuForce soundbar
Quick, easy set-up with SmartFIT app
Compatible with Alexa and Google Assistant voice control
Supports IFTTT for smart home integration
Cons
Not the best choice for gaming
Color wheel may cause rainbow effect
---
Epson LS500 vs Optoma P2 – What's the Verdict?
Choosing between the Optoma P2 and the Epson LS500 ultimately comes down to what you need from your projector. The Epson LS500 is the clear winner for gamers, and the inclusion of a screen also makes it a great choice for first-time projector owners (>>> Check on ProjectorScreen). On the other hand, smart homeowners will appreciate the easy integration of the Optoma P2, along with its quick set-up and excellent picture quality.
In the end, these are both high-end projectors that will serve you well in a home theater context. Hopefully, the reviews above have helped you decide which one is right for you!
REFERENCES AND FURTHER READING: