Most projectors are built either for home theater use or for presentations in classrooms and businesses. The PowerLite 805F does both beautifully while staying comparable in price to other mid-range home theater projectors. If you're looking for this kind of versatility, this Epson PowerLite 805F review so you can see if it's the right model for you. (>>> Check on Amazon)
Epson PowerLite 805F Review of Main Specs:
| | Epson PowerLite 805F |
| --- | --- |
| | |
| Resolution | 1366x768 |
| Brightness (Lumens) | 5,000 ANSI |
| Contrast Ratio | 2,500,000:1 |
| Throw Distance | 1.3' - 2.6' |
| Screen size | 65" - 130" |
| Speakers | Mono |
| Price | BHPhotoVideo.com |
Set-up Ease and Flexibility
The Epson PowerLite 805F uses a laser light source rather than a traditional bulb. This gives it a significantly shorter throw distance than most projectors, and you'll only need about 2 feet between the screen and lens to get a 100" image.
This means most users won't need to worry about a ceiling mount, cutting down on installation time and hassle. It's also great news from a business projector standpoint, letting you use it for displays at trade fair booths and other tight spaces where a traditional projector just won't work.
The PowerLite 805F is built for 360 degree placement, meaning it can be set up at any angle. It has a digital zoom along with both horizontal and vertical keystone correction, so you can square the image to the screen no matter how it's positioned. You can also toggle between landscape and portrait aspect modes, a handy feature if you'll be using the projector for displays.
Another advantage of the laser light source in the PowerLite 805F is its impressive brightness. It puts out a consistent 5,000 ANSI lumens, making it one of the brightest projectors on the consumer market. No matter how bright your space, you won't need to worry about controlling ambient light to use this projector. Combined with the short throw, this gives it broad versatility in terms of where you can use it.
Business Presentation Performance
Clarity is the main concern for presentations—you need to know viewers can read the text and figures you're presenting on the screen. The Epson PowerLite 805F has a native 1080p resolution and a high dynamic image contrast. All the content it projects is sharp and detailed, and this includes text-based documents.
The PowerLite 805F also has some unique features that business users will love. The split screen option lets you project 2 or 4 images simultaneously. You can use this to show documents and a Zoom interface during a meeting, or to easily add variety to displayed graphics and signage. The included content management software and content creation app are another bonus, giving you all the tools you need to create dynamic, eye-catching presentations and displays.
Laser light sources last longer than lamps. The light source in the Epson PowerLite 805F lasts up to 20,000 hours. This makes it super low-maintenance, with no need to buy replacement lamps, and gives it the longevity you need for signage applications or all-day display use.
Pros
Super-bright lamp works in any light level
Full HD resolution with high dynamic contrast
Clear, legible text at all screen sizes
Vibrant 3LCD color
Ultra-short throw distance
Wide array of input options
Durable and low-maintenance
Cons
Can't play 4K or 3D content
Weak built-in speakers
Home Theater Performance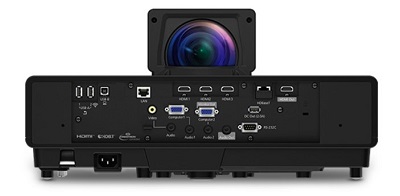 Many of the same things that make the PowerLite 805F great for business use are equally desirable in a home theater, like the full HD resolution and high contrast. You'll especially notice the 3-chip LCD color technology when you're watching shows and movies. The color is consistently bright across the image, with no distracting flickering or rainbowing.
The Epson PowerLike 805F also has the connectivity you'll need in a modern home theater. Along with a robust array of wired inputs, including RCA, VGA, and HDMI, it has built-in wireless networking capability and supports Miracast for wireless screen mirroring.
The main limitation of the PowerLite 805F in a home theater context is that it doesn't support Ultra HD (4K) content or 3D movies. You'll also definitely want to use external sound. There's a speaker built-in but its output and sound quality are similar to many laptop speakers and just doesn't have the volume, clarity, or low-end power you want from home theater audio. More projector options for home theater can be found here.
Epson PowerLite 805F Review in Summary
The Epson PowerLite 805F can truly be used anywhere and for almost any purpose, and that's it's main strength. It's one of the few projectors that can transition seamlessly from a backyard movie night to a workplace presentation, and has a fast and easy set-up in any context. If you're looking for a convenient, multi-purpose projector, the 805F is a model you should consider. (>>> Check the current price on Bhphotovideo)