Are you looking for an all-in-one entertainment machine? With its built-in streaming, high-quality soundbar, and included screen, the 120L5F from Hisense is a great centerpiece to any modern home theater space. If you're looking for a user-friendly way to bring big screen entertainment to your home, this Hisense 120L5F review will help you decide if it's your new perfect projector (>>> Check on Amazon).
Hisense 120L5F Review of Main Specs:
| | Hisense 120L5F |
| --- | --- |
| | |
| Resolution | 3840x2160 |
| Brightness (Lumens) | 2,700 ANSI |
| Contrast Ratio | No data |
| Input lag | 60ms |
| Throw Distance | 1'2" |
| Screen size | 120" |
| Speakers | 15.0 Watts × 2 |
| Price | ProjectorScreen.com |
Installation
The Hisense 120L5F uses an X-Fusion laser light source with an ultra-short throw distance, producing a 120" image with just over a foot of distance between the projector and screen. Because of this, it's easy to setup on a tabletop or entertainment center rather than mounting it on the ceiling. The inclusion of both horizontal and vertical keystone correction gives it even more placement flexibility, letting you square the geometry if you can't install it head-on to the screen.
Another great thing about the Hisense 120L5F for first-time projector owners is that it comes with a 120" ambient light rejecting screen. This means you get everything you need to use it right out of the box, no extra accessories required.
Picture Quality
That same X-Fusion laser that gives the 120L5F such a convenient throw distance also provides an exceptional picture quality for movies, TV shows, and games. Its true 4K image resolution has exceptional detail, with support for technology like HLG and HDR10 for a sharp contrast and great picture depth. It doesn't only bring this quality to 4K content, either. 4K upscaling means you can see even lower-resolution content with the detail of Ultra HD.
The 2,700 lumens produced by the Hisense 120L5F is enough to keep the picture saturated in most indoor light conditions. You still might need black-out curtains for daytime viewing, but you won't need to turn all the lights off to use it. Its True Color system helps here, too, producing vibrant hues with a wide color gamut that gives the image excellent realism.
We also love that the Hisense 120L5F can be used for any type of content. It uses a combination of MEMC technology and a Digital Micromirror Device (DMD) to ensure smooth action and eliminate motion blur, keeping the image sharp and detailed no matter what's happening on screen.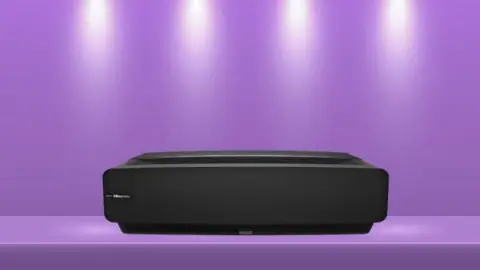 Pros
True 4K resolution with HLG and HDR10
Built-in streaming and voice control
Good variety of wired and wireless connections
Includes a 120" ALR screen
High sound quality from built-in soundbar
Cons
Lag is too high for most gamers
Built-in Sound
The Hisense 120L5F has an integrated soundbar with two 15-watt full-range speakers. This is backed by DBX-TV digital audio technology that maintains the integrity of the audio signal, ensuring you'll hear as much detail as you see when you watch movies and shows with this projector.
The overall sound quality from the Hisense 120L5F is on par with most stand-alone Bluetooth speakers. It's not going to give you a surround sound experience and it's lacking a bit in the bass end, but it's nicely clear in the mid-range and ideal for dialogue. If you do want to use external speakers, you can connect them easily through the optical audio output.
Connectivity and Streaming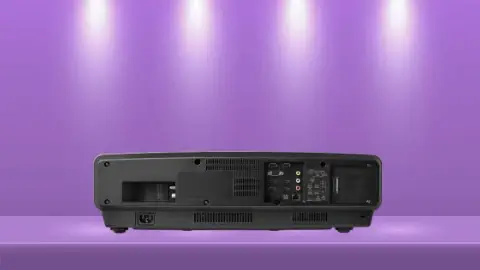 The Android TV interface on the Hisense 120L5F means many users won't need external content sources to watch their favorite shows and movies. It supports most popular streaming apps, with access to anything you'll find in the Google Play store. It's also compatible with Chromecast for screen mirroring and has built-in voice control through either Google Assistant or Amazon Alexa. This goes beyond simple voice searching, too, letting you control the playback or integrate the projector into home automation routines.
Very often, projectors that have wireless connectivity are slim on wired input options—but that's not the case with the Hisense 120L5F. It has 4 HDMI ports along with dual USB inputs and networking connections. That's plenty for even the most complicated home theater set-up, so you won't need to rely on streaming apps to get your content.
Hisense 120L5F Review: The Bottom Line
There is definitely a lot to love about the Hisense 120L5F. While its price might seem a bit steep at first glance, keep in mind that it comes with a screen, too, which is both convenient and a significant value-add for first-time projector owners. Its only significant limitation is its input lag, which is on the high side for reflex-based games. If this isn't a concern for you, though, the Hisense 120L5F is an excellent choice (>>> Check the current price on ProjectorScreen).
REFERENCES AND FURTHER READING