In the competitive landscape of laser projectors, industry titans like JmGO continue to push technological boundaries to offer exceptional image and sound quality. Today, we'll delve into a detailed comparison of two of JmGO's prime offerings – the JmGO N1 Pro vs JmGO N1 Ultra. Both models promise an immersive audiovisual experience, yet they each boast distinctive features. After conducting rigorous tests and evaluations, our findings lean toward the JmGO N1 Ultra for its superior display quality and enhanced brightness. We aim to provide you with an in-depth understanding of each projector's capabilities, with a particular spotlight on the standout qualities of our preferred choice, the JmGO N1 Ultra. Get the Best Deal on Amazon Today!
JmGO N1 Pro vs N1 Ultra Specs:
| | JmGO N1 Pro | JMGO N1 Ultra |
| --- | --- | --- |
| | | |
| Resolution | 1920x1080 | 3840x2160 |
| Contrast | 1,600:1 | 1,600:1 |
| Brightness (Lumens) | 3,200 ANSI | 4,000 ANSI |
| Color Processing | 10-bit | 10-bit |
| Lens | Fixed focal length, powered focus | Fixed focal length, powered focus |
| Throw Ratio | 1.2:1 | 1.2:1 |
| Screen size | 60" - 180" | 50" - 150" |
| Speakers | 10 Watts x 2 | 10 Watts x 2 |
| Today's Best Price | | ProjectorScreen.com |
JmGO N1 Pro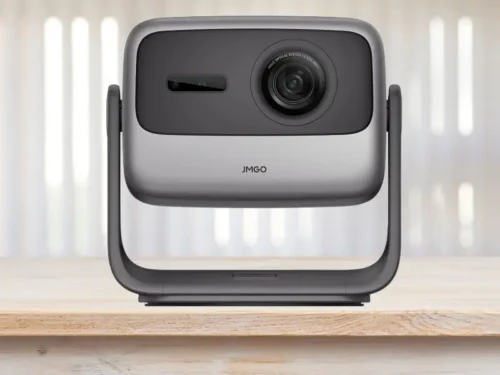 Brightness, Resolution, and Enhanced Image Quality
Let's start with the JmGO N1 Pro. This model boasts a brightness of 3,200 ANSI Lumens, providing vivid image quality even in well-lit rooms. The native Full HD resolution of 1920×1080, combined with the projector's aspect ratio of 16:9, offers a delightful widescreen experience. An impressive contrast ratio of 1,600:1 (full on/off) further enhances the image quality, ensuring deep blacks and radiant whites.
Innovative Features and Audio Experience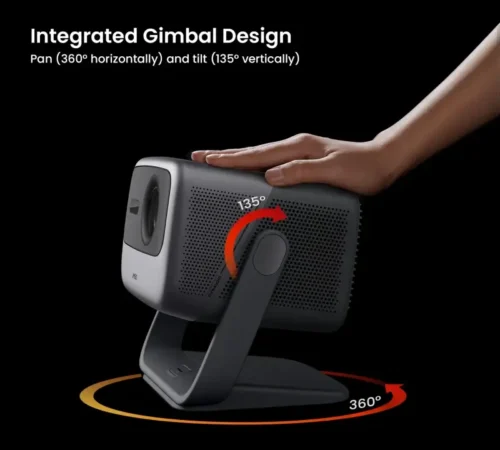 One feature that stood out during our tests was the N1 Pro's integrated gimbal design. This allows for a 360° horizontal pan and 135° vertical tilt, which opens up an array of possibilities when choosing a projection location – even a ceiling could become your screen. We found the Auto Keystone Correction, Smart Object Avoidance, and Auto Screen Fitting particularly helpful, providing an optimised projection regardless of the setting.
The N1 Pro's sound system, co-created by leading audio brand Dynaudio, delivers a cinematic auditory experience with its 10W x 2 speakers. With 45Hz extreme low-frequency bass, Dolby Audio and DTS decoding, the sound output is rich and immersive. As we streamed a variety of movies, the excellent sound quality complemented the visual display perfectly.
Pros
Full HD resolution for high-quality visuals.
Integrated gimbal design for flexible projection positioning.
Co-created audio system with Dynaudio for superior sound.
Smart features like Auto Keystone Correction and Smart Object Avoidance.
Cons
Lower resolution compared to the N1 Ultra.
Less brightness, making it less ideal for brighter environments.
---
JmGO N1 Ultra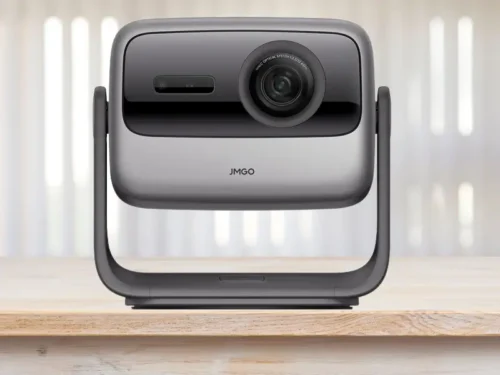 Enhanced Brightness and Resolution
Our testing experience with the N1 Ultra, on the other hand, was filled with even more astonishing moments. With an increased brightness of 4,000 ANSI Lumens and a stunning 4K resolution, the visual experience was a step up from the N1 Pro. The color reproduction was outstanding, thanks to the same 16:9 aspect ratio and 1,600:1 contrast ratio.
Superior Image Quality
Like its sibling, the N1 Ultra is also equipped with an integrated gimbal design, offering the same ease of finding the perfect projection spot. However, the image quality truly shines with the N1 Ultra's 4K resolution. We were blown away by the sharpness and detail of the images it projected, which were significantly superior to those produced by the N1 Pro.
Pros
Increased brightness of 4,000 ANSI Lumens for outstanding visibility.
Superior 4K resolution for highly detailed visuals.
Advanced 3D capabilities for an immersive experience.
Comes with a soft carrying case for easy transport.
Automatic screen finding, sizing, and focusing features.
Cons
Slightly heavier due to solid build quality.
Higher cost due to advanced features and 4K resolution.
---
N1 Pro vs N1 Ultra: A Close Comparison
A major point of difference between the The N1 Pro and the N1 Ultra lies in their respective resolutions. The N1 Pro's Full HD resolution delivers high-quality visuals, but the N1 Ultra's 4K resolution takes it a step further, offering a significantly more detailed and lifelike picture. The bump in brightness also means the N1 Ultra is capable of performing better in a brighter room.
Audio and Entertainment Features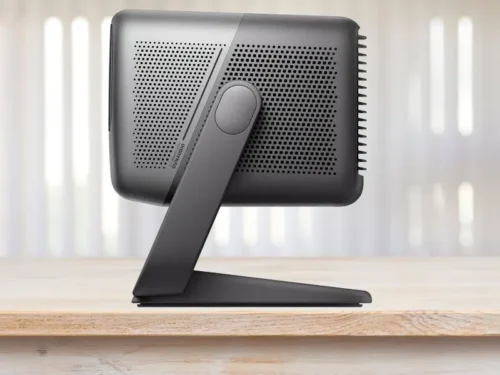 Both projectors have identical internal speakers, providing equally impressive audio output. And both support Google Play and more than 5000+ APP downloads, providing a world of entertainment at your fingertips.
Image Quality
If you desire a projector that delivers a reliable, high-quality image, with brilliant sound and smart features, the N1 Pro could be a fantastic choice. Its Full HD resolution and 3,200 ANSI Lumens brightness ensure excellent image quality, and the integrated gimbal design offers flexibility in positioning the projector. The N1 Pro's smart features like Auto Keystone Correction, Smart Object Avoidance, and Auto Screen Fitting all add to a seamless user experience.
However, if you're seeking a device with even sharper image quality and additional brightness, you might want to consider the N1 Ultra. Its 4K resolution offers four times the detail of the N1 Pro's Full HD, and the extra 800 ANSI Lumens provide an even brighter image, which is especially beneficial in rooms with a lot of ambient light. Plus, the N1 Ultra comes with a soft carrying case, making it a better choice if you plan to carry your projector around frequently.
Shared Sound Quality and Entertainment Options
Despite their differences, both the N1 Pro and the N1 Ultra offer a great cinematic experience with their 10W x 2 sound systems, co-created with Dynaudio. The audio experience is enhanced with 45Hz extreme low-frequency bass, Dolby Audio and DTS decoding, delivering rich and immersive sound. Additionally, the Android TV 11.0 platform provides a wealth of entertainment options right at your fingertips.
Customer Feedback: Positive Reviews for Both Projectors
In terms of customer feedback, both projectors have been warmly received. One N1 Ultra user, who had previously owned a JMGO U2, noted the N1 Ultra's superior brightness and image quality, even while displaying 3D content. Another user applauded the automatic screen finding, sizing, and focusing features of the N1 Ultra, along with its impressive 4K image quality and coverage of the HDR color space.
In contrast, an N1 Pro user praised the projector's great quality and brightness, even in daylight conditions, and expressed satisfaction with the 3D mode. The feedback suggests that both models live up to JMGO's reputation for delivering high-quality, feature-packed projectors.
Conclusion: The Final Verdict
In conclusion, our comprehensive analysis of the JmGO N1 Pro and N1 Ultra brings to light the outstanding performance of both projectors, each with unique strengths. The N1 Pro provides remarkable Full HD image quality, useful smart features, and an exceptional sound system. However, the N1 Ultra elevates the viewer's experience even further, amplifying the N1 Pro's offerings with enhanced brightness and 4K resolution for a truly immersive viewing experience. While both offer a first-rate home theater experience and the ultimate choice depends on individual preferences and requirements, the JmGO N1 Ultra edges out as our pick for its superior image quality and brightness. Buy on ProjectorScreen.com Today!