In the sea of projectors out there, standing out from the crowd is no easy task. Yet, it's precisely what the JMGO N1 Ultra has accomplished, and we are here to present an in-depth JMGO N1 Ultra review based on our hands-on experience with this extraordinary device. From its stunning 4K visuals to its versatile array of features, this projector has managed to impress us on multiple levels, and it's not hard to see why it has been receiving rave reviews from customers worldwide. Get the Best Deal on Amazon Today!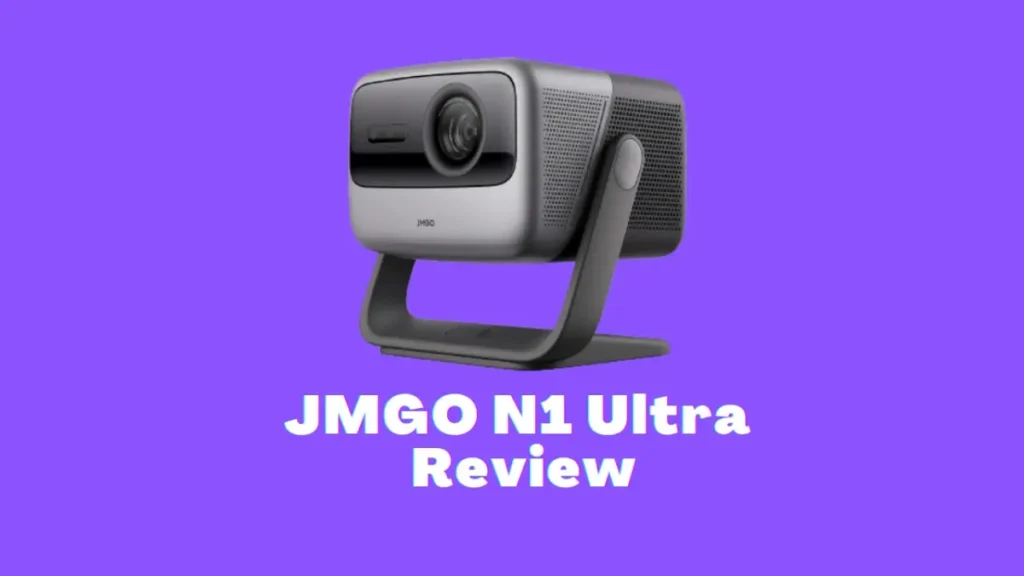 JMGO N1 Ultra Review of Specs:
| | JMGO N1 Ultra |
| --- | --- |
| | |
| Resolution | 3840x2160 |
| Contrast | 1,600:1 |
| Brightness (Lumens) | 4,000 ANSI |
| Color Processing | 10-bit |
| Lens | Fixed focal length, powered focus |
| Throw Ratio | 1.2:1 |
| Screen size | 50" - 150" |
| Speakers | 10 Watts x 2 |
| Today's Best Price | ProjectorScreen.com |
Unparalleled Visual Quality
First and foremost, let's talk about the visuals, the heart and soul of any projector. The JMGO N1 Ultra's native resolution of 3840×2160 coupled with 4000 ANSI Lumens of brightness delivers a breathtakingly bright and crisp image. The 1600:1 contrast ratio ensures that each frame stands out with vivid colors and sharp details. With its 110% BT.2020 gamut coverage, the colors are vibrant and life-like, rivaling and often outperforming many 4K TVs on the market.
Real-life Test Scenario
We tested the JMGO N1 Ultra with several 4K movies and the results were nothing short of spectacular. To test the projector's full capabilities, we played "Avatar" in 3D and were completely immersed in the world of Pandora. (You can check out the roundup review of the best 3D projectors on Projectortop.com.) The scene where the protagonist touches the flowers, causing them to shrink, was stunningly presented with extraordinary depth and clarity. The three-dimensional image remained bright and sharp, a testament to the N1 Ultra's superb performance.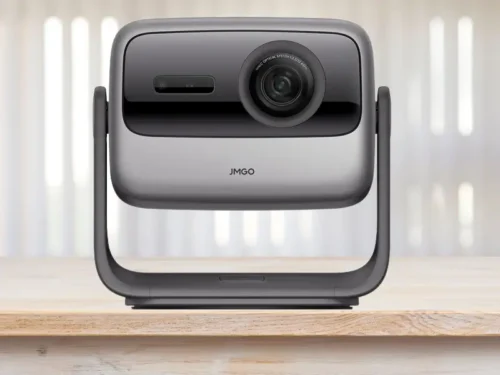 Pros
Stunning 4K resolution with vibrant color accuracy.
Powerful in-built speakers providing immersive audio.
Convenient Android TV integration for endless entertainment.
Versatile and robust connectivity options.
Intelligent features such as Auto Keystone Correction and Screen Fitting.
Cons
The system can occasionally be glitchy, needing updates.
The heavyweight of the unit might limit portability.
Intelligent Features that Enhance User Experience
Apart from the impressive visuals, the JMGO N1 Ultra boasts a variety of intelligent features that enhance the user experience. The Auto Keystone Correction and Auto Screen Fitting features worked flawlessly during our testing, making the setup process a breeze. As soon as the projector was powered on and aimed at the screen, it instantly calibrated the image to fit the screen size and corrected any keystone distortion. This feature is quite impressive and takes away the hassle of manual adjustments, making the projector very user-friendly.
Superior Sound Quality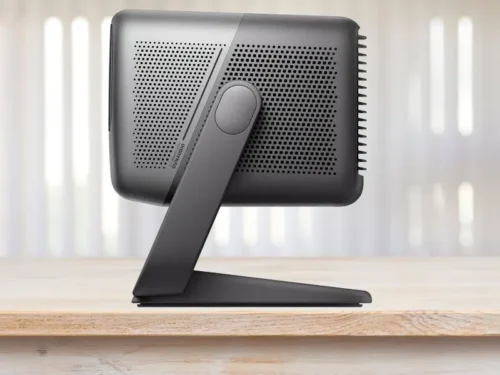 io quality is another key factor to consider when buying a projector, and the N1 Ultra certainly delivers on this front. Co-created with Dynaudio, the in-built speakers provide a robust sound that matches the image quality. The 10W x 2 speakers managed to fill our testing room with sound that was clear, well-balanced, and surprisingly bass-heavy considering the size of the unit. Coupled with the low noise level of 26dB, the N1 Ultra offers an immersive audio-visual experience, whether you're watching movies, playing games, or streaming your favorite shows.
Versatility and Convenience: Android TV and Connectivity Options
One of the advantages of the N1 Ultra is its versatility and convenience. With its Android TV 11.0 operating system, users have access to thousands of apps for streaming content, playing games, and more. We tested it with some popular streaming apps like Netflix and YouTube, and the experience was smooth and enjoyable. Google Assistant also adds an extra layer of convenience, allowing for voice control of the projector.
Design and Build: Robust and Flexible
The device feels sturdy and well-built, which is apparent from its weight (9.9 lbs). The integrated gimbal design, allowing for 360° horizontal and 135° vertical adjustment, is an impressive feature that brings about a level of flexibility and convenience to the table. This feature, paired with the accompanying EPP bag, make the N1 Ultra a perfect companion for outdoor movie nights or business presentations on the go.
Expansive Connectivity and Gaming Experience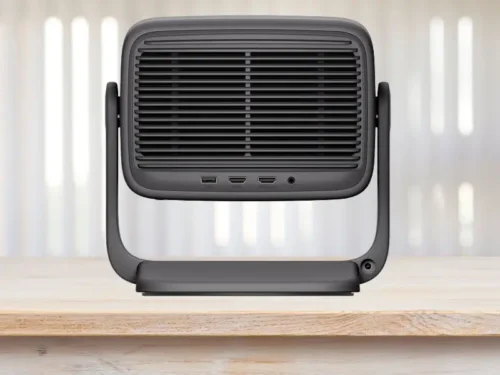 The device is equipped with two HDMI 2.1 ports, a USB-A 2.0 port, and a 3.5mm headphone jack, offering extensive connectivity options. Whether you want to connect your gaming console, Blu-ray player, or external speakers, the N1 Ultra has you covered.
As for gaming, the projector supports Full HD 3D and MEMC (Motion Estimation, Motion Compensation), providing an immersive gaming experience. During our testing, the images were smooth with minimal motion blur, a feature that gaming enthusiasts will greatly appreciate.
Wireless Networking Capabilities
We also had the chance to test the JMGO N1 Ultra's wireless networking capabilities. The setup was straightforward, and the wireless connection was stable and fast. Streaming content wirelessly from our devices was a breeze, thanks to the built-in Chromecast feature. Check the comparison vs. JMGO N1 Pro
Customer Reviews: Validation of the Experience
Customer reviews echo our sentiments about the JMGO N1 Ultra, with users praising its vibrant image quality, powerful sound, and intelligent features. One user noted how the projector automatically adjusts the image size to match the screen dimensions, a feature that adds to the convenience factor.
Another customer was impressed by the brightness of the projector, mentioning that it's visible even during the day. The 3D capabilities of the N1 Ultra were also highlighted, with customers expressing satisfaction with the immersive experience it provides.
Final Verdict
In conclusion, the JMGO N1 Ultra is an exceptional projector that brings together a host of smart features, powerful performance, and great usability. It offers fantastic image and sound quality that truly elevates your home theater or gaming experience. From its remarkable 4K visuals to its versatile Android TV capabilities, every aspect of the N1 Ultra aims to deliver an immersive, easy, and high-quality viewing experience.
Its range of user-friendly features like Auto Keystone Correction, Auto Screen Fitting, and Smart Object Avoidance, alongside powerful sound co-created with Dynaudio, make it a standout choice for anyone in the market for a high-performance projector.
Whether you're a movie enthusiast wanting to bring the cinema experience home, a gamer looking for an immersive experience, or someone who frequently presents on the go, the JMGO N1 Ultra is a brilliant investment.  Buy on ProjectorScreen.com Today! Its combination of outstanding performance, robust build quality, and intelligent features makes it not just a projector, but a centerpiece for entertainment.
In our view, the JMGO N1 Ultra's ability to offer this level of quality and versatility in a single, compact device is what truly sets it apart from its competitors. It's more than just a projector; it's a gateway to a world of stunning visuals, vibrant sounds, and unparalleled convenience.