Do you want a new projector for your high-end home theater? These days, there are a lot of options out there to choose from. JVC makes some of the best, bringing together advanced image technology and automatic calibration features for projectors that make it easy to get a cinema quality image. In this JVC NP5 review, we'll take a closer look at the specs of this impressive projector so you can decide if it belongs in your home theater (>>> Check on ProjectorScreen).
JVC NP5 Review of Main Specs:
| | JVC NP5 |
| --- | --- |
| | |
| Resolution | 4096x2160 |
| Brightness (Lumens) | 1,900 ANSI |
| Contrast Ratio | 400,000:1 |
| Throw Distance | 12.3' - 20.7' |
| Screen size | 60" - 201" |
| Speakers | No |
| Today's Best Price | ProjectorScreen.com |
Installation
Like other JVC projectors, the NP5 is made for use in dedicated home theater spaces. This impacts its setup and installation features. For one thing it's quite heavy for a home projector, weighing more than 40 pounds, which limits which ceiling mounts you can safely use it with.
And the majority of users will want to mount it. Its throw distance is on the longer side, even for a standard throw projector. For a 100" image, you'll need an average of 13-14 feet between the lens and screen, so it's not the best choice for smaller spaces.
On the plus side, the JVC NP5 has robust image alignment features. This includes a wide 2x powered zoom, as well as both horizontal and vertical lens shift (+/- 34% and +/- 80%, respectively). This gives you a good array of options for fine tuning the image placement once you have the projector installed.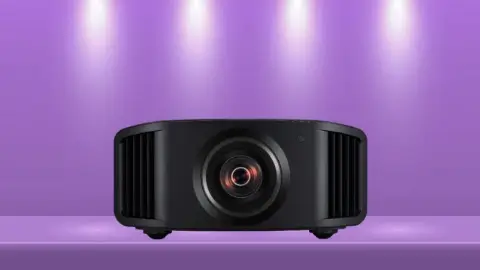 Pros
Sharp true 4K image with exceptional image contrast
Optimized colors with Auto Tone Mapping
Clear Motion Drive and Motion Enhance for smooth action
Wide zoom and lens shift for aligning image
Dual HDMI 2.1 inputs
Compatible with all common 3D formats
Auto image calibration for an optimized picture
Cons
May be too heavy for some ceiling mounts
Long throw distance
Relatively low lamp brightness
Connectivity
One of the improvements made with the NP5 over past JVC projectors is its HDMI inputs. It has dual HDMI 2.1 inputs that support 48GB/s bandwidth. This gives it a frame rate of 120Hz at 4K, preventing any kind of lag or frame tearing from affecting image signals.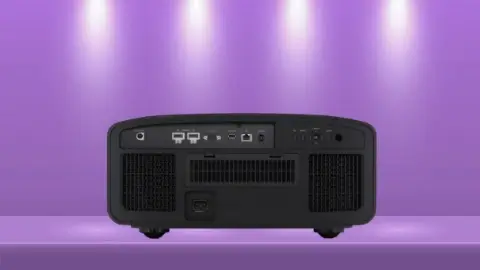 Brightness
At 1,900 lumens, the JVC NP5 is sufficiently bright for a mostly dark space. It can handle some lights-on viewing, though the placement and type of the ambient light sources will make a difference here. You can definitely use it while you have a few floor lamps on, for example, but ceiling lamps or uncovered windows may cause some picture washout. Basically, it's brighter than many projectors designed for dedicated home theaters, but won't be suitable for many all-purpose living areas without some light control measures.
Picture Quality
This is where the JVC NP5 is at its best. It uses an all-glass 17-element lens, similar to other high-end JVC projectors. This brings remarkable sharpness to the projected image, doing true justice to the 4K resolution produced by its 3-DILA display.
The native contrast ratio of 40,000:1 translates to exceptionally rich black levels, with dynamic iris contrast that keeps the picture crisp no matter what you're watching. You'll enjoy this same clarity no matter what's happening on the screen, with Motion Enhance technology to eliminate blur during fast-paced sequences.
The color performance of the JVC NP5 is equally impressive. Its 6-axis color management system produces a wide color gamut, ensuring the hues are accurate and true to the source. Along with that, the Automatic Tone Mapping enhances the colors based on HDR10, providing remarkably realistic and vibrant images.
That automatic image adjustment comes into play in other areas with the JVC NP5, as well. Its integrated optical sensor lets it analyze the picture as it plays, with automatic calibration of the color space and other image characteristics. Combined with the extensive options in Installation Mode, you'll get full control over the quality of your picture.
In Summary: JVC NP5 Review
The JVC NP5 isn't the best choice for every space. It's at its best in a relatively large, dark room, where you'll be able to enjoy the large, high-quality image it produces to maximum effect. For those who want the best picture quality from their next projector, though, it's definitely a choice you'll want to consider (>>> Find on ProjectorScreen).
JVC NP5 versus other projectors: