The LG ProBeam BU50NST has all the modern features today's viewers expect from a high-end projector. This includes native 4K resolution, a bright laser light source, and integrated Wi-Fi that expands your connection options.
On paper, the BU50NST certainly looks impressive. But does its functionality live up to its reputation and is it worth the higher cost you'll pay compared to more traditional projector designs? We set out to answer those questions in the review below (>>> Check the current price on Amazon).
LG BU50NST Review of Main Specs:
| | LG BU50NST |
| --- | --- |
| | |
| Resolution | 4K |
| Brightness (Lumens) | 5,000 ANSI |
| Contrast Ratio | 3,000,000:1 |
| Zoom | 1.6x manual |
| Throw Distance | 6.0' - 28.6' |
| Screen size | 40" - 300" |
| Input lag | 65ms |
| Speakers: | 2 X 5W Stereo |
| Price | BHPhotoVideo.com |
Set Up and Installation
The LG BU50NST has a good range of options for aligning the picture to your screen. This includes a broad 1.6x manual zoom and both horizontal and vertical lens shift functionality, along with a 12-point anti-warping function. All-told, this makes it a quick and painless process to align the image, and gives you more placement flexibility than a lot of home theater projectors.
The throw distance on the LG BU50NST is on the longer side. For a 100" screen, you'll need between 10 and 15 feet, depending on the zoom and other settings. While that limits its use in small spaces, its bright 5,000 lumen lamp keeps the picture bright and vibrant no matter how far the projector is from the screen.
You'll also appreciate the range of inputs and content viewing options you get the BU50NST. It has dual HDMI ports along with 2 USB ports, so you can view movies stored on a hard drive in addition to using content sources like Blu-ray players, streaming sticks, or cable boxes. Along with that, it's Wi-Fi enabled and has a built-in web browser, so you can view lots of content right on the projector, or mirror it from your phone or tablet.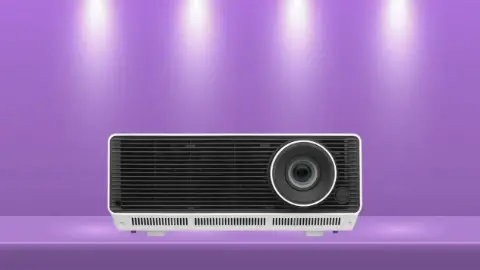 Pros
Super-bright lamp won't get washed out in any light level
Built-in web browser and Wi-Fi connectivity
True native 4K resolution
Broad color gamut compatible with HDR10
Easy to set up with flexible image adjustment options
Supports content mirroring from smart devices
Cons
Long throw distance needs lots of space for a big screen
No 3D support
Picture Quality
A native 4K resolution gives the LG BU50NST a sharp, detailed picture. This is supported by a high contrast ratio and the bright lamp, which combine to give the image a remarkable depth and clarity even in dark areas of the screen, no matter how large your screen.
The color accuracy of the LG BU50NST is equally impressive. It has a wide color gamut with full HDR10 support, so you can count on the picture to be as vibrant and realistic as what you'd see in a movie theater. We also appreciate that you get this same high image quality no matter where you get your content, whether you're viewing from a USB drive or mirroring straight from your phone.
Our only concern from a picture standpoint is that it doesn't have any support for 3D content. While this won't be a problem for some viewers, it's a notable omission in a home theater projector at this price point.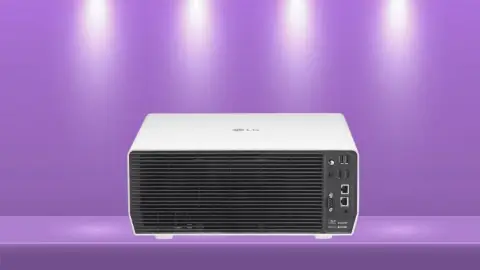 Sound
This is the only area of the design where LG didn't up their game for the BU50NST. The dual 5-watt speakers installed in this projector are on par with what most home theater projectors give you—and that's not a good thing. They're fine for casual TV watching but you'll want to use external speakers for a truly immersive experience.
Design and Durability
The LG BU50NST is a solid, well-made projector. It's a bit on the heavy side at over 20 pounds, so it's less portable than other LG home theater projectors, but for permanent installations that's not a huge concern. Its relatively compact for its weight and doesn't have a huge footprint, so it's still unobtrusive enough you'll have no trouble finding a place for it.
The anti-dust optical engine in the LG BU50NST is helpful in reducing the amount of maintenance it needs. You'll still want to check the fan now and then, but you won't have to worry about cleaning the vents regularly. The laser light source also has a long usable lifespan, lasting up to 20,000 hours before it needs to be replaced. Find more laser projector options here
The Verdict
The LG BU50NST isn't the perfect projector for everyone. Its longer throw distance, low-quality speakers, and lack of 3D support are its main issues. Budget-conscious buyers will also find the price on the high side, and you can get projectors with similar stats for less (>>> Check the current price on Bhphotovideo).
That said, the LG BU50NST performs well as a home theater projector. Its picture quality is high and it's very user-friendly, both in the set-up and its long-term maintenance requirements. With a bright lamp and variety of input options, it's also a very versatile projector, just as suitable for use in conference rooms and other business applications as it is for watching movies.