LG's line of laser smart projectors are certainly impressive—but are they worth the cost? That's probably your main question if you're comparing models such as the LG HU80KA vs LG HU85LA. Both of these projectors provide a cinema-level picture quality and a range of convenience features that make them very appealing for high-end home theaters.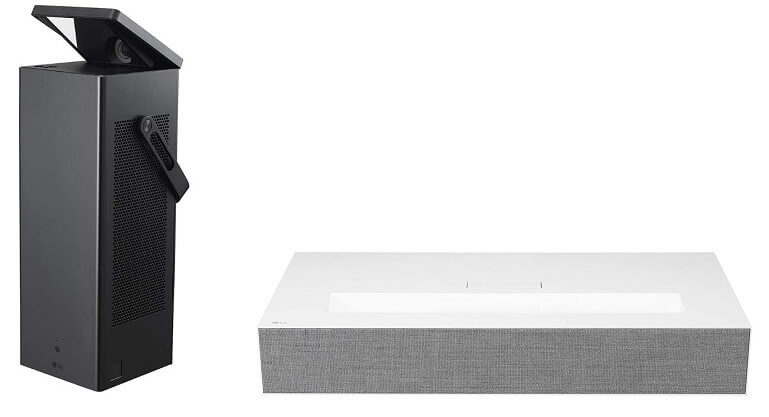 Overall, the LG HU85LA is the objectively better projector. It also costs more than the majority of home theater projectors on the market ?>>> Find price on Amazon. The LG HU80KA is more reasonably priced and is definitely the better value for the features offered. Which one is the best choice for you will really depend on what you're looking for, though. Let's check out the key features to help you get a better sense of where they differ.
LG HU80KA vs LG HU85LA Side By Side:
| | LG HU80KA | LG HU85LA |
| --- | --- | --- |
| | | |
| Resolution | 4K UltraHD | 4K UltraHD |
| Brightness (Lumens) | 2,500 | 2,700 |
| Contrasr Ratio | 150,000:1 | 2,000,000:1 |
| Throw Distance | 4'7" – 12' | 1" – 1'9" |
| Screen size | 80"-150" | 90" - 120" |
| Input lag: | 71ms | 50-55ms |
| Weight: | 14.8lbs | 26.9lbs |
| Price | Check on Amazon | BHPhotoVideo.com |
Picture Quality
Both of these projectors offer 4K ultra HD resolution, which is the sharpest picture quality available on the current market. They also both have a high contrast ratio, which gives you brighter whites and deeper blacks.
Where they differ is mostly in the color range. Both offer HDR10 support, but the LG HU85LA also includes Dynamic Tone Mapping to enhance the color accuracy in every frame. The HU85LA also has a slightly higher brightness (2,700 lumens, as opposed to the 2,500 on the HU80KA), so it's less susceptible to quality loss from ambient light. It's also included among the top 4K projectors' options.
Better picture quality: LG HU85LA
Installation Ease
The LG HU80KA has a fairly standard throw distance. If you want a 100" screen, you'll need to put the projector about 10 feet away. In contrast, the ultra-short throw distance on the LG HU85LA can provide a 100" image from only 17" away. That spares you the need to use ceiling mounts or other more complicated installation methods. The HU85LA also includes a 12-point adjustment feature that simplifies the alignment of the image.
Easier set-up: LG HU85LA
Portability
The slim, compact design of the LG HU80KA is designed to be moved easily from one place to another. It weighs less than 20 pounds, and comes with a handle built right in for transportation. With the HU85LA, you'll get a heftier unit that's styled to fit into your living room décor. It's made for indoor use, where the HU80KA is versatile enough to take outside for backyard movie nights.
More portable projector: LG HU80KA
Smart Features
LG's smart TV interface comes installed on both the HU80KA and the HU85LA. The HU85LA also has a few other smart features, including Wi-Fi connectivity, a magic remote, and the ability to share screens from select smartphones. Having said that, the smart features of the LG HU85LA go further. It uses CineBeam AI ThinQ software for easy integration into a voice-controlled smart home. Using Bluetooth for wireless instead of Wi-Fi also gives it a more stable connection.
Better smart features: LG HU85LA
LG HU80KA vs LG HU85LA: Full Reviews
LG HU80KA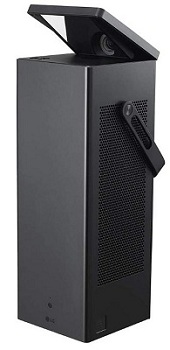 The LG HU80KA is a laser-based smart home theater projector with a unique design. It's longer and thinner than most projectors, and that makes it easier to transport. When you want to move it, you can close the lid to protect the lens, and use the attached handle for carrying.
For picture quality, LG laser projectors are some of the best you'll find. The 4K resolution is highly detailed, and the HU80KA maintains its resolution at all screen sizes. A high frame refresh rate paired with TruMotion technology limits motion blur so you won't lose detail in fast-paced scenes. It supports cinema-quality HDR10 color, too.
The LG smart TV interface you'll find on the HU80KA is relatively comprehensive when it comes to streaming content. You can find most popular streaming apps on the LG marketplace. It also supports screen sharing through LG Smart Share. You can do this with most devices, including laptops and mobile devices.
Our only major quibble with the LG HU80KA is its content versatility. It doesn't have any support for 3D content, first of all, which seems like a major omission for a projector in its price range. You also can't use it for gaming. The input lag is over 70ms, and that's high enough for it to be frustrating even to casual gamers.
Pros
HDR10 color support
Compatible with wireless screen sharing
Smart TV interface streams content straight to projector
TruMotion technology smooths on-screen action
More portable design
Cons
No voice control compatibility
Doesn't support 3D content
---
 LG HU85LA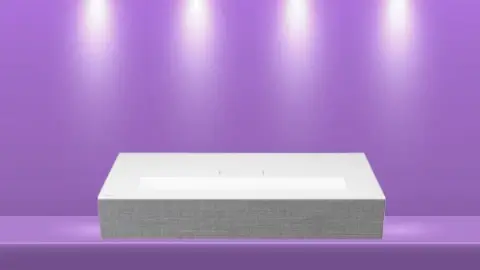 The ultra-short throw on the LG HU85LA is the first thing you'll notice. Its throw distance is so low you can often set it right on your usual entertainment center. That cuts down on the effort and time required for installation. It's more versatile than the HU80KA in other ways, as well. You can enjoy 3D content through HDMI or the smart TV interface. The input lag is also lower. While it's still a bit high for serious gamers, casual players won't find it too distracting.
For smart homeowners, you'll also appreciate how easy it is to hook it into your smart home theater. You can use both Amazon Alexa and Google Assistant to control the HU85LA, as well as the included magic remote.
Where the picture quality on the HU80KA is good, the image from the HU85LA is exceptional. It uses the same TruMotion technology but adds Dynamic Tone Mapping, which optimizes color in every single frame. Colors are incredibly vibrant and realistic, and the sharp detail provided by the 4K resolution only makes it better.
As good as the LG85LA is, it's not perfect. Our main complaint is with the brightness. It is brighter than the HU80KA, but not by much. You'll still need to control the ambient light in your viewing area to get the best picture. That's especially disappointing given how expensive this projector is. The range of image sizes is also a bit restrictive. Anything smaller than 90" or larger than 120" will suffer in terms of quality.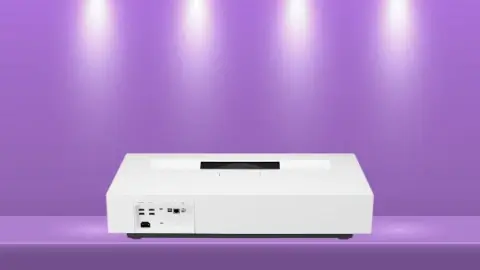 Pros
Comes with ThiQ AI and Google Assistant compatibility
HDR10 color with Dynamic Tone Mapping
Supports 3D content from all sources
Easy to fix alignment with 12-point adjustment
Ultra-short throw ratio
Low enough input lag for casual gaming
Cons
High price
More limited range of screen sizes
---
What's the Bottom Line?
For gaming, 3D content, or a short throw distance, you'll want the LG HU85LA. >>> Find the price on ProjectorScreenIts smart features are also noticeably better than those offered by the LG HU80KA. When it comes to the picture quality, however, the difference between them doesn't justify the price jump. If that's more your concern, you'll be better off saving some money and going with the LG HU80KA. Also, think about whether you want to be able to take your projector on the road. Not only is the HU80KA more portable, it has better features to protect the lens from damage—something that becomes more important the more you spent on the projector.