A high-performing home theater needs an equally powerful receiver at its core. These devices don't just provide a hub for controlling your A/V equipment, they also optimize the signal so you get the most out of your viewing and listening experience.
This high-end receiver has the advanced functions and smart features modern home theaters call for. If you're trying to decide if it's a good investment for your home, check out the full Marantz SR8015 review below. We think you'll be impressed once you see what it can do. (>>> Check on Amazon)
Marantz SR8015 Review of Main Specs:
| | Marantz SR8015 |
| --- | --- |
| | |
| Channels | 11.2 |
| Watts per channel | 140W |
| Wireless connectivity | Wi-Fi, Bluetooth |
| Dimensions | 17.3" X 18.1" X 7.3" |
| Weight | 38.4lbs |
| Price | ProjectorScreen.com |
 Audio Performance
The Marantz SR8015 uses a discrete high-current amplifier for each of its 11 channels, letting it produce balanced, audiophile-level sound from any speakers connected to it. It also supports the most advanced sound processing used in today's home theaters. This includes DTS:X Pro, Dolby Atmos, and IMAX Enhanced sound.
Simply having support for 11.2 channels already gives the Marantz SR8015 a lot of flexibility. Added to that is the ability to process up to 13 channels with a firmware update. You can also use overhead speakers with the Marantz SR8015 thanks to its support for Dolby Atmos Height Virtualization.
One unique feature of the Marantz SR8015 is its Auto Eco Mode. This makes real-time adjustments to the power output based on the volume, letting them use less energy without sacrificing sound quality. You can also see how much energy the speakers are using on the screen, which is handy for tracking your home theater's energy usage.
Pros
High processing quality for both video and audio signals
All HDMI ports can be upscaled to 8K
Low lag for use with gaming consoles
Compatible with multiple voice control systems
Supports multi-room video and music
Built-in Wi-Fi and Bluetooth
Can stream music from Pandora, Amazon Music, and more
Auto Eco Mode reduces energy consumption
Cons
High cost
Casing can get very warm during heavy use
Visual Performance
The Marantz SR8015 supports video signals up to 8K resolution through all of its HDMI inputs. This makes it a great long-term investment, first of all, since it won't become obsolete any time soon. It also means you'll get better processing for 4K signals, with a fast 120Hz 4K pass-through.
Not only does that maintain the integrity of the visual signal, it's fast enough you can use this receiver with your gaming console and not worry about lag. The SR8015 has other features gamers will love, too, including a variable refresh rate and automatic low latency mode (ALLM).
The compatibility and support of the Marantz SR8015 covers everything you'll need for a home theater, as well. This includes HDR10+, HLG, and Dolby Vision support. Quick media switching eliminates delay, making sure the sound and video signals always track perfectly together.
Connectivity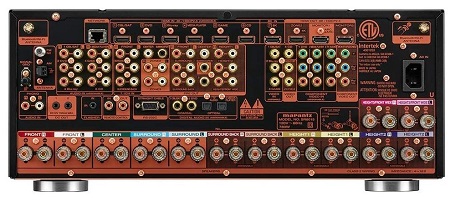 You'll get a plethora of both video and audio wired connections on the Marantz SR8015. This includes a total of 11 HDMI ports as well as composite and component connections. There's also a phono input for connecting record players or turntables. Basically, whatever source your music and movies come from, you can hook it up to this receiver.
The wireless connectivity of the SR8015 is equally robust, with both Wi-Fi and Bluetooth built-in. This lets you listen to music from streaming apps or AirPlay, in addition to connecting peripherals like speakers. You can even use voice commands through Alexa, Siri, or Google Home.
Something else we love about the Marantz SR8015 is how easily it integrates into more complex home theater setups. It supports both multi-room music and multi-room video and can be used with smart home systems like Josh.ai. That makes it one of the rare receivers that can adapt to advanced set-ups without being too complicated for everyday people to use.
Marantz SR8015 Review: The Bottom Line
The Marantz SR8015 doesn't come cheap, but ultimately it's worth the money for what you get. It helps that it's a long-term investment. The inclusion of advanced technology like 8K upscaling means it won't become obsolete for many years, and its high build quality makes it both durable and reliable. (>>> Check on ProjectorScreen)
Whatever your home theater set-up, the Marantz SR8015 will serve you well. While it may be more receiver than you need for simpler home theaters, it will give you the flexibility to expand your set-up in the future, and provides an exceptional signal quality for home theaters of any size.
REFERENCES AND FURTHER READING: