When you need to show information to a room full of people, a projector is a much better tool for the job than a standard TV or computer screen. While any bright home theater projector will serve this purpose just fine, you'll be paying for features you won't necessarily use. In this Optoma GT780 review, we'll look at a budget-friendly option for classrooms, conference rooms, and presentations, which has all of the features you need in these settings without the extras that often raise the price of home theater projectors. (>>> Check on Amazon)
Optoma GT780 Review of Main Specs:
| | Optoma GT780 |
| --- | --- |
| | |
| Resolution | 1280x800 |
| Contrast | 25,000:1 |
| Brightness (Lumens) | 3,800 ANSI |
| Throw Distance | 1.3' - 11.1' |
| Screen size | 35" - 302" |
| Speakers | 10.0 Watts Mono |
| Today's Best Price | |
Portability
In a school or office, you can't always afford to buy a projector for every room. The Optoma GT780 is easy to move from place to place. It only weighs 6.6 pounds and has a slim 4¼" profile, so it doesn't take up too much space. That's good news for traveling trainers and presenters, as well, and makes it easier to fit on crowded shelves or A/V carts.
Another plus from a portability standpoint is the built-in speaker. The output is high enough to be heard by everyone in a standard-sized classroom, and it has good mid-range clarity for things like video narrations or Zoom calls you want to put on the big screen.
Pros
Clear projected image for text and graphics
Accepts 3D and 1080p input
Lightweight, portable design
Bright lamp suitable for lights-on use
Fast, straightforward setup
Short throw distance
Good output from built-in speaker
Cons
Low video resolution
Limited modern connectivity
Set-Up Ease
The versatility of the Optoma GT780 is one of its main strengths. It can be set up on a table or shelf, or mounted either in front of or behind the projector screen. Thanks to its short-throw lens, it doesn't require as much space to operate, producing a 100" image from less than 4 feet away. You also won't need to worry about light control too much—you'll still likely want to pull the blinds on any large windows, but you won't need black-out curtains on them, and can certainly leave the lights on.
To adjust the image, the GT780 has a wide digital zoom (.8x-2x) and +/-40% vertical keystone correction. This is sufficient for a short-throw projector, particularly if you'll be using it in mostly table-top setups.
The rear panel of the Optoma GT780 has HDMI, VGA, and composite (RCA) inputs, so it will work with a wider variety of devices than many projectors, including older equipment like VCRs as well as A/V equipment like camcorders. Its connectivity is somewhat limited for many modern set-ups, however. There's only one HDMI port and no wireless capability. That also means no voice control or direct streaming—you'll need to use that single HDMI port for a streaming stick or dongle if you want to add those features to the projector.
Image Quality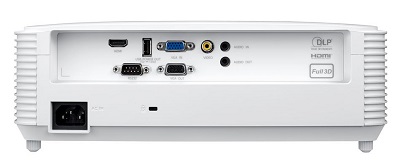 Here's where you can see that the GT780 isn't the best home theater projector. It can accept input with a resolution of 1080p, but it will be downgraded to a standard WXGA resolution. Because of that, details won't be as crisp as you're used to from HD devices. That said, it's still plenty sharp enough for legible on-screen text and clear graphics.
The Optoma GT780 uses a DLP display with a 6-segment color wheel that covers the Rec.709 spectrum, the current standard for HDTV. Its image contrast is also fairly high, with a 25:000:1 contrast ratio, producing deep back levels and a good amount of image depth. From a contrast and color standpoint, it's closer in performance to a home theater projector, producing vibrant and accurate hues that stay saturated even in well-lit areas, thanks to the powerful 3,800-lumen Metal Halide lamp.
The Bottom Line: Optoma GT780 Review
The Optoma GT780 isn't the best projector for everyone. For a home theater, you can find options at a similar price that produce at least a Full HD resolution, and have a connectivity that's better suited to a home entertainment setup.
In a classroom or business, though, the Optoma GT780 can be a much better fit (>>> Check on Amazon). Its bright lamp and short throw distance make it flexible for different sizes and styles of room, and it's also nicely portable for those who need a projector to use in multiple spaces. We hope this review has helped you decide if it's the right projector for your needs!
REFERENCES AND FURTHER READING