Optoma USA is one of the premier manufacturers of home theater projectors in the nation. There are so many excellent options in their product line it can be difficult to narrow down which one's the best choice for your family. If you're considering the Optoma HD142x vs HD143x, it really comes down to a question of versatility vs value.
There is a lot to love about both of these projectors. Both are built to last and will give you a high image quality. For most users, the more affordable Optoma HD143x is the better option & we agree with that. >>> Check price on Amazon
Still on the fence? We'll break it down further below.
Optoma HD142x vs HD143x: Main features
| | Optoma HD142x | Optoma HD143x |
| --- | --- | --- |
| | | |
| Measurements | 4.27" x 12.44" x 9.20" | 3.70" x 11.70" x 9.00" |
| Resolution | 1920x1080 | 1920x1080 |
| Brightness (Lumens) | 3000 | 3000 |
| Contrast Ratio | 23,000:1 | 23,000:1 |
| Input Lag | 33ms | 16ms |
| Lamp life (Hours) | 8,000 | 15,000 |
| Built in Speakers | 10W | 10.0 W |
| Price | Check on Amazon | Check on Amazon |
Features to Consider
When it comes to key stats like the brightness and contrast ratio, these two models are basically identical. The differences between them really come down to more logistical matters, like how you get your content and what kind of space you have. There are three key features that really show the difference between these projectors:
Throw Ratio. This number tells you how much the image size increases with each inch of distance between the projector and the screen. The max screen size of these two projectors is comparable, but the HD142x doesn't need to be as far away to get you there. That makes it the better choice for anyone with space constraints.
Portability. Not all projectors are designed to be moved from room to room. Both the size of the projector and how long it takes to set it up determine how truly portable it is. The lightweight, compact casing, and plug-and-play set-up of the Optoma 143x make it a great option if portability is a primary concern.
Connectivity. Like most projectors, both of these models have HDMI inputs to get content from cable boxes, gaming consoles, and streaming sticks. They can't connect you to every device, though. An MHL connection is required if you want to watch things from most phones or tablets, and that is only offered on the HD142x.
Optoma HD142x vs HD143x: Full Reviews
Optoma HD142x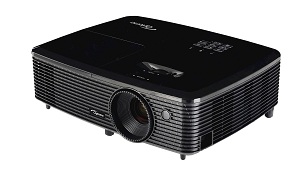 The Optoma HD142x is a modern, versatile home theater projector. The combination of a high contrast ratio and true REC.709 color gives you a superb picture quality. With a brightness of 3,000 ANSI lumens, the lamp is powerful enough you can see the image with incredible clarity, even in rooms where there's some ambient light to compete with.
Ease of use is one of the big selling points of the Optoma HD142x. It's simple to set it up anywhere, and the keystone correction feature means adjusting the image is just as easy. Connectivity isn't an issue, either. It has MHL compatibility as well as 2 HDMI inputs, which means you can view content from a phone or tablet just as easily as you can from a cable box or streaming stick. It also has a relatively short throw ratio, so you can get a large-screen experience even if your viewing room is on the smaller side.
In terms of value for the money, the Optoma HD142x is about average. It's comparably priced to most 1080p projectors of a similar picture quality—not an exceptional value, but not a rip-off, either. You can count on it for the long-term, as well. With native HD resolution and 3D capability, you won't have to worry about it becoming outdated any time soon.
Pros
Bright and accurate colors
Exceptionally high contrast ratio gives you deep, true blacks
Plays full 3D content from Blu-Ray, broadcast, or game consoles
Can connect phone or tablet easily with MHL
Larger screen size from a shorter distance
Cons
More expensive option
Lamp life of only 5,000 hours in Bright Mode
Optoma HD 142X unboxing and review
---
Optoma HD143x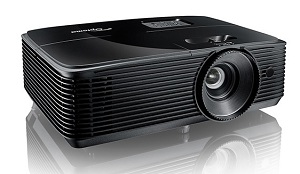 The first difference you'll probably notice between the Optoma HD143x and the previous model is the price. This projector costs a few hundred dollars less and has the same resolution, brightness and contrast ratio. If you're looking for value, there's another feature of the Optoma HD143x you'll love: the long lamp life. It can last up to 12,000 hours, long enough you may never need to change the lamp as long as you own the projector.
This is a standard-throw projector. The screen can get as large as 300 inches, but you'll need quite a bit of distance to get you there. Set-up is fairly easy, though. The lack of keystone adjustment can make it a bit trickier to get the image looking just right, but it does have a zoom to help you get the image perfect.
Along with quick set-up, the other thing that makes this projector super convenient is its size. It's compact compared to most 1080p projectors and weighs in at just over 5 pounds. If you want an affordable projector you can take anywhere and set up in a snap, this is a great choice for you.
Pros
Excellent value
High brightness and contrast ratio
Lamp can last over 10 years in the right conditions
Lightweight and compact design
Fully 3D compatible
Cons
Doesn't have MHL compatibility
No keystone adjustment for the image
HD143X - big screen entertainment
What Do Other Users Think?
Both the HD142x and the HD143x get consistently high reviews for picture quality. They both can handle a standard amount of ambient light, as well, so the picture quality won't be as dependent on your home theater environment. The contrast deserves a special call-out for being arguably the best you'll find in the under-$1,000 price range.
These are also both very user-friendly options. It doesn't need much adjustment to make the image align. It shouldn't take you more than half an hour to get from opening the box to watching your favorite shows and movies. The HD142x is a bit more flexible in this regard since it has a keystone adjustment feature.
The HD143x is consistently rated better than the HD142x in both value and portability. You wouldn't expect a projector that costs less than $500 to give you such a stunning true HD picture. (>>> Find our guide of top projectors in this price range here). This generally makes the HD143x a better choice for most consumers, unless you need the extra flexibility that you get from the HD142x.
The Final Word
Most of the time you'd expect a drastic drop in quality between an $800 projector and a $500 projector. The truth is, though, the differences between these two models are minor—and in some cases, go in favor of the less expensive HD143x. While an MHL connection can come in handy, there are work-arounds that make it unnecessary and don't require too much effort or technical know-how on your part.
For most people, the HD143x is a no-brainer. You won't find better quality at the price from any other brand and there's no easier way to get a screen this size into your home. Added features like 3D capability are just the icing on the cake. If you want a projector that's low-maintenance, portable, and affordable, you'll love the Optoma HD143x. >>> Check current price on Amazon
REFERENCES AND FURTHER READING: