For making professional presentations in conference rooms and auditoriums, a standard home theater projector just won't cut it. The ZU720T from Optoma is the first high-brightness laser projector to hit the commercial market, and it has a lot to offer for event planners, educators, and business leaders. We'll break down its features in this Optoma ZU720T review (>>> Check on Projectorscreen.com).
Optoma ZU720T Review of Main Specs:
| | Optoma ZU720T |
| --- | --- |
| | |
| Resolution | 1920x1200 |
| Brightness (Lumens) | 7,500 ANSI |
| Contrast Ratio | 1,000,000:1 |
| Throw Distance | 7.3' - 30.6' |
| Screen size | 40" - 300" |
| Speakers | 10.0 Watts × 2 |
| Today's Best Price | ProjectorScreen.com |
Lamp and Brightness
The Optoma ZU720T uses an advanced laser phosphor light source, enabling it to put out an incredible amount of light without a ton of extra weight. It's incredibly durable, too, requiring almost no maintenance, and since it doesn't produce as much heat there's not as much fan noise.
The ZU720T can put out a consistent 7,500 lumens. That's enough to keep the image vibrant even in full daytime sunlight, or under the bright lights of a large conference room.
Installation
At 28 pounds, the ZU720T isn't what we'd call a portable projector, but it's not overly bulky and has a rugged build, so you can take it on the road when you need to.
You will need a large space to use the Optoma ZU720T—as much as 30 feet if you want the full 300" screen size. The good news is, you'll get a lot of flexibility for where you install it in that space. The Four Corner adjustment lets you quickly adjust the screen geometry, giving you a square image even if the projector is installed on an uneven surface.
The ZU720T is also easy to install from a connectivity standpoint. The connection panel includes dual HDMI ports along with VGA and USB inputs. It supports a diverse array of external control systems, too, supporting both LAN and RS-232 cables for remote commands.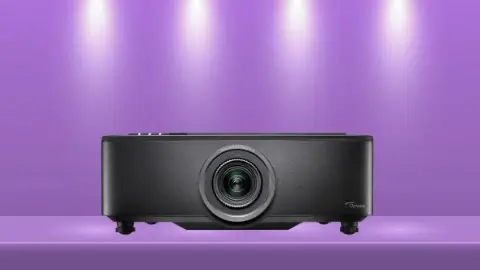 Pros
Sharp, clear picture edge to edge
Bright enough for any light level
Accepts content up to 4K
Easy to use Android operating system
Good volume from built-in speakers
Long lamp lifespan
Flexible and easy to install
Cons
Video resolution is on the low side
Image Quality
For a home theater projector, the resolution of the Optoma ZU720T would be low for the price. Its WUXGA resolution is still higher than full HD, and is ideal for many graphics and text-based presentations, however, with a Texas Instruments DLP display that keeps text and figures legible at all screen sizes.
All Optoma ProScene projectors have a sophisticated image optimization system. The brightness is consistent across the image, with advanced edge blending and anti-warp features so your presentations will look perfect every time.
Use and Performance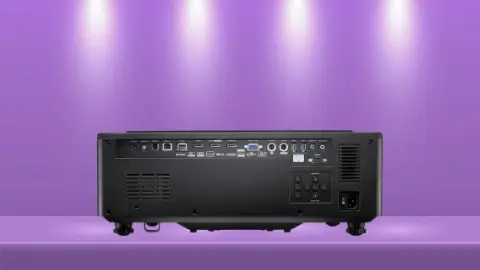 The Optoma ZU720T is designed for long-term use. Its DuraCore engine lets it run 24 hours a day without overheating or losing image quality. Since it lasts up to 30,000 hours in Eco mode, you won't have to replace the lamp often, even in permanent installations.
For more dynamic presentations, the Optoma ZU720T has an integrated Android-based operating system that makes it a breeze to navigate. It's also compatible with AMX control systems and has a PJ-Link port, letting it seamlessly integrate into more advanced control systems.
In Conclusion: Optoma ZU720T Review
There's one big question for a projector at this price point: is it worth the money? If you're looking for a projector you can install long-term in an auditorium or large conference room, the Optoma ZU720T is a smart long-term investment. Few other projectors can match its brightness or lamp lifespan, and its low maintenance design and easy operation are ideal for businesses, churches, and schools, where lots of people will need to learn how to use it.
It really comes down to your space and budget. The Optoma ZU720T is built for large, potentially bright spaces, and it excels in this environment (>>> Check the current price on Projectorscreen.com).
REFERENCES AND FURTHER READING: