The Samsung HW-Q900T is an innovative home theater soundbar with an impressive range of smart features. Its use of cutting-edge technology and durable craftsmanship gives users truly three-dimensional sound for years to come.
Of course, there's a caveat here: it doesn't come cheap. Those who feel some sticker shock looking at the price tag may be wondering whether it's worth the cost.
In our assessment, you get what you pay for with the Samsung HW-Q900T. (>>> Check current price on Amazon) It's one of the few soundbars on the market that can truly replicate a surround sound experience and has a host of advanced smart features you won't find on other options.
Want to learn more? Let's take a look at the features and performance of the HW-Q900T so you can determine whether it's a smart buy for your home.
Samsung HW-Q900T Review of Main Specs:
| | Samsung HW-Q900T |
| --- | --- |
| | |
| Channels | 7.1.2 |
| Speakers | 16 |
| Subwoofer | Wireless Active |
| Connectivity Options | Wi-Fi, Bluetooth, HDMI |
| Total Power | 406W |
| Dimensions (inches) | 48.0" x 2.7" x 5.4" |
| Price | Check on Amazon |
Set Up
The Samsung HW-Q900T is tuned and tested at the factory before it's shipped to you. Because of this, it has a plug-and-play functionality out of the box, without the need for complicated calibration. The set-up is easiest when you're pairing it with a Samsung TV thanks to the Q-Symphony technology, which automatically synchronizes the soundbar with the TV's speakers.
Along with the soundbar itself, you'll get a wireless subwoofer with the Samsung HW-Q900T. If you have a Wi-Fi or Bluetooth enabled TV, you won't need to worry about connecting any wires. This seamless connectivity makes the HW-Q900T one of the most user-friendly smart soundbars available.
Pros
Immersive sound with Dolby Atmos and DTS:X
Comes with Alexa voice control built in
Synchronizes automatically with Samsung TV speakers
Wirelessly connects to enabled TVs
Optimizes sound for clear dialogue even at low volume levels
Tap and play streams music straight from your smartphone
Cons
Tap and play feature only works with Samsung phones
Can have sync and connection issues with non-Samsung TVs
Sound Quality
With both Dolby Atmos and DTS:X technology, the Samsung HW-Q900T gives you immersive, room-filling sound. It uses a 7.1.2 channel configuration to power the 16 internal speakers and external subwoofer. Wide-range speakers on the corners and 2 up-firing channels emulate a surround sound experience.
The adaptive sound on the Samsung HW-Q900T enhances the listening experience even further. Its intelligent system analyzes what you're listening to, optimizing the playback for the content. This keeps dialogue crisp and clear at all volume levels while still providing full, rich music and sound effects. You can further customize the sound with the 4 sound modes that come standard on the HW-Q900T.
Smart Features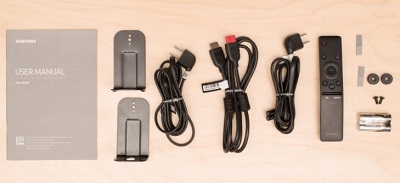 The Samsung HW-Q900T comes with Alexa voice control support built in. Not only does this enable voice commands like changing the volume and starting playlists, it can take the place of an Echo device in your home, putting the full capabilities of Amazon's Alexa system at your command.
Those with other Samsung products will get the most out of the HW-Q900T. If you have a Samsung-brand smartphone, for example, you'll be able to take advantage of the tap and play function. Just tap the soundbar with your phone and it will wirelessly stream your music. While it's a bit annoying that this won't work with non-Samsung devices, it's a helpful feature for those who do have one.
Smart home users will also appreciate that the Samsung HW-Q900T is compatible with the SmartThings app. This integrates the soundbar into your broader smart home network, giving you easy, full control of all your devices in one convenient place.
Samsung HW-Q900T Review: The Verdict
The Samsung HW-Q900T is the ideal soundbar to pair with other Samsung devices, providing wireless connectivity and easy synchronization. It's still a great choice for those with devices from other brands, too. You'll get the same immersive, adaptive sound no matter what device the soundbar is connected to, and the 16 speaker array gets high marks for both volume potential and sound quality. (>>> Check current price on Amazon)
We especially appreciate the Samsung HW-Q900T for smaller spaces. It can take the place of a multi-speaker surround sound system, and that both cuts down on set-up hassle and has a smaller footprint.
While the Samsung HW-Q900T is a bit pricier than most soundbars, in our opinion it's worth the investment for the features you'll get. We hope this review has helped you decide if it's the right sound option for your home theater.
REFERENCES AND FURTHER READING: