Do you want a 4K projector for your smart home theater? Short-throw laser projectors like the Samsung LSP9T and LG HU85LA are a convenient way to bring big screen entertainment to any room in your home, but they don't come cheap. While it's a worthwhile investment if you want the ultimate picture quality, you do want to make sure you're getting the best bang for your buck. Comparing the Samsung LSP9T vs. LG HU85LA, we'd give the Samsung a narrow victory for overall performance. >>> Check the current price on Amazon This isn't to say the LG is a bad projector by any stretch, though, with a versatile installation and user-friendly interface that could make it the better choice for some homes. Let's take a look at the main differences between these models so you can decide which one is best for you.
Samsung LSP9T vs LG HU85LA Side by Side:
| | Samsung LSP9T | LG HU85LA |
| --- | --- | --- |
| | | |
| Resolution | 3840x2160 | 3840x2160 |
| Brightness (Lumens) | 2,800 ANSI | 2,700 ANSI |
| Contrast Ratio | 2,000,000:1 | 2,000,000:1 |
| Throw Distance | 0.4' - 0.8' | 1.3' - 1.7' |
| Screen size | 100" - 130" | 90" - 120" |
| Speakers | 10.0 Watts × 4 | 5.0 Watts × 2 |
| Price | BHPhotoVideo.com | BHPhotoVideo.com |
Installation
The Samsung LSP9T has the shorter throw distance of the two projectors, producing a 100" image with only 4" of distance. It also doesn't require a screen to use as long as you have a large enough blank, untextured white wall available. This is especially helpful for first-time projector owners and makes it one of the few projectors that doesn't require any kind of mounting hardware anywhere in the set-up. On the flip side of this, however, it doesn't have alignment functions like keystone correction and lens shift, so if you are using a screen it can be tricky to center and focus the image.
The throw distance on the LG HU85LA is slightly longer, but you'll still only need 17" inches of space for a 100" screen. It also includes a digital keystone correction and 12-point automatic warp correction, with better corner-to-corner focus. This makes it the easier projector to set up and more compatible with a wider array of screen styles.
Easier installation: LG HU85LA
Picture Quality
The picture quality of the LG HU85LA is impressive compared to most home theater projectors. Its 4K resolution and high dynamic contrast produce a sharp, detailed image, with a 3-channel laser for accurate colors with no loss and consistent brightness.
As impressive as the LG HU85LA is, the Samsung LSP9T exceeds it. It uses similar triple-laser technology but with a more powerful UHD processor and more advanced HDR and color technology. Dedicated picture modes like its Filmmaker Mode further optimize the image to the content, making you feel like you're in a movie theater right in your living room.
Better picture quality: Samsung LSP9T
Smart Features
The Samsung LSP9T supports direct streaming through the Tizen Smart TV interface, which supports a variety of popular movie, TV, and music apps. It's compatible with multiple voice control services, too, including Google Assistant, Alexa, and Bixby, so it's versatile as well as smart.
Where the LG HU85LA takes an edge here is its ThinQ AI technology. Combined with its support for Alexa and Google Assistant, this makes it a better option for integrating with other smart devices. It also offers more wireless connectivity, with support for Miracast as well as a built-in LG webOS Smart TV interface.
Smarter projector: LG HU85LA
Sound Quality
If you use a surround-sound system in your home theater, the projector's speakers aren't much of a consideration For those who want to use the built-in sound, though, the Samsung LSP9T has a built-in multi-channel sound system with 40 watts of power and AcousticBeam enhancement. This lets it mimic the immersive experience of a full surround system, far exceeding the 5-watt stereo speakers you'll find on the LG HU85LA.
Better sound: Samsung LSP9T
Samsung LSP9T vs LG HU85LA: Full Reviews
Samsung LSP9T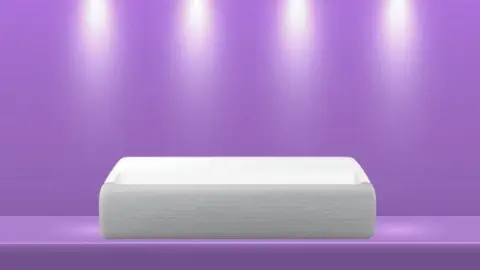 The Samsung LSP9T is an all-in-one entertainment machine for any space or home. Its short throw distance and powerful triple-laser light source give you a sharp, colorful true 4K image with less than 1 foot between the lens and wall. Notice we said wall and not screen. The LSP9T will produce a great picture on any white surface, no screen required. It works well with most screens, too, although some users report difficulty focusing the edges of the image, which can be an issue for reading text like captions.
With a Tizen Smart TV interface, the Samsung LSP9T supports direct streaming through popular apps like Prime Video and YouTube, which could mean you don't need external content sources. The 40-watt sound system with AcousticBeam technology produces sound far superior to what you'd get from most projectors, so you don't necessarily need to use external speakers, either. Built in support for a range of popular voice control systems gives users more ways to control playback and search for content, so it's just as easy to use as it is to set up.
As to the picture quality, the Samsung LSP9T is on par with other high-end home theater projectors. The color performance is particularly impressive, with HDR10+ certification and a Filmmaker Mode that ensures you're seeing movies the way they were intended. Its DLP display with PurColor enhancement and a high dynamic contrast ratio produces a wide color gamut for accurate, realistic hues with excellent depth and texture.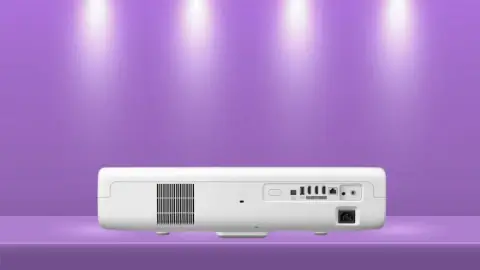 Pros
True 4K resolution with true-to-life color
Vibrant, high-contrast image even without a screen
Ultra-short throw (less than 1 foot for 100" image)
Bright enough for use in low to moderate ambient light
Smart TV system with voice control
Excellent built-in sound quality
Cons
Can be tricky to focus the image edges
Higher cost
---
LG HU85LA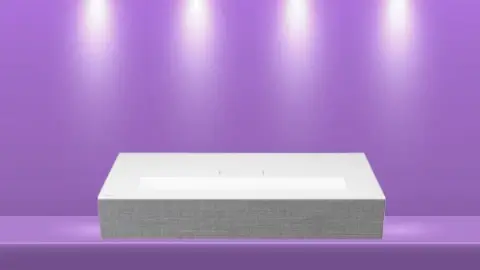 The LG webOS smart TV system is one of the best for both ease of navigation and the variety of available apps (YouTube is the only notable content app that's absent). On the LG HU85LA, this is combined with a smart ThinQ AI navigation system as well as voice control through Amazon Alexa or Google Assistant. That makes it a great choice for smart home owners since it integrates easily with other devices.
We found the LG HU85LA to be very user-friendly overall with a fast and easy set-up. This starts with its ultra-short throw, producing a 100" image from only 17" away. The 12-point anti-warp adjustment function is a huge help in correcting image geometry issues, further expanding its placement flexibility. While its not the brightest projector out there, it doesn't call for extreme light control measures, either, and can be used for lights-on viewing.
The LG HU85LA uses a 3-channel laser rather than a color wheel, giving it a wide color gamut with less signal loss than older generation models. It supports the latest picture technology like Ultra HD resolution and HDR10, with Dynamic Tone Mapping and TruMotion that optimize and smooth the image on a frame-by-frame basis. Just about the only disappointing thing about this projector is its speakers. They're acceptable for TV watching but you'll need external speakers if you want an immersive movie-watching sound experience.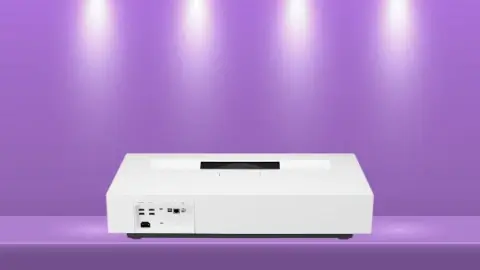 Pros
True 4K resolution with high dynamic contrast
Smart TV interface with voice control
Easily integrates into smart home systems
Ultra-short throw
12-point anti-warp adjustment
Supports Miracast for wireless screen mirroring
Cons
Weak built-in sound
YouTube app isn't available through Smart TV system
---
The Bottom Line
Both the LG HU85LA and the Samsung LSP9T are smart 4K projectors with a short throw distance and a bright enough lamp to support lights-on viewing. The picture and sound quality of the LSP9T are higher, and it's a convenient option for first-time projector owners since you don't need a screen or external speakers. (>>>Find on ProjectorScreen) On the other hand, the HU85LA is smarter, more user-friendly, and an overall better value at the price. Choosing between them comes down to deciding which of these features are the highest on your priority list.
REFERENCES AND FURTHER READING: