If you're looking for a new projector for an education, worship, or office space, the Sony VPL-PHZ50 has the features you need to get the job done. Its powerful lamp, robust connectivity, and easy, flexible installation are the main points in its favor. But is this the best projector for your needs? Read the full details in this Sony VPL-PHZ50 review to find out (>>> Check it's pricing on Amazon).
Sony VPL-PHZ50 Review of Features:
| | Sony VPL-PHZ50 |
| --- | --- |
| | |
| Resolution | 1920x1200 |
| Brightness (Lumens) | 5,000 ANSI |
| Throw Distance | 5.7' - 26.8' |
| Screen size | 40" - 300" |
| Speakers | 16.0 Watts Mono |
| Today's Best Price | BHPhotoVideo.com |
Installation
Old lamp-based professional projectors were often bulky, and that's the first place the Sony VPL-PHZ50 stands out. It uses a lightweight laser phosphor light source that cuts down on both the weight and the size. The entire projector weighs less than 20 pounds and is less than 4 inches tall, making it easy to fit onto shelves, media carts, or wherever else you'll store the projector. If you're looking for a portable projector, check out this buyer's guide.
The main limitation here is that it does need a lot of room, as much as 20 feet for a 100-inch screen. This isn't necessarily a problem for professional uses, given that you'll have at least that much space to work with in most classrooms, conference rooms, auditoriums, and other similar settings.
Once you're in the right space, setting up the VPL-PHZ50 is relatively easy. It has a 2D keystone correction along with a 1.6x zoom and both vertical and horizontal lens shift. That range of installation features makes it flexible for a variety of spaces, and makes it fairly straightforward to set up in all of them.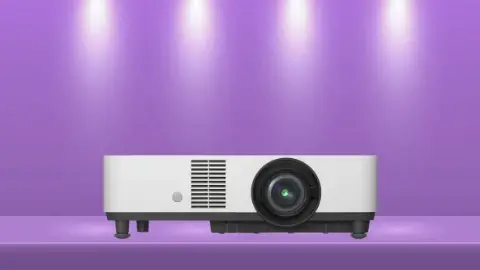 Pros
Accepts content up to 4K
Bright lamp maintains a clear picture in any light level
HD picture with excellent color and contrast
Flexible installation
Cons
Needs a lot of space
No wireless connectivity
Connectivity
The variety of inputs on the rear panel of the Sony VPL-PHZ50 is another reason it's great for professional uses. Along with the dual HDMI and USB inputs you'll find on most modern projectors, it also has VGA and RCA connections, expanding the range of equipment it will work with. There are also a range of network connection options, including RJ-45 and RS232, so you can integrate it easily into remote control and automation systems. The only thing missing compared to modern home theater projectors is that there's no built-in Wi-Fi or Bluetooth with the Sony VPL-PHZ50.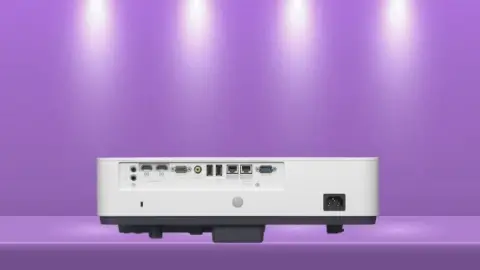 Display Quality
The light source on the Sony VPL-PHZ50 is one of the most powerful you'll find on the consumer market, producing a consistent 5,000 lumens, plenty to cut through even bright ambient light. Even in eco mode it still puts out around 4,000 lumens, which will be enough for most indoor spaces with the full lights still on.
The WUXGA resolution of the VPL-PHZ50 is one you won't see on home theater projectors, but is roughly equivalent to a full HD (1080p) display. It does accept 4K content, as well, so you can use it to play movies or TV shows as well as for presentations, Zoom calls, and similar professional uses.
The color and contrast of the picture from the Sony VPL-PHZ50 are what really impressed us, though. It uses a 3LCD display that produces more consistent and nuanced colors than those using a color wheel, with none of the annoying rainbow effect those can cause. This is further enhanced by its Reality Creation engine, optimizing the on-screen pixels in real time for maximum clarity.
Sony VPL-PHZ50 Review in Summary
The Sonly VPL-PHZ50 is one of the best presentation projectors you'll find today. With its bright lamp and flexible installation, it can suit just about any space, producing clearly legible text and sharp, colorful images once it's set up. Even its main weaknesses are likely not an issue for teachers, presenters, and other professionals. We hope this review has helped you decide if the VPL-PHZ50 is a good choice for you (>>> Check it's pricing on Bhphotovideo)!
FAQs
Do I need external speakers with the Sony VPL-PHZ50?
That depends on what kind of sound you're hoping to get. There is a speaker built in to the VPL-PHZ50, and it has a relatively strong volume output that will be audible in small to medium spaces. However, for larger spaces, you likely will want to add an external speaker for presentations with sound, and the sound quality is also on the low side for movies or music.
Can the Sony VPL-PHZ50 be used in a home theater?
It can, certainly. Its picture quality is high enough for shows and movies, and it does accept 4K content. However, it's not the best value for a home theater. Much of the price is due to its bright lamp, which puts out more lumens than most home theater users will need, and you can get a projector with features like an Ultra HD display and wireless streaming for the same price or cheaper. That said, if you want to play movies in a bright space, or outdoors during the daytime, the Sony VPL-PHZ50 can be a smart choice.