The VPL line of home theater projectors from Sony are all based around the company's advanced Silicon X-tal Reflective Display (SXRD) technology, with picture enhancement like Reality Creation upscaling and dynamic contrast enhancement that result in an image quality on par with movie theater projectors. Considering they both use this advanced technology, you're probably wondering: just what is the difference between the Sony VW325ES vs VW295ES?
The short answer is, the VW325ES is a more recent model and has an improved performance across all specs, though it also sells for a higher price (>>> Check on Amazon). If you're looking for more detail, read on to see a full break-down.
Sony VW325ES vs VW295ES Side by Side:
| | Sony VW325ES | Sony VW295ES |
| --- | --- | --- |
| | | |
| Resolution | 4096x2160 | 4096x2160 |
| Brightness (Lumens) | 1,500 ANSI | 1,500 ANSI |
| Contrast Ratio | 9,000:1 native | 350,000:1 |
| Input Lag | No data | 36ms |
| Throw Distance | 12.5' - 30.5' | 12.3' - 30.1' |
| Screen size | 60" - 300" | 60" - 300.31" |
| Speakers | No | No |
| Price | BHPhotoVideo.com | Check on Amazon |
Image Processor
The 4K processor in the Sony VW295ES is impressive, providing a full 4096X2160 4K resolution, as opposed to the 3840X2160 resolution that most 4K home theater projectors max out at. When the VW295ES was released in 2018, it was a state-of-the-art machine, and it's still superior technology to what's used in many models.
Sony has continued to innovate in the years since, though. The VW325ES, released in May of 2021, uses their more advanced X1 Processor. This means smoother frame-to-frame motion with enhanced detail and accuracy compared to previous versions of the technology.
Better processor: Sony VW325ES
Contrast Ratio
Just looking at the published specs, it would appear the Sony VW295ES has a much higher contrast ratio than the VW325ES. These figures are a bit deceptive, however. Sony measures the dynamic contrast ratio of the VW295ES—in other words, its contrast with the Dynamic HDR Enhancement active—at 350,000:1.
The 9,000:1 contrast ratio advertised on the Sony VW325ES is its native contrast before any additional technology is employed. For context, most professional projectors top out at around 3,000:1. In terms of real-world performance, this gives the VW325ES richer black levels and better overall sharpness and clarity, as well as better performance during lights-on viewing.
Better contrast: Sony VW325ES
Gaming Performance
Gamers look for a low input lag—ideally 30ms or lower, for network gaming, though anything under about 60ms is considered acceptable. Both of these Sony projectors fall within that range. Of the two, however, the VW325ES is more responsive, with a measured input lag that hovers right around that 30ms threshold.
Better gaming performance: Sony VW325ES
---
Sony VW325ES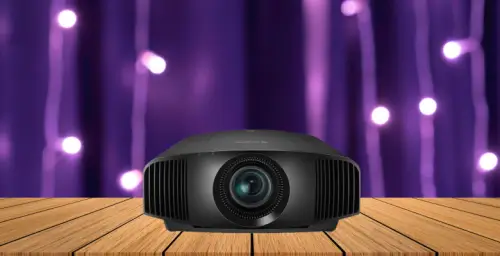 The impressive picture of the Sony VW325ES starts with its lens array, using an aspherical all-glass lens that maximizes the clarity and brightness of the image. Combined with the X1 processor and SXRD panel, and you get a picture with superior depth and realism, even before you add in enhancements like the Dynamic HDR Enhancer and Reality Creation upscaling.
Like all the Sony VPL projectors, the VW325ES is made for use in dedicated home theater spaces. It's less versatile across viewing areas than many home theater projectors. The 1,500-lumen lamp looks brighter than the low lumens suggest, but it's still not the best choice for well-lit rooms. You'll also need a large space for it—roughly 14 feet for a 100" image.
All of that said, the Sony VW325ES has an intuitive and relatively quick installation in the right space. Horizontal and vertical lens shift give users more flexibility when it comes to the placement of the ceiling mount, with a powered zoom and focus for fine-tuning the image. It's also more versatile in terms of its use, with input lag reduction that makes it more responsive for gaming than other Sony projectors. Click here for our more in-depth Sony VW325ES review.
Pros
More on-screen pixels than most 4K projectors
Relatively flexible, fast installation
Reality Creation upscaling
Motionflow eliminates on-screen blur
X1 processor improves contrast and color accuracy
Input lag is low enough for most gamers
Cons
Long throw distance
Low lamp brightness for the price
---
Sony VW295ES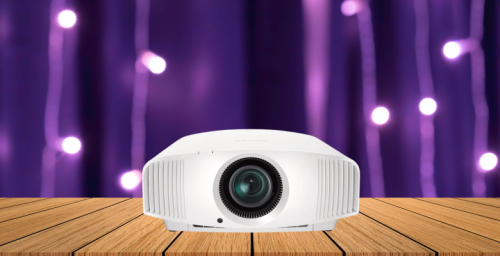 As we mentioned in the intro, the Sony VW295ES has a lot in common with the VW325ES above. Its Triluminos display and 3 SXRD imagers provide a wide, accurate color gamut, giving images realistic color nuance that's accurate to the source material. It's also HDR compatible with a high dynamic contrast and Motionflow technology to keep the picture sharp even when it's in motion.
The main difference from a picture standpoint is that it uses an older-generation processor. Its 4K processor still provides a true cinema 4K, with more pixels than the standard Ultra HD home theater projector, but it doesn't quite match the sharpness of more recent models like the VW325ES.
The Sony VW295ES also has similar limitations and strengths from an installation perspective. It will be at its best in a large, mostly dark room, where its long throw distance and relatively low lamp brightness won't be an issue. One notable omission compared to later iterations is the lack of lens memory to save your settings. It's still fairly quick to align, though, with wide 2D lens shift (up to 31% horizontal and up to 80% vertical) and a powered zoom lens.
Pros
Cinema-level 4K resolution
Full coverage of DCI-P3 color spectrum
Smooth, blur-free action
Upscales full HD content to nearly 4K quality
Acceptable lag for casual gaming
Cons
Lower contrast
No lens memory settings
---
What's the Verdict?
Since it's a slightly older model, the Sony VW295ES usually sells at a slightly lower price than the VW325ES. While both units are definitely in the high-end price range, this does make the 295ES the most affordable way to get cinema-level 4K resolution in a home theater.
On the other hand, both the home theater and gaming performance of the Sony VW325ES are superior. If you're already paying upwards of $4,000 for a projector, it's not much of a leap to shell out a few hundred bucks more for superior quality. For most, this makes the newer VW325ES the better option (>>> Find on Bhphotovideo).
REFERENCES AND FURTHER READING: