When you're shopping for a projector, your space matters just as much as the specs. In this ViewSonic X100-4K review, we'll break down the projector's key features and the type of environment where it excels. While it's not the most versatile model on the market, its high picture quality and smart features make it a great choice in the right home theater space. (>>> Check on Amazon)
ViewSonic X100-4K Review of Main Specs:
| | ViewSonic X100-4K |
| --- | --- |
| | |
| Resolution | 3840x2160 |
| Brightness (Lumens) | 1,200 ANSI |
| Contrast Ratio | 3,000,000:1 |
| Input Lag | 67ms |
| Throw Distance | 4.2' - 26.2' |
| Screen size | 40" - 300" |
| Speakers | 20.0 Watts × 2 |
| Price | BHPhotoVideo.com |
Installation and Flexibility
The ViewSonic X100-4K is at its best in a dedicated home theater. (>>> Find more great options here) This is partially because of its throw distance, which is around 10 feet for a 100" screen. Of more concern for most is its brightness, which is on the low side for a home theater projector at 1,200 ANSI lumens. While it does have dedicated picture modes to help cope with this, you'll still want to use it in a space where you have complete control of the light levels.
Provided you have the right space for it, though, the ViewSonic X100-4K is easy to install. It works in both ceiling-mounted and table-top setups, with a manual zoom and both horizontal and vertical lens shift so you can fine-tune the image after the projector is installed. You also don't necessarily need external speakers. The built-in Harman Kardon speakers have an output and sound quality on par with many soundbars.
The connectivity of the ViewSonic X100-4K makes it a good choice for more complicated home theater set-ups, with 4 HDMI ports along with USB and networking ports. Unfortunately it's not the best choice for gamers, with an input lag on the high side even at 1080p resolutions.
Pros
True 4K resolution
Exceptional image contrast and black levels
Speakers have good sound quality
Built-in voice control compatibility
Easy to install and align
Good variety of connection options
Cons
Needs a fully dark space
Input lag is too high for gaming
Picture Quality
The DLP display in the ViewSonic X100 exceeds the color gamut of the Rec.709 spectrum. Combined with the 4K resolution and high image contrast it can produce an impressively realistic picture that lets you truly get immersed in shows and movies.
You can watch any kind of content with the ViewSonic X100. It uses Frame Interpolation to reduce motion blur in fast-paced sequences, great for live sports and action movies. You can also watch 3D content, though you'll need to use their ViewSonic shutter glasses (which don't come included).
Usability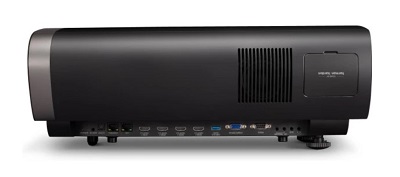 The ViewSonic X100-4K uses an Aptoide user interface that supports streaming content directly through Amazon Prime, Netflix, or YouTube. While it's not as robust in terms of available apps as other smart projectors, the integrated menu makes it easy to search for and play content on different platforms. Voice control is also integrated into the X100-4K, which supports both Google Assistant and Amazon Alexa.
Overall, navigating and using this projector is easy, whether you're connecting content through the HDMI ports or using the built-in streaming. Its low maintenance requirements help here, too. Since it uses an LED lamp, its light source could last up to 30,000 hours, meaning you  may never need to replace it the entire life of the projector.
ViewSonic X100-4K Review In Summary
The ViewSonic X100-4K has its limitations. Its low brightness will be a deal breaker for some, while gamers can find projectors with a much lower input lag at a similar price point.
If these aren't an issue in your viewing area, however, there's a lot to love about the X100-4K. Its high picture quality, good built-in sound, and well-designed streaming interface make it a great fit for many modern home theaters. (>>> Check the current price on Bhphotovideo)