At first glance, it can be hard to see the difference between the WeMax Nova vs. Optoma P2. Both projectors use a laser light source, giving them 4K Ultra HD resolution and an ultra-short throw distance, producing a large, clear image from just 1-2 feet away. They're also equally capable of direct streaming, with similar Android interfaces for managing the content.
While the difference between these projectors might seem subtle, it can make a big difference from a user's perspective. Most people will find the Optoma P2 to be a better choice (>>> Check on Amazon), though the WeMax Nova has its strengths, too. Let's take a closer look at the side-by-side comparison.
WeMax Nova vs Optoma P2 Side by Side:
| | WeMax Nova | Optoma P2 |
| --- | --- | --- |
| | | |
| Resolution | 3840x2160 | 3840x2160 |
| Brightness (Lumens) | 1,300 ANSI | 3,000 ANSI |
| Contrast Ratio | 1,500,000:1 | 2,000,000:1 |
| Input Lag | No data | 67ms |
| Throw Distance | 5" – 1'7" | 1.5' - 2.2' |
| Screen size | 80" - 150" | 85" - 120" |
| Speakers | 30.0 Watts | 20.0 Watts × 2 |
| Price | Check on Amazon | BHPhotoVideo.com |
Installation Ease
A short throw distance prevents either the P2 or Nova from needing a ceiling mount. The WeMax Nova has an 8-point keystone correction for alignment of the image. While this does mean making adjustments manually, it's a relatively fast and simple process.
On the Optoma P2, you'll get the option of aligning through the SmartFIT app, which automatically corrects the focus and on-screen geometry for a square, clear image, no effort required. Users who don't have a smartphone can still manually align the image with the digital zoom and keystone correction.
Easier installation: Optoma P2
Brightness
The 1,300 ANSI lumens produced by the WeMax Nova is enough for a clear image in a dark room, and will maintain the image integrity through low levels of ambient light. If the room has large windows, however, or you prefer a brighter viewing area, the 3,000 lumens of the Optoma P2 provides more powerful illumination.
Brighter projector: Optoma P2
Smart Features
Both the Optoma P2 and the WeMax Nova have wireless connectivity and an Android TV interface that supports direct streaming through popular apps. They also both support voice searches and hands-freee control through Google Assistant.
Where the Optoma P2 takes the slight edge here is its better smart home integration support. It's compatible with Amazon Alexa as well as Google Assistant, and has a more thorough set of commands for each. It's also compatible with IFTTT, allowing easy creation of custom automation routines for a seamless smart home theater experience.
Better smart features: Optoma P2
Sound Quality
For overall volume output and mid-range dialogue clarity, the speakers on the WeMax Nova and Optoma P2 are evenly matched. The WeMax Nova has Dolby Audio support for its 30-watt speakers, providing a good enough audio experience for casual TV and movie viewing.
Similar to the smart features, though, the Optoma P2 is just a bit better. Its 40-watt soundbar has 2 dedicated woofers as well as 2 mid-range drivers, giving it improved performance in the bass frequency range. That's key for movie sound effects and music, and provides a more immersive and realistic soundscape without the need to add additional speakers.
Better sound quality: Optoma P2
Gaming Performance
The Optoma P2 has a Gaming Mode, but most serious gamers will find its performance disappointing. Even in this mode, the input lag measures in the upper 60ms as its lowest. That's enough to cause a noticeable delay for many players, especially in online gaming contexts.
The WeMax Nova has a measured input lag of around 40ms in its Game Mode. This is still a bit high for competitive or professional players, who look for an input lag of 30ms or lower. For most casual players and hobbyists, however, it's responsive enough it won't negatively impact your playing experience.
Better gaming performance: WeMax Nova
---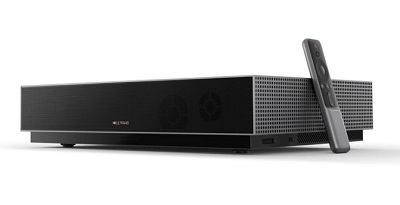 The impressive picture quality of the WeMax Nova starts with its true 4K resolution. It uses ALPD 3.0 technology with a Texas Instruments DLP display, which together expand its available color gamut and improve the overall sharpness of the picture. The detail and clarity are consistent at all 4 screen size options, with no color hotspots or focus issues in different areas of the screen.
The WeMax Nova also gives users a good variety of ways to get their content to the projector. For wired inputs, it has 3 HDMI ports and a composite video input. Its Android 9.0 streaming interface has access to all the thousands of apps in the Google Play store, so you may not even need one of those ports for a streaming stick. It has both Wi-Fi and Bluetooth connectivity, too, and supports wireless screen mirroring through Chromecast right out of the box.
The combination of features on the WeMax Nova makes it a versatile choice for all-purpose spaces like living rooms and media rooms. It's an acceptable choice for casual gaming as well as watching movies, with a short throw distance and easy set-up that makes it functional in almost any space. While you will need to use black-out curtains over windows to limit light pollution, it's bright enough to keep the picture clear in typical indoor lighting conditions.
Pros
Crisp true 4K image
Supports Bluetooth and wireless casting
Voice search through Google Assistant
Decent speakers with clear dialogue
Acceptable input lag for casual gaming
8-point keystone correction for quick micro-adjustments
Cons
Lamp brightness too low for some ambient light conditions
---
Optoma P2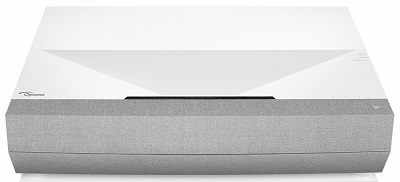 The Optoma CinemaX P2 is one of the best projectors on the market if you're looking for all-in-one home theater performance. Its built-in Android streaming interface supports the most popular streaming apps, and its built-in 40-watt soundbar has comparable sound quality and output to most external soundbars, so many users will find they don't need external speakers.
The image quality of the Optoma P2 is equally impressive. Its color gamut covers the DCI-P3 color space, supporting about 50% more hues than the standard Rec. 709 space. For clarity, the PureMotion processing prevents motion blur and maintains the image sharpness across content, with HDR10 compatibility to maintain a high contrast.
Like the WeMax Nova, the Optoma P2 has an impressively short throw, and it's even more versatile across spaces thanks to its brighter lamp. It's also easier to integrate into smart home and home automation systems, going beyond reliance on established voice control services thanks to its support for IFTTT. On the flip side, its functionality is more limited, and it's not a viable choice for most gaming applications.
Pros
True 4K resolution with wide color gamut
Sharp, high-contrast image with HDR10
Supports IFTTT and multiple voice control platforms
Good sound from integrated sound bar
Bright lamp suitable for lights-on viewing
Easy set-up with SmartFIT app
Cons
Input lag too high for most gamers
---
The Verdict
Most buyers will prefer the performance of the Optoma P2, which has a high image quality, flexible set-up, and impressive feature for smart home owners (>>> Find on ProjectorScreen). The WeMax Nova may be a more appealing option for gamers, however, and nearly matches the P2 in stats like set-up ease. The truth is, both projectors will give you a vibrant 4K image in almost any space, and will make an excellent centerpiece for a modern home theater.