Do you want a cinema-quality image in your home theater? A 4K laser projector can be an excellent choice, combining a detailed, immersive picture with convenience features like a short throw distance and built-in streaming. This
WeMax Nova
review will outline its strengths and shortcomings so you know if it's a good fit for your home
(>>> Check on Amazon)
.
WeMax Nova Review of Main Specs:
| | WeMax Nova |
| --- | --- |
| | |
| Resolution | 3840x2160 |
| Brightness (Lumens) | 1300 ANSI |
| Contrast Ratio | 3,000:1 |
| Throw Distance | 5" - 1'7" |
| Screen size | 80" - 150" |
| Speakers | 30 Watts |
| Price | Check on Amazon |
Installation
With its ultra-short throw distance, the WeMax Nova can be placed just inches from the wall and still produce a big picture. Not only is this good news for small spaces, it saves a lot of steps in the installation process, eliminating the need for a ceiling mount. The alignment features on the WeMax Nova are helpful here, too. It has an 8-point keystone correction for squaring the screen geometry, easily eliminating warp and skew. The WeMax Nova also has the connectivity you need in a modern home theater. For wired connections, it has 3 HDMI ports, a composite video input, and dual USB ports. It can also connect to devices wirelessly using Wi-Fi or Bluetooth, useful for both content sources and connecting external speakers and soundbars.
Picture Quality
The WeMax Nova uses a Texas Instruments DLP display and a powerful
laser light source
with ALDP 3.0 technology. The result is true 4K resolution with exceptional detail and picture depth. Its wide color gamut helps here, too, producing more nuanced and realistic color than less sophisticated projectors. The image quality of the WeMax Nova stays consistent at all screen sizes, with the same brightness and detail from edge to edge. It puts out about 1,300 lumens, which is on the lower side for a home theater projector. The short throw distance helps to maximize the image brightness and reduces light diffusion. Even so, it's not the best choice for well-lit spaces, which can make the picture look washed out.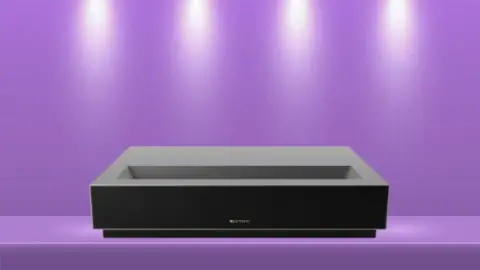 Pros
Sharp 4K image with excellent color and contrast
Powerful clear sound from Dolby Audio
8-point automatic keystone correction
Ultra-short throw (9" for 100" screen)
Built-in Bluetooth and wireless connectivity
Advanced Android TV system supports most streaming apps
Cons
Not bright enough for use in well-lit spaces
Netflix not natively supported
Audio Quality
The 30-watt speaker on the WeMax Nova have a higher output and better sound quality than the speakers on most home theater projectors. It uses two full-range drivers and two dedicated tweeters, giving it a relatively wide frequency range with clear dialogue and a decent amount of bass power. These are backed by technology like DTS and Dolby Audio for a realistic sound with low loss and distortion. Many users find they don't need to use external speakers, though they're easy to connect if you do want to use your existing sound system.
Smart Features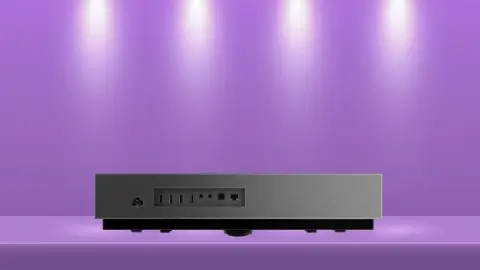 The Android 9.0 TV system is a later generation than the built-in streaming interfaces on many home theater projectors, and is on the whole more intuitive and easier to navigate. It links directly to the Google Play store, letting users choose from the full array of more than 5,000 apps. This also opens up the option for Google Assistant voice search and control, which you can use through the included remote. The only notable omission from the streaming apps on the WeMax Nova is Netflix, which can't be downloaded directly to the projector. If you use that app frequently, you'll still need to use a streaming stick or other wired content source. This isn't a concern unique to the Nova, however, and is true of any home theater projector that uses the Google Play Store for apps.
WeMax Nova Review In Summary
The WeMax Nova has a lot of strengths. With 4K resolution, impressive speakers, and a built-in streaming interface, it has all-in-one potential, letting many users watch their favorite shows and movies without connecting any accessories or content sources. It's also a convenient choice and has a quick setup thanks to its ultra-short throw distance. In our view, the relatively low brightness of the WeMax Nova is the only potential deal-breaker. It supports some lights-on viewing but will need light control measures in bright spaces. It's up to you whether this is a problem in your space, and won't be a concern for those with a dedicated home theater space or relatively dim viewing area
(>>> Check the current price on Amazon)
.
FAQs:
What are the key features of the WeMax Nova Projector?
The WeMax Nova Projector is an ultra-short throw laser projector offering 4K resolution with 1,300 ANSI lumens of brightness, delivering an impressive picture up to 150 inches in size. It includes built-in speakers, is compatible with Android TV, and can even function in a well-lit room.
Does the WeMax Nova Projector support smart home integration?
Yes, the WeMax Nova Projector has smart home compatibility, allowing users to connect it to their smart home devices for voice-controlled operation. It integrates with devices such as Google Assistant and Amazon Alexa.
How does the ultra-short throw feature work in the WeMax Nova Projector?
Ultra-short throw technology allows the WeMax Nova Projector to be placed very close to the display surface, often only a few inches away, and still project a large, high-quality image. This feature makes it ideal for use in various room sizes and setups, as it requires less space than traditional projectors.
REFERENCES AND FURTHER READING: