At first glance, it can be hard to tell the difference comparing the WeMax Nova vs VAVA 4K. Both are smart, true 4K laser projectors, with user-friendly Android interfaces. These projectors also have a similar ultra-short throw distance, capable of producing a massive screen with just inches of distance.
Overall, the VAVA 4K is the better projector by a slim margin, but that doesn't mean it's the best choice for every user (>>> Check on ProjectorScreen). The differences between these models come down to the lamp brightness, built-in speakers, and smart Android interface. Let's take a closer look at each before digging in to the full reviews.
WeMax Nova vs VAVA 4K Side by Side:
| | WeMax Nova | VAVA 4K |
| --- | --- | --- |
| | | |
| Resolution | 3840x2160 | 3840x2160 |
| Brightness (Lumens) | 1,300 ANSI | 2,500 ANSI |
| Contrast Ratio | 1,500,000:1 | 1,500,000:1 |
| Input lag | No data | 98ms |
| Throw Distance | 5" – 1'7" | 1.4' - 2.5' |
| Screen size | 80" - 150" | 80" - 150" |
| Speakers | 30.0 Watts | 30.0 Watts × 2 |
| Price | Check on Amazon | ProjectorScreen.com |
Brightness
From a lamp-based projector, the 2,100 lumens put out by the WeMax Nova would be concerning. Fortunately, the ultra-short throw and ALPD technology reduce light diffusion, and you can leave a few lights on when you're using the Nova—just don't expect it to look great in a well-lit room.
If your viewing space is on the bright side, the 6,000-lumen laser light source on the VAVA 4K is stronger, producing a consistent 2,500 ANSI lumens. This makes it a better choice for spaces like living rooms or studio apartments, where you won't always be able to control the light level.
Brighter projector: VAVA 4K
Sound Quality
Unlike the wimpy 5-watt speakers you'll find on most projectors, the WeMax Nova and the VAVA 4K are both equipped with decent sound systems. The Nova uses 4 speakers, 2 dedicated tweeters and 2 full-range drivers, giving it great mid-range clarity that's tuned for precise dialogue.
Where the VAVA 4K takes a slight edge is in its full-range audio quality. The 60-watt soundbar on the VAVA produces hi-fidelity sound throughout the frequency range, with Dolby Audio to prevent distortion at higher volume levels.
Better sound quality: VAVA 4K
Smart Features
The VAVA 4K uses a 7.1 Android operating system, compared to the Android 9.0 OS on the WeMax Nova. While they offer similarly broad access to streaming services and other apps, the Nova's newer, more advanced system is more responsive and intuitive, giving it the edge from a usability standpoint.
The remote included with the WeMax Nova has a voice command option. This lets you control playback or search for content using Google Assistant, a feature that's lacking from the VAVA 4K.
Smarter projector: WeMax Nova
---
WeMax Nova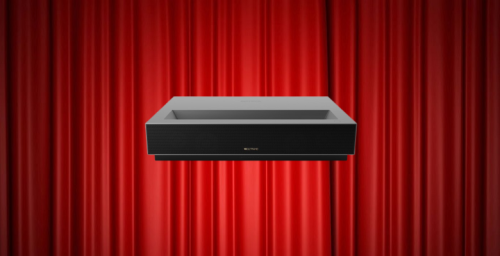 The Android TV 9.0 operating system of the WeMax Nova is one of the most robust and sophisticated built-in streaming interfaces you'll find on a projector. It gives you access to thousands of apps, including popular streaming platforms like Disney+, Hulu, and HBO Max. The only notable exception is Netflix, which you'll need a streaming stick or other content source to access.
The Nova's robust connectivity also makes it easy to connect Bluetooth speakers and stereo systems, though the truth is you might not need them. The 4-speaker, 30-watt sound system built into the WeMax Nova is backed by Dolby Audio technology. While it's not as immersive as surround sound, dialogue is crisp and clear, with decent bass response for sound effects.
The ultra-short throw on the WeMax Nova produces a 100" image with about 9 inches between the lens and screen. That's ideal for smaller spaces or users who don't want the hassle of a ceiling mount. Features like the 8-point keystone correction give it a fast and straightforward overall set-up, so you don't need to be an A/V expert to use it. The Nova's only limitation from a versatility standpoint is its lamp, which is on the weaker side at 2,100 lumens and may get washed out in bright spaces. Click here for our more in-depth WeMax Nova review.
Pros
Sharp 4K picture with ALPD 3.0 and DLP technology
Clear audio with Dolby and DTS support
Full wireless connectivity through Wi-Fi or Bluetooth
Android TV interface with voice control
Easy set-up thanks to 8-point keystone correction
Cons
Not the best choice for bright viewing areas
Netflix not natively available
---
VAVA 4K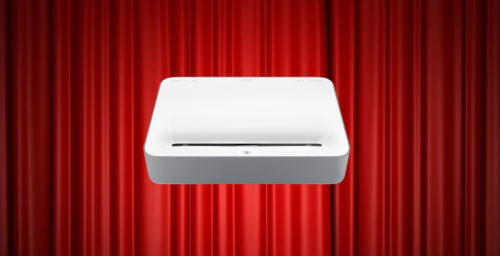 The native contrast ratio of the VAVA 4K exceeds the cinema standard for professional projectors. This is paired with a bright laser light source, impressive color performance, and true Ultra HD resolution to give users one of the highest picture qualities available from a home theater projector.
The VAVA 4K sounds just as good as it looks. It has an integrated Harman Kardon soundbar for lossless and distortion-free hi-fi sound. If you prefer to use external speakers they're easy to connect through Bluetooth, and get the same Dolby Audio and dts-HD processing for the sound signal.
With a lamp brightness of about 2,500 ANSI lumens, the VAVA 4K can maintain the saturation and sharpness of the image even in moderately-lit rooms (though you may still need blackout curtains if you have a lot of windows). It's equally versatile from a space standpoint, with an ultra-short throw and 2D keystone correction that gives it a fast set-up on par with the WeMax above.
Pros
Sharp, high-contrast 4K image
Vibrant, accurate colors (full Rec.709 spectrum)
Exceptional sound with Harman Kardon soundbar
Lamp brightness is ideal for indoor viewing areas
Supports direct streaming
Easy to set up and use
Cons
No built-in voice control
Older Android OS can be clunky
---
The Verdict
With its brighter lamp and higher audio quality, the VAVA 4K will be the better buy for most, especially if you plan to use external content sources (>>> Find the current price on ProjectorScreen). On the other hand, the WeMax Nova has a better streaming interface and built-in voice control, convenient features for a modern home theater. The choice all comes down to which you value most in a projector. Luckily, you'll get an ultra-short throw distance and a sharp Ultra HD picture whichever one you choose.
REFERENCES AND FURTHER READING: