In the rapidly advancing world of home cinema technology, choosing the right projector can be both a thrilling and daunting task. When it comes to delivering the perfect balance of clarity, color, and cinematic experience, two models consistently come to the fore: the BenQ HT3560 and the HT3550. In this in-depth comparison of the BenQ HT3560 vs. HT3550, we'll delve into the features, specifications, and real-life user feedback to provide you with a comprehensive understanding of which projector might best suit your home theater needs. Whether you're a casual movie watcher or a die-hard cinephile, our hands-on experience with both these devices will help guide your decision.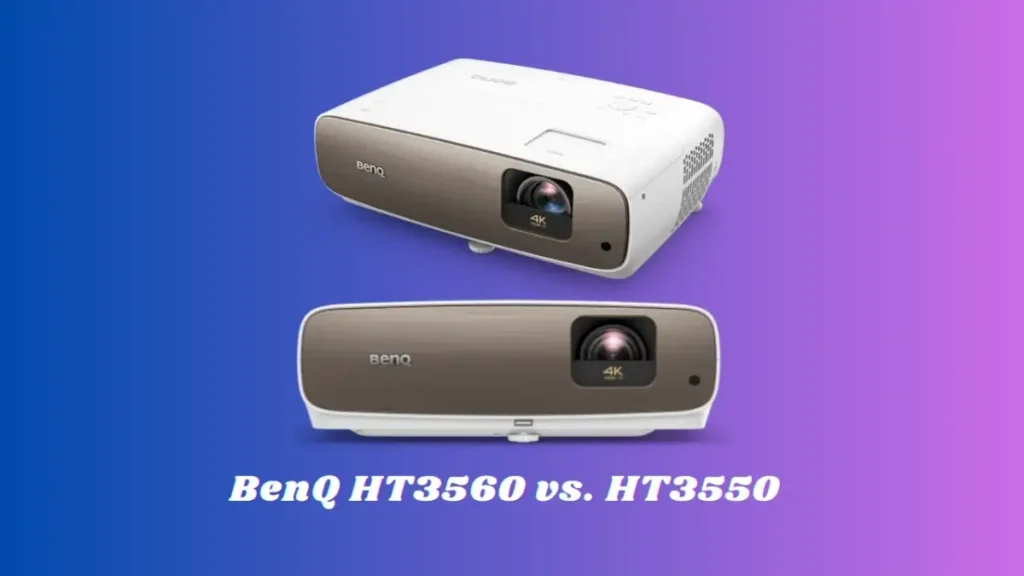 BenQ HT3560 vs. HT3550 – Specs at a Glance:
| | BenQ HT3560 | BenQ HT3550 |
| --- | --- | --- |
| | | |
| Resolution | 4K UHD (3840×2160) | 4K UHD (3840×2160) |
| Contrast | 50,000:1 | 30,000:1 |
| Brightness (Lumens) | 2,200 ANSI | 2,000 ANSI |
| Color Processing | 30-bit | 30-bit |
| Lens | 1.3x manual zoom & focus | 1.3x manual zoom & focus |
| Throw Ratio | 1.13 - 1.47:1 | 1.13 - 1.47:1 |
| Screen size | 30" - 300" | 30" - 200" |
| Speakers | 5 Watts x 2 Chamber | 5 Watts x 2 |
| Where to Buy? | BHPhotoVideo.com | |
Brief Overview of Both Projectors:
BenQ HT3560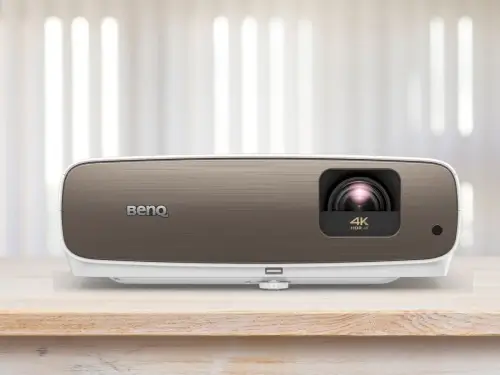 The BenQ HT3560 is a testament to premium 4K UHD projection. With its native resolution of 3840×2160, users are promised an unrivaled visual experience characterized by exceptional clarity and crisply defined details. Its display prowess is further complemented by the projector-optimized HDR-Pro technology which ensures perfect detailing in both dark and bright scenes. The integrated treVolo chambered speakers not only enrich the auditory experience but also underscore BenQ's commitment to providing a holistic cinematic environment. Installation flexibility, characterized by its vertical lens shift and a broad zoom range, makes this device a fitting choice for diverse viewing spaces.
Pros
Superior 4K UHD resolution offers exceptional image clarity.
Advanced treVolo chambered speakers provide rich sound quality.
Optimal HDR-Pro tone mapping enhances contrast.
Impressive input lag benefits gamers.
Versatile installation options with vertical lens shift.
Cons
Priced higher than many competitors.
Lamp-based light source lacks longevity of LEDs.
Check our in-depth BenQ HT3560 review.
---
BenQ HT3550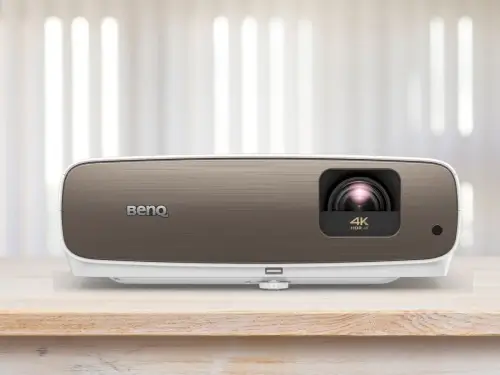 BenQ's HT3550 is a dynamic 4K UHD projector designed to deliver a stellar cinematic experience without breaking the bank. Its native resolution stands at an impressive 3840×2160, ensuring that users get to enjoy movies and shows with incredible clarity. The projector stands out for its cinematic color technology, offering a larger visible spectrum, and its HDR-Pro tone mapping ensures detailed contrast for a genuine cinema feel. Beyond visuals, the 10-element lens array is a notable feature, enhancing the sharpness and color quality of projections. With the added advantage of installation flexibility and an industry-leading warranty, the HT3550 truly offers value at its price point.
Pros
Affordable pricing for 4K UHD projection.
DCI-P3 color technology ensures vibrant visuals.
10-element lens array produces sharp images.
Short throw with 1.3x zoom facilitates flexible setups.
Three-year industry-leading warranty for peace of mind.
Cons
Higher input lag might deter hardcore gamers.
Contrast ratio inferior to HT3560.
Read our in-depth BenQ HT3550 review.
---
Detailed Comparison
Unboxing and First Impressions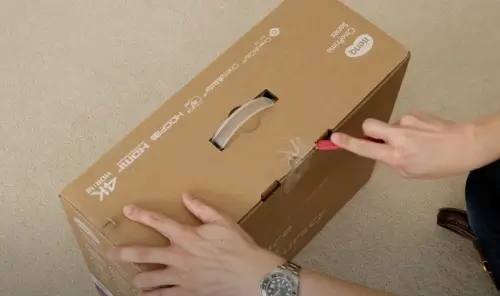 The experience of unboxing a new piece of technology always brings a rush of excitement, and with both these BenQ models, that excitement is entirely justified.
Upon opening the packaging of the HT3560 and the HT3550, it's almost like looking at twins. Their packaging is nearly identical, giving an immediate impression of consistency in BenQ's branding. When you finally lay eyes on the projectors themselves, the similarities continue. Both projectors exhibit a sleek and modern design. BenQ has truly kept the user's aesthetic preferences in mind. These aren't merely pieces of technology; they're designed to seamlessly blend into and enhance any living space they're placed in. The matte finish on both models is not just for looks; it feels premium to the touch and offers the added benefit of being resistant to casual scuffs or fingerprints.
In terms of measurements, both the HT3560 and HT3550 are remarkably similar, making them suitable for a wide range of setups. With dimensions of 14.9 x 4.9 x 10.35 inches for the HT3560 and slightly larger 14.96 x 4.99 x 10.35 inches for the HT3550, they're compact enough for most home theaters, yet their design ensures they're noticed (and admired) when in view.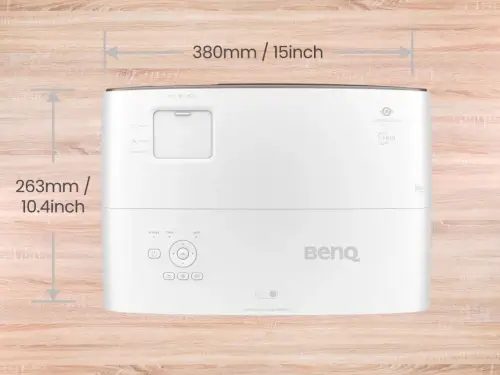 Their weight is also identical, standing at 9.25 lb, which is light enough for easy adjustments and installations. This uniform weight and size between the two models are convenient for those who might be considering an upgrade or switch between the two.
Installation and Connectivity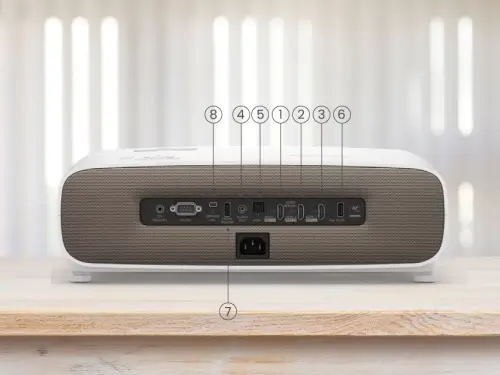 Beginning with the HT3560, you're presented with a rich set of input and output ports. The three HDMI inputs, with HDMI-1 and HDMI-2 being 2.0b/HDCP2.2 compliant, allow for multiple high-definition devices to be connected simultaneously. This is especially handy for those who might want to switch between a gaming console, a Blu-ray player, and perhaps a streaming device without constantly swapping cables. The additional USB Type A and Type Mini B ports are useful for software updates, power supply, and direct multimedia playback. And for those with more specialized setups, the RS232 and the DC 12V Trigger enhance integration capabilities with home automation systems. On the audio front, the dual 3.5mm audio inputs, audio output, and HDMI Audio Return featuring eARC and Dolby Atmos support ensures premium sound transmission.
Turning our attention to the HT3550, it carries a slightly pared-down set of ports but still covers all the essentials for a typical home theater setup. With two HDMI inputs (both 2.0b/HDCP2.2), you can comfortably connect two high-definition sources. The USB Type A and Type Mini B ports retain their functions, and similar to the HT3560, the RS232 and DC 12V Trigger are present for more advanced installations. The HT3550 comes with one 3.5mm audio out, ensuring you can easily connect to an external audio system or soundbar.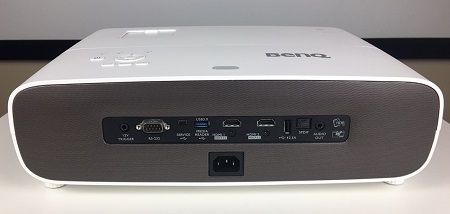 Brightness & Image Quality
BenQ HT3560: Sporting a brightness of 2200 ANSI lumens, the HT3560 immediately impressed in our dimly lit room setting. It projected crisp and vibrant images, making the movie-watching experience immersive. The native 4K UHD resolution shines through, with every detail in the scene being displayed with remarkable clarity. When we moved our testing to a well-lit room, the HT3560 still held its ground. While there was a slight reduction in image depth due to ambient light, the brightness level ensured that images remained clear and colors stayed relatively vibrant.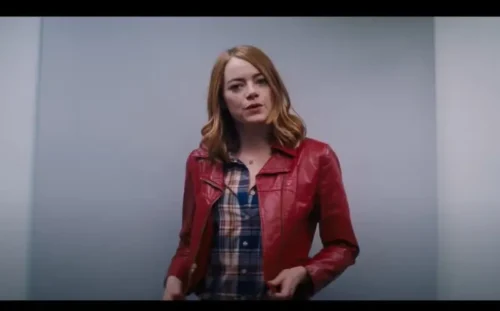 The HT3550, on the other hand, comes with a slightly lower brightness of 2000 ANSI lumens. In a dark room, the difference in lumens wasn't immediately noticeable. The images were still sharp and colors were accurately reproduced, especially with its True 4K UHD resolution. However, in brighter rooms, the slight reduction in lumens became more evident. The images were still very much watchable, but they lacked the punchiness of the HT3560. The colors seemed a tad washed out, and shadows weren't as defined.
A significant point of distinction between the two is the contrast ratio. The HT3560's 50,000:1 contrast ratio, coupled with its PROJECTOR-OPTIMIZED HDR and exclusive Local Contrast Enhancer, ensured the rendition of deep blacks and bright whites, particularly in dark scenes. This contrast was especially noticeable during scenes with high dynamic range. The HT3550's 30,000:1 contrast ratio, though respectable, didn't quite deliver the same depth in comparison.
In our testing, both projectors boast the CinematicColor technology, ensuring industry-standard DCI-P3 color gamut and a 100% Rec. 709 Coverage. This meant that, irrespective of the room's lighting, colors were represented with a high degree of accuracy to the filmmaker's intention.
Gaming on BenQ HT3560 vs. HT3550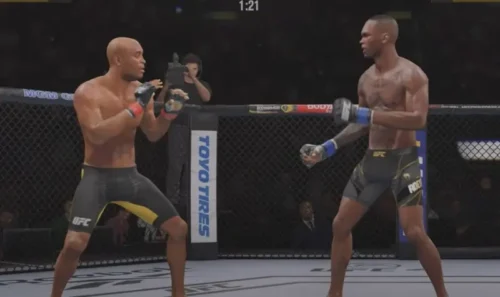 For many, a projector isn't just for movies; it's a gateway to larger-than-life gaming. Given the rise of home-based gaming setups and the demand for high-definition visuals, we were eager to test the gaming capabilities of both the HT3560 and HT3550.
BenQ HT3560: The first notable feature for gamers is the input lag. For fast-paced gaming where every millisecond counts, a low input lag can significantly impact the overall experience. The HT3560 boasts an impressive 17.9ms lag at both 1080P 60Hz and 4K 60Hz settings. When we tried out a few action-packed titles, the response was nearly instantaneous. Character movements, camera pans, and real-time action were all smooth and synchronized with our controls. For those who take their gaming even further, the HT3560 drops down to an ultra-responsive 8.7ms at 1080P 240Hz, making it suitable for competitive gaming environments.
HT3550: The gaming experience on the HT3550 was a bit different. With an input lag of 34ms at 4K 60Hz and 83.34ms at 1080p 60Hz, casual gamers might find it satisfactory for most titles, especially role-playing games or slower-paced adventure games. However, for twitch-sensitive games or competitive multiplayer scenarios, the HT3550 might not be the first choice. The higher input lag, particularly at the 1080p setting, meant that there was a noticeable delay between a button press and the corresponding action on screen. While this won't hinder narrative-driven single-player titles, it could be the difference between victory and defeat in a high-stakes shooter.
Beyond the technical specs, the visual experience was astounding on both models, thanks to the native 4K UHD resolution. Landscapes in open-world games were breathtakingly detailed, and cutscenes felt like cinematic experiences. Colors, courtesy of the CinematicColor technology, were vibrant and true-to-life, immersing us further into the digital worlds.
Sound Quality
When it comes to complete immersion, sound quality plays an indispensable role. A projector might produce the most vivid images, but if the sound falls flat, the overall experience is diminished. With this in mind, we delved into evaluating the auditory capabilities of both the HT3560 and HT3550.
BenQ HT3560: The first thing we noticed about the HT3560 was its treVolo 5-watt x 2 chambered speakers. BenQ's emphasis on acoustic and psychoacoustic sciences is evident. When we played a variety of content, from action-packed sequences to soft dialogues, the HT3560 delivered. The bass was deep and resonant, making explosions and intense movie scores reverberate with intensity. The highs, on the other hand, were crisp and clear, ensuring that dialogues and subtle audio cues weren't lost. What further impressed us was the projector's ability to provide an EQ algorithm used by Hollywood studios. This ensured that the clarity and sensual quality of sound, whether it be in movies, shows, or games, were authentic and engaging.
HT3550: The HT3550 houses a pair of 5-watt speakers. While they might not have the chambered design of the HT3560, they still managed to deliver commendably. For casual viewing, the sound was more than satisfactory. Dialogues were clear, and the background score had depth. However, for sequences that demanded a higher range or greater depth, the HT3560 had a slight edge.
The Verdict on BenQ HT3560 vs. HT3550
After thorough testing, analysis, and side-by-side comparisons of the BenQ HT3560 and HT3550, it's clear that the HT3560 emerges as the superior choice in almost every category. From its pristine image quality, enhanced sound experience, and impressive gaming compatibility, the HT3560 demonstrated that it's in a league of its own. Its wide array of features and the attention to detail in its design and functionalities reflect the advanced technology and innovation BenQ has poured into this model.
However, one cannot ignore the significant price difference between the two. The HT3550, priced around $500 USD lower than the HT3560, does offer commendable performance and value for its price point. For users who are on a tighter budget and can compromise slightly on the features, the HT3550 might still be an appealing choice.