For many looking to improve their business, one way of doing so is projectors. One problem though, is brightness. The best projector is one that illuminates within any room, but also doesn't burn a hole in your pocket.
The BenQ LW500 is a solution to this problem. With beautiful pictures for a great price, this one can bring your office presentation to life. It's also great too for 1080p videos and games. Is it worth purchasing? In this review, you'll find out if this is the right fit for your office, and worth  the upgrade. (>>> Check on Amazon)!
BenQ LW500 Review of Main Specs:
| | BenQ LW500 |
| --- | --- |
| | |
| Resolution | 1280x800 |
| Brightness (Lumens) | 2,000 ANSI |
| Contrast | 20,000:1 |
| Input Lag | 33.4ms |
| Throw Distance | 3.6' - 32.9' |
| Screen size | 30" - 300" |
| Speakers | 2.0 Watts Mono |
| Today's Best Price | BHPhotoVideo.com |
Picture Quality
While the quality of the picture is not 4K, it still does the job in 1080p. In fact, it does deliver amazing images that are incredibly clear. The projector has a 20,000:1 contrast along with a 98% Rec 709 color coverage, which creates beautiful and stunning images. If you're looking for quality at an affordable price, this is it.
Sadly, we found that there is no smart 4K downsizer, so if you want to bring things down from 4K  to 1080, it's not possible. But, if most of your media is 1080p or compatible with 1080p, you're in luck. You can also upscale your media too in order to deliver a beautiful picture. Check out the roundup review of the best 1080p projectors by Projectortop.com
The lumens sit at 2000, which isn't terrible. We found that when we put this in a dark room, the image appeared on the screen. However, in brighter spaces we found it's a little bit dimmer. When we played around with the settings though, we noticed that the image was visible even with the light coming in.
It's passable for regular meeting rooms or conference rooms for presentations, but if you're going to be using this in brighter spaces, you might find the image hard to read.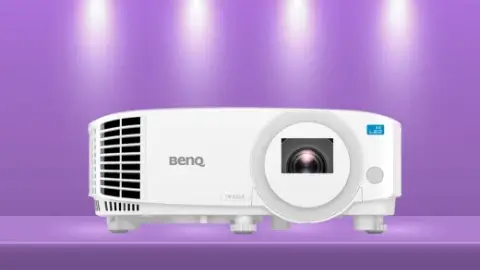 Pros
Very easy setup
Multiple color modes to get you the best picture quality.
Easy to put anywhere with the retractable foot and vertical keystone.
SmartEco makes this projector last a long time!
Cons
Not for 4K movies
The lumens are weaker than other projectors.
Not easy to hang up.
Made for Long-Lasting Usage
Probably the one thing we liked about the LW500, is how long this one lasts. This projector is designed to give you good visuals for a long period of time.
The LED light in this projector lasts up to a whopping 30,000 hours on SmartEco mode.  SmartEco is a series of features that this projector offers to give you the most optimized energy possible. So, if you don't' want to replace the lamp for a long time, we recommend this one.
We also found as well that the LW500's SmartEco settings off other benefits too.  It goes through the content you're projecting onto the screen, and then automatically adjusts the brightness.  This feature can save you lots of power. In fact, in one of our tests, we found it saved up to 70%!
We also found that if you leave it idle for up to 20 minutes, it automatically shuts off. This further saves power and is great for those who forget to turn off their devices.
Overall, this projector is quite durable and will last you for years. If you're starting a business, this projector combines economic value with quality, so you don't have to replace the bulbs as often as other projectors.
Connectivity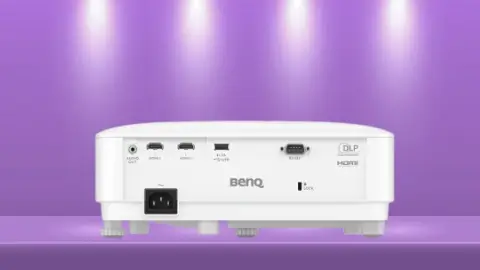 The way the LW500 connects are a highlight as it offers two different HDMI ports so if you want to hook it up to multiple monitors, it's possible. This makes it very easy for conference room presentations, or if you want to showcase something in the meeting room. Click here if you need a step-by-step connection guide.
When it was turned on we found it powered up instantly. In just eight seconds, it was on.
This projector also comes with what's called an adjustment foot. If you have a room that's a little bit bigger, you can use the adjustment foot to make it fit into that space. We tried this in a  room that's about 20×15 feet, and noticed that the image quality and size was around the same when compared to setup in a smaller room.
We also tried it in a large room similar to a home theater set up and found that it still had a great image quality.
You also get different modes you can try out.  There's Spreadsheet Mode, in order to make text easier to read. There is also Presentation Mode that's great for office presentations, or even classroom presentations. We tried it with a PowerPoint slideshow and found it optimized the image quality to really pop.
The projector comes with a vertical keystone, which is an image correcting tool that can help with image setup. It creates square and straight images, so it looks crisp and clean.  We tested this out, and found it was very easy to adjust the images and didn't involve pushing the projector around in hopes for a clear image.
BenQ LW500 Review: The Bottom Line
The BenQ LW500 is a great budget projector, as it does the job. With the utilization of smart technology, this projector will last a long time. It's also a major strength for this projector.
Despite the limited lumens, you'll get a clear picture. While there isn't 4K technology implemented, the specs provide vivid visuals.
It's a good starter projector for office presentations, or for situations involving a myriad of presentations. (>>> Find the current price on Bhphotovideo).