A laser projector has a lot of advantages in a home theater. They last longer than traditional lamp-style light sources, for one thing, and don't take as long to warm up and cool down. Many also offer an ultra-short throw ratio, allowing for easier installation without the need for a ceiling mount.
Comparing the BenQ V7050i vs. Epson LS500, both deliver on these strengths, and can be a great choice in the right home theater. While the BenQ has the superior picture quality, especially for movies, the b is more versatile and will be the better choice in many homes (>>> Check on Amazon). Let's look at the major differences side by side so you can see what we mean.
BenQ V7050i vs Epson LS500 Side by Side:
| | BenQ V7050i | Epson LS500 |
| --- | --- | --- |
| | | |
| Resolution | 3840x2160 | 1920x1080 4K w/pixel shifting |
| Brightness (Lumens) | 2,500 ANSI | 4,000 ANSI |
| Contrast Ratio | 2,000,000:1 | 2,500,000:1 |
| Input Lag | 69ms | 21ms |
| Throw Distance | 0.2' - 1.1' | 0.7' - 1.9' |
| Screen size | 70" - 120" | 70" - 130" |
| Speakers | 5.0 Watts × 2 | 10.0 Watts × 2 |
| Today's Best Price | BHPhotoVideo.com | BHPhotoVideo.com |
Picture Quality
The display of the Epson LS500 is relatively sharp and accurate. It supports HDR10 technology and has signal accuracy with vibrant colors and a high dynamic contrast. You'll also get a sharper image from the LS500 than from standard full HD displays, with twice the on-screen pixels of 1080p thanks to pixel-shifting.
As strong as the image from the LS500 is, the BenQ V7050i goes a step further. This is largely thanks to its native ultra HD resolution, with the full 8.3 million on-screen pixels of a true 4K display. Along with this, it has a wider color gamut, covering the majority of the DCI-P3 spectrum that's the professional cinema standard.
Better picture quality: BenQ V7050i
Brightness
Ambient light is the enemy of a projected image, diluting the brightness put out by the lamp and leading to washout and lower clarity in the picture. The brighter your viewing area, the higher the projector's brightness needs to be to compensate. In a completely dark room, somewhere around 1,000-1,500 lumens is the ideal range. For a typical living room or other common space, though, you'll probably want a brightness of at least 2,500 lumens, and more for brighter spaces.
The BenQ V7050i will work fine in moderately-lit rooms, but may struggle in rooms with lots of ambient light, especially during daytime in spaces with lots of windows. In these environments, the 4,000 lumens put out by the Epson LS500 are a better choice, maintaining the full saturation of the image.
Brighter projector: Epson LS500
Required Accessories
The BenQ V7050i comes close to offering all-in-one operation. Its Android interface supports most popular streaming apps, so many won't need external content sources, and it does have built-in speakers, even if they're a bit on the weak side. Many buyers will want to use external speakers, however, as well as buying a screen to project onto.
With the Epson LS500, you won't need to buy any accessories—everything's right there in the box. Its streaming interface is similar to the BenQ's but its speakers are much more powerful with a fuller bass response. Along with that, it comes with a 100" wide-angle ALR screen that's designed to complement the image put out by the projector, giving you a full projector set-up, no outside accessories required.
Better out of the box: Epson LS500
Gaming Performance
Gamers need the same detailed, high-contrast display you want for a home theater, but that's not the only thing they need to think about. Some projectors add a delay between the controller input and what happens on-screen, and if that's too long it can make reflex-based games practically unplayable.
Casual gamers will want a projector with an input lag of 60ms or lower. For more serious players, that threshold drops to around 30ms max, and the lower the better. Of these two projectors, only the Epson LS500 fits this criteria, with a measured input lag as low as 16.7ms.
Better for gaming: Epson LS500
---
BenQ V7050i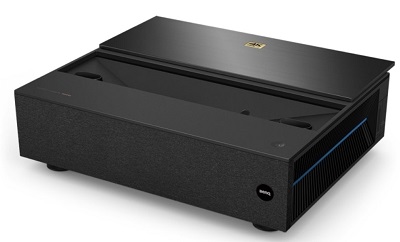 The exceptional image quality of the BenQ V7050i is its main strength. It pairs its laser phosphor light source with a DLP display and support for image technology like HDR-PRO. The result is a sharp, true 4K image with a wide cinematic color gamut that's realistic and immersive at all screen sizes. This is further optimized when you toggle on Filmmaker Mode, preserving the authentic source signal so you see movies the way they were intended.
As strong as the V7050i performs in home theaters, it is lacking somewhat when it comes to versatility. Part of this is its high lag, which measures around 70ms or higher regardless of the performance settings—high enough even casual players will likely be frustrated. The brightness is also on the low side, although the short throw distance makes it look brighter than you might expect for 2,500 lumens, allowing for lights-on viewing.
For connecting content sources, you'll have the choice of 2 HDMI inputs or wireless casting through services like Chromecast and AirPlay. It also has an Android streaming interface built in with support for Google Assistant voice searches, so many users won't even need an external content source to get started.
Pros
Sharp, high-contrast true 4K image
Cinematic color (98% of DCI-P3 spectrum)
Optimized image quality in Filmmaker Mode
Low-maintenance, dust-reducing design
Ultra-short throw distance
Android TV interface
Screen mirroring through Chromecast and AirPlay
Cons
Input lag too high for even casual gaming
Built-in speakers are weak
---
Epson LS500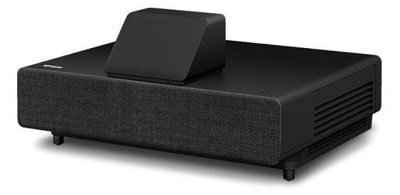 The Epson LS500 takes all-in-one performance to a new level. This starts with its built-in Android TV interface, which like that on the V7050i supports Google Assistant voice control and streaming apps available on the Google Play store. Its 20-watt speakers are also powerful enough most don't need an external sound system. The icing on the cake is the 100" ALR screen that comes included. Basically you can use the LS500 right out of the box, no extra accessories required.
We also appreciate that the Epson LS500 can be used pretty much anywhere. Its 4,000-lumen lamp is bright enough to compete with even natural light and well-lit spaces, with an ultra-short throw distance that produces a 120" screen with less than 2 feet of distance.
Performance-wise, the LS500 is an excellent multi-use projector. Its 60Hz frame refresh rate and low input lag are suitable for all types of console gaming, with 3 HDMI ports as well as the streaming interface for content. It also accepts 4K content, though it will play at a pixel-shifted resolution rather than true Ultra HD.
Pros
Bright lamp suitable for lights-on viewing
Low lag perfect for gamers
Intuitive Android streaming interface
Flexible setup with short throw distance
Includes a 100" screen
Good sound quality and output
Cons
Resolution lower than true 4K
Higher cost
---
BenQ V7050i vs Epson LS500: The Bottom Line
Choosing between the BenQ V7050i and Epson LS500 ultimately comes down to how you plan to use the projector. The BenQ has the superior picture quality, with features like Filmmaker Mode that make it a great choice for home theaters. On the other hand, the low lag, brighter lamp, superior sound, and included screen of the Epson LS500 make it the better choice for multi-use spaces, and the more convenient option overall for first-time projector owners (>>> Find on ProjectorScreen).
REFERENCES AND FURTHER READING