Some projectors are ideal for watching movies, while others are designed for superior gaming performance. But what if you need a projector that does both? Not too long ago that would have meant spending gobs of money, something that's been changing in recent years thanks to advancements in projector technology.
Epson and Optoma are two leading brands if you're looking for a projector that can handle all your home entertainment needs. Considering the Epson 4010 vs. Optoma UHD50X, the Optoma model >>> Check the current price on Amazon is the winner for both image quality and gaming performance, and will be the better choice for most buyers. Let's take a side-by-side look at how they compare on key specifications so you can see how we came to that conclusion.
Epson 4010 vs Optoma UHD50X Side by Side:
| | Epson 4010 | Optoma UHD50X |
| --- | --- | --- |
| | | |
| Resolution | 1920x1080 4K w/pixel shifting | 3840x2160 |
| Brightness (Lumens) | 2,400 ANSI | 3,400 ANSI |
| Contrast Ratio | 200,000:1 | 500,000:1 |
| Input lag | 28ms | 25ms |
| Throw Distance | 6.2' - 29.4' | 4.0' - 26.6' |
| Screen size | 30" - 300" | 34" - 303" |
| Speakers | No | 5.0 Watts Mono |
| Price | BHPhotoVideo.com | ProjectorScreen.com |
Picture Quality
The resolution of the Epson 4010 is higher than Full HD—but it's not quite 4K, either. It uses a technology known as pixel shifting, effectively doubling the 1920X1080p resolution for a total of roughly 4 million pixels on screen. Comparatively, you'll get about 8.3 million pixels with the true 4K resolution of the Optoma UHD50X.
These projectors are more closely matched in terms of color and contrast. The Epson 4010 uses a 3LCD design with HDR10 processing, ultimately producing a wider and more stable color gamut than the 8-segment color wheel used by the Optoma UHD50X. That said, the brighter lamp of the UHD50X makes its colors look more vibrant in most situations, and it has a higher dynamic contrast for richer black levels.
Better picture quality: Optoma UHD50X
Gaming Performance
Input lag is the main stat gamers look at when buying a projector. For casual gaming, anything under about 60ms will suffice, though ideally you want a lag of 30ms or less for reflex-based first-person shooters and racing games.
Both the Epson 4010 and the Optoma UHD50X come in under that 30ms cut-off. They also both have a high frame rate to prevent blurring and other on-screen issues. The Optoma UHD50X is just a smidge better on both fronts, with a 240Hz frame refresh rate and a 16ms response time in Full HD.
Better gaming performance: Optoma UHD50X
Brightness
In a light-controlled home theater space, a lamp as dim as 1,000 lumens can still give you a vibrant, sharp picture. Once you add ambient light to the equation, though, you'll need to compensate with a more powerful bulb. At minimum, you'll want around 2,000-2,500 lumens for low light levels, and as much as 3,000-4,000 lumens for well-lit spaces.
The 2,400-lumen lamp on the Epson 4010 is bright enough to compete with indoor lighting, and will work in most living rooms and similar spaces. In well-lit rooms or spaces with a lot of windows, the 3,400 lumens of the Optoma UHD50X will maintain the picture quality more successfully.
Brighter projector: Optoma UHD50X
Full Reviews: Epson 4010 vs Optoma UHD50X
Epson 4010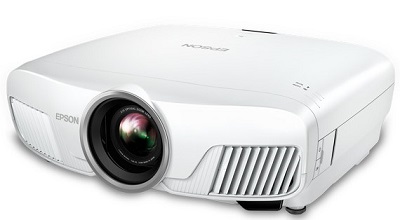 The high picture quality on the Epson 4010 starts with its proprietary 15-element lens. It's built to maximize clarity and reduce light leakage, making the most of the lamp's brightness and enhancing the contrast and detail of the image.
That lens is motorized, too, which is good news when you're installing the Epson 4010, allowing for both horizontal and vertical lens shift. Combined with the powered focus and 2.1x zoom, that gives the 4010 more installation flexibility than most standard throw projectors. All of these alignment settings can be saved in one of the 10 memory slots so you'll get a quick set-up every time.
From a picture standpoint, the color of the Epson 4010 is its most impressive aspect. It was one of the first home theater projectors to cover the entire DCI-P3 color space, giving you about 50% more colors than the Rec. 709 spectrum used by most projectors. Since it uses a 3LCD chip design, you don't have to worry about rainbowing or other color issues caused by segmented color wheels.
The responsiveness of the Epson 4010 is another strong point. This starts with its low input lag, which stays under 30ms even when you're using pixel shifting to increase the resolution. Along with that, its real time 12-bit video processing keeps the frame-to-frame movement smooth with no tearing, blurring, or banding. This gives the Epson 4010 a consistently high level of performance no matter what you're watching (or playing).
Pros
Better resolution than Full HD projectors
Full coverage of DCI-P3 color space with no rainbowing
12-bit real time image processing for smooth on-screen action
Low input lag suitable for serious gaming
Plays 3D content in full HD
Motorized lens with wide zoom, focus, and lens shift controls
Cons
Resolution isn't true 4K
No built-in speakers
---
Optoma UHD50X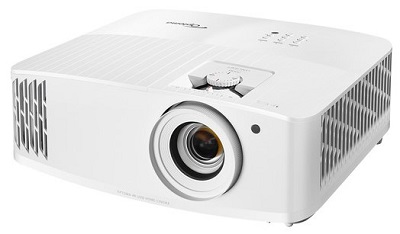 If you want to game in 4K, the Optoma UHD50X is one of the most affordable ways to go about it. The input lag of this projector is around 26ms in 4K, and drops to an impressive 16ms in Enhanced Gaming Mode at Full HD. The high 240Hz frame refresh rate adds to its responsiveness, letting you play without frustrating lag or image issues.
That true 4K resolution makes the Optoma UHD50X a great choice for TV and movies, too. This sharp resolution is further enhanced by the UltraDetail technology and Dynamic Black contrast, which smooths the lamp's output to improve depth and detail across the image.
You'll get vibrant, accurate colors with the UHD50X's 8-segment color wheel. These colors stay bright for lights-on viewing thanks to the powerful 3,400-lumen lamp, which won't look washed out even in moderate to high light levels. The only caveat here is that the use of a color wheel may cause distracting image issues for those sensitive brightness hotspots or rainbowing.
The only other potential issue we see with the Optoma UHD50X is the length of its throw. It needs a lot of space, even compared to other standard-throw projectors—between 9 and 12 feet for a 100" image. On the plus side, as long as you have room for it the set-up process is easy. It works with both tabletop and mounted installations, and has adjustment options like lens shift, zoom, and keystone correction for fine tuning.
Pros
True 4K resolution
Bright lamp suitable for lights-on viewing
Dynamic Black increases depth and black richness
Ideal for gaming with low lag and high frame rate
Flexible installation with keystone correction and lens shift
Cons
Use of a color wheel may cause rainbowing
Throw distance is long even for a standard-throw projector
---
What's the Verdict?
As you can see from the reviews, the Epson 4010 is a fine projector for both home theaters and gaming—but the Optoma UHD50X (>>> Find on ProjectorScreen) is just a little bit better across the board. The only exception to this is the color performance, which is better on the Epson 4010, especially for those sensitive to image issues.
The real bottom line here is that you don't need to choose between exceptional visual quality and responsive gaming performance. Either the Epson 4010 or Optoma UHD50X will satisfy your needs on both counts, and at a price that won't break your budget.
REFERENCES AND FURTHER READING: