Not all 4K projectors are created equal, and where and how you plan to use it are the main things to consider when you're deciding which model to buy. For most buyers comparing the Optoma UHD38 vs Epson 4010, the UHD38 will be the better choice (>>> Check on Amazon), especially for serious gamers or movie buffs who want the highest possible level of detail. The Epson 4010 has its strengths too, however .
Let's take a closer look at how they compare side by side.
Optoma UHD38 vs Epson 4010 Side by Side:
| | Optoma UHD38 | Epson 4010 |
| --- | --- | --- |
| | | |
| Resolution | 3840x2160 | 1920x1080 4K w/pixel shifting |
| Brightness (Lumens) | 4,000 ANSI | 2,400 ANSI |
| Contrast Ratio | 1,000,000:1 | 200,000:1 |
| Input Lag | 4.2ms | 28.4ms |
| Throw Distance | 4.0' - 32.7' | 6.2' - 29.4' |
| Screen size | 33" - 300" | 30" - 300" |
| Speakers | 10.0 Watts Mono | No |
| Today's Best Price | | BHPhotoVideo.com |
Brightness
The 2,400 lumens produced by the Epson 4010 is the ideal brightness for rooms with a low level of ambient light, like a living room with a few lamps on. While you won't need a completely dark space, though, it can't compete with daylight through windows or other bright light sources.
In contrast, the Optoma UHD38 has a 4,000-lumen light source. That's bright enough for any indoor space, and can even be used in semi-outdoor spaces or rooms with picture windows, no need for black-out curtains.
Brighter projector: Optoma UHD38
Installation Ease
Both of these projectors use a standard-throw lens. The throw distance of the Optoma UHD38 is shorter, needing around 11-12 feet for a 100" image, while the Epson 4010 could need as much as 20 feet of distance for the same screen size, depending on how you set the zoom and other settings. This gives the UHD38 more versatility for rooms on the smaller side.
That said, however, there aren't many options for aligning the image on the Optoma UHD38. While it does have a 2D keystone correction, the zoom is narrow and there are no lens shift or similar options for fine tuning the alignment. The Epson 4010 has a wide 2.1x zoom along with both horizontal and vertical lens shift (+/-47% and +/-96%, respectively). This gives the 4010 an easier, more flexible installation overall, despite needing more space for the same picture size.
Easier to install: Epson 4010
Resolution
The Epson 4010 uses technology known as pixel-shifting to produce a resolution higher than full HD, producing roughly double the pixels of a 1080p display. That's still about half the pixels of a true 4K display like the Optoma UHD38, however, so while the Epson 4010 will accept and play 4K content, it won't be as detailed as the image on the 4K Optoma UHD38. (Check out our roundup review if you are in search of the best 4k projector.) 
Sharper resolution: Optoma UHD38
Color
The 8-segment color wheel used on the Optoma UHD38 can produce a wide color gamut. This is enhanced by the projector's UltraDetail technology and Dynamic Black contrast, for an image that's as realistic and immersive as what you'd expect in a movie theater.
The only potential issue with the UHD38's display is that its use of a color wheel makes it prone to the flickering and inconsistency known as the rainbow effect. While many users don't notice this or aren't bothered by it, those sensitive to this issue will have a more comfortable experience watching the 3-chip display of the Epson 4010. The color gamut of the Epson is wider, as well, covering the full DCI-P3 cinematic spectrum, for exceptional realism across content types.
Better color: Epson 4010
Gaming Performance
Both the Epson 4010 and Optoma UHD38 can be used for gaming, with both having measured input lags below the 30ms threshold where gamers will start to notice a delay. Serious gamers want the lowest possible input lag, though, and for that you want the UHD38. It measures a lag of around 4ms in full HD, and just over 16ms in 4K. This is paired with a high 240Hz frame refresh rate, ensuring the on-screen action is smooth and seamless, letting you get fully immersed in your game.
Better gaming performance: Optoma UHD38
---
Optoma UHD38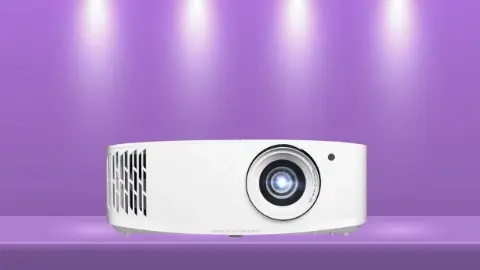 The versatility of the Optoma UHD38 is impressive. This starts with its bright lamp, which allows it to work well in nearly any light environment with no worry of washout or other image issues. That image is one you'll want to watch, too, with a true 4K resolution, high Dynamic Black contrast, and a wide color gamut from the 8-segment color wheel.
You'll get the same flexibility from a content standpoint with the Optoma UHD38. It's as impressive for gamers as it is for movie watchers, with the combination of high frame refresh rate and low input lag serious players look for. The connectivity supports these kinds of multi-use setups, with dual HDMI inputs along with VGA, USB, and networking connections.
Since it's a standard-throw projector, many users will want to ceiling mount the Optoma UHD38. It's sized to fit universal mounts, though you'll need to be precise when you're installing it since the adjustment options are limited. On the plus side, its 10-watt speaker puts out enough volume for small to medium spaces and has a sound quality similar to most standalone Bluetooth speakers, so you can use it without an external sound source.
Pros
True 4K resolution
High contrast ratio with HDR and HLG support
Super-low input lag for gamers
Bright lamp suitable for well-lit spaces
Built-in speaker has decent sound quality
Cons
Limited options for aligning the picture
Use of a color wheel may cause rainbowing
---
Epson 4010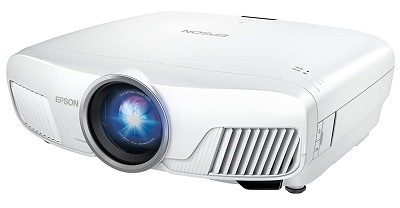 For full HD content, the Epson 4010 is an exceptional projector. Its color performance is especially impressive, producing a color gamut about 50% wider than the HDTV standard. The 3LCD display and 10-bit HDR processing keep colors accurate and vibrant for all viewers, with none of the brightness hotspots or other image issues some notice with 1-chip projectors. The on-screen action is smooth, with a 60Hz frame refresh rate and a reasonable 28ms input lag that makes it a good choice for most gamers.
The motorized precision lens helps here, too, and gives it good flexibility during installation, with both horizontal and vertical lens shift. The zoom is relatively wide, too, with a powered focus rounding out its adjustment options. All of these settings can be saved to one of the 10 memory presets, letting you quickly switch settings to pair perfectly with your content.
The Epson 4010 can also play 4K content, though not at its full level of detail. It uses pixel shifting technology to double the on-screen pixels of its native 1080p resolution, resulting in a resolution that's roughly halfway between Full HD and Ultra HD. Click here for our more in-depth Epson 4010 review.
Pros
Vibrant, true-to-life colors with no rainbowing
Accepts 4K content
Reasonable input lag for casual gamers
Ideal lamp brightness for dim viewing areas
Good range of image adjustment options
Cons
Long throw distance, even for a standard throw projector
Not true 4K resolution
---
Optoma UHD38 vs Epson 4010: The Verdict
The low input lag, powerful lamp, and sharp resolution of the Optoma UHD38 make it an excellent choice for multi-use home entertainment setups (>>> Find on ProjecorScreen.com). On the other hand, the Epson 4010 is easier to install and adjust, and its 3LCD display will be more comfortable to watch for those sensitive to the rainbow effect. Since they typically sell for around the same price, you can choose the one that best suits your needs and get an equal value for your investment.
Related Comparisons: