Are you looking for a full HD projector for less than $1,000 bucks? Epson makes quite a few projectors that can meet your needs. In this review, we'll look at two of our favorites, comparing the Epson Home Cinema 880 vs 1080, both of which have pretty impressive specs for the price point.
From a strictly performance standpoint, the Epson Home Cinema 1080 is the better option (>>> Check current price on Amazon). On the other hand, though, the Epson 880 is not without its advantages and can be an especially appealing choice for those with a tight budget. Let's take a quick look at the main places they differ so you can decide which one is best for you.
Epson Home Cinema 880 vs 1080 Side by Side:
| | Epson Home Cinema 880 | Epson Home Cinema 1080 |
| --- | --- | --- |
| | | |
| Resolution | 1920x1080 | 1920x1080 |
| Brightness (Lumens) | 3,300 | 3400 |
| Contrast Ratio | 16,000:1 | 16,000:1 |
| Zoom | fixed-zoom | 1.2x zoom |
| Screen size | 320" | 320" |
| Speakers: | 2.0 Watts Mono | 2.0 Watts Mono |
| Price | BHPhotoVideo.com | BHPhotoVideo.com |
Throw Distance
Both the Epson Home Cinema 880 and 1080 are standard-throw projectors. That doesn't mean their specs are the same, though. The throw distance of the Epson 1080 is just barely longer than the 1:1 cut-off for a projector to be determined short-throw. You can get a 100" image with around 8.5 feet between the projector and screen.
In comparison, the Epson 880 is more in line with what you'd expect from a standard-throw projector. Depending on the zoom and alignment settings, you'll need somewhere between 10 and 13.5 feet to get that same 100" image size. It also has a 1.2x zoom option, as opposed to the fixed lens on the Epson 880, which gives you more control for fine-tuning the image after placement.
Shorter throw distance: Epson 1080
Brightness
If you have a dedicated home theater with good light control, a projector with a lumen rating around 1,500-2,000 will suffice. For spaces like living rooms, though, where you can't always control the light level (or would prefer to leave the lights on), you'll want something in the 3,000-4,000 range to avoid problems with that light washing out the picture.
The Epson 880 and 1080 both fall in this range. By the numbers, the Epson 1080 is only slightly brighter, at 3,400 lumens. In practice, though, the difference will be more substantial because of the shorter throw distance mentioned above. The less space the light has to travel, the brighter it will look by the time it hits the screen.
Brightest projector: Epson 1080
Image Size Range
The Epson 1080 can produce an image that's anywhere from 30" to 300" on the diagonal. That's a wide enough range for most users, even those who plan to take their projector outside for backyard movie nights.
If you're looking to replicate a true drive-in movie experience, though, bigger is always going to be better. In that case, the broader screen size range of the Epson 880 could be appealing to you. It can produce an image that's up to 386" diagonally, as long as you have the space it'll take to get it there.
Wider image size range: Epson 880
Connectivity
On the Epson 880, you'll get the option of HDMI or USB inputs and a 3.5mm audio output. This covers the basics that most home theater users need, though it may mean unplugging one content source to switch to another.
The connection panel on the Epson 1080 gives you a lot more inputs to work with. It has 2 HDMI ports, first of all, along with options for an RCA connection and a 15-pin input for a computer. In addition, it has built-in Wi-Fi and supports Miracast screen mirroring from many devices. Those who want to use a variety of content sources with their projector will appreciate this added flexibility.
Better connectivity: Epson 1080
---
Epson Home Cinema 880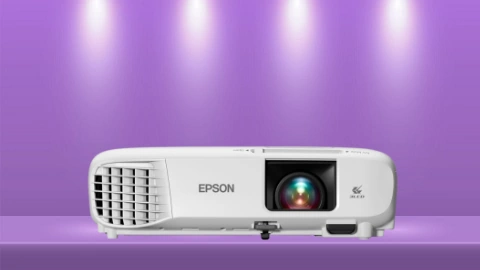 The Epson Home Cinema 880 is one of the most affordable full HD projectors you'll find out there, and that's the first of many points in its favor. The picture isn't just sharp and detailed, it's vibrant and colorful, with a 3LCD chip design that display the full gamut of the RGB color signal, optimized frame by frame. A fast processor limits lag, juddering, and blurring, keeping the image sharp and realistic no matter what's happening on the screen.
With a comparatively long throw distance, the Epson 880 isn't the ideal choice for small spaces. On the flip side of this, its lightweight design and wide range of possible screen sizes makes it a great option for those who want to use their projector inside or out. Its set-up features are designed to get you up and running quickly, too. This includes an automatic vertical keystone correction that analyzes the picture for skewing and brings it back to square without you doing a thing.
We also appreciate the versatile connectivity of the Epson 880. There's an HDMI port and both type-A and type-B USB inputs, as well as a standard 3.5mm audio out. This is great for connecting content sources and peripherals like external speakers without a hassle. Click here for our more detailed Epson Home Cinema 880 Review
Pros
Bright, accurate colors thanks to 3LCD chip design
High frame rate for smooth on-screen action
Powerful lamp won't get washed out during lights-on viewing
Easy image alignment with automatic keystone correction
Excellent value
Cons
Relatively long throw distance
No wireless connectivity
---
Epson Home Cinema 1080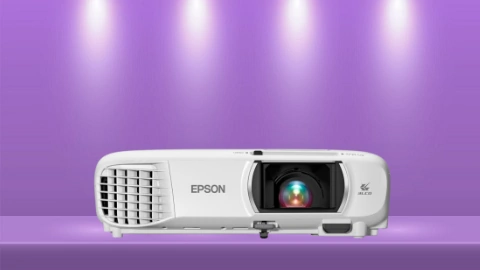 One advantage you'll enjoy with the Epson Home Cinema 1080 is a wider range of connection options. Its rear panel is far more robust, with 5 video input options and an RCA input for the audio. It also comes with a built-in Wi-Fi connection and has support for Miracast, opening up the option of mirroring content right from your phone or tablet without a wired connection.
We also find the Epson 1080 easier to set up. Its throw distance is on the short side for a standard-throw projector, making the most of the space you have to get the biggest image possible. What's more, it adds an optical zoom to the automatic vertical keystone correction of the Epson 880.
When it comes to picture quality, the Epson 1080 won't disappoint. The color is especially impressive, with a consistent brightness across the screen and hues that display the way they were intended. It also has the resolution and contrast for a true HD picture, with the processing power to keep that picture smooth even when things on the screen are moving quickly. Click here for our more detailed Epson Home Cinema 1080 Review
Pros
Excellent color accuracy and depth
Consistent brightness across the picture
Wider range of inputs, including composite and dual HDMI ports
Built-in Wi-Fi for mirroring content from a device
Better image alignment and adjustment options
Get a larger picture in less space than the Epson 880
Cons
Higher cost
Built-in speakers are weak
---
What's the Verdict?
The Epson Home Cinema 1080 puts out a sharp, bright picture with true-to-life color. It's also very easy to set up and versatile across more room sizes and light levels, with connectivity options the Epson 880 simply can't match (>>> Find its pricing on Bhphotovideo).
For those who don't need Wi-Fi connectivity or a shorter throw distance, though, you'll get nearly identical picture specs from the Epson 880 at a lower cost. The choice really comes down to which features you need—and how much you're willing and able to pay to get them. On the plus side, you'll get a durable, high-performing projector no matter which way you go.
REFERENCES AND FURTHER READING: