Revel in your favorite films on a colossal screen in high-definition and immersive surround sound. However, having a projector is not just about movie nights; it extends to watching live sports, popular TV shows, and breathtaking nature documentaries, providing an unparalleled viewing experience. Perhaps you've pondered the question of how to watch TV on a projector without a cable box. Thanks to advancements in technology and the rise of streaming services, you can enjoy your favorite television series and other content on your projector, liberating you from the confines of a traditional cable box.
This article provides a comprehensive guide on leveraging technology and streaming platforms to make this possible, enabling you to watch TV on a projector sans a cable box.
The Fundamentals: How to Watch TV on Projector without a Cable Box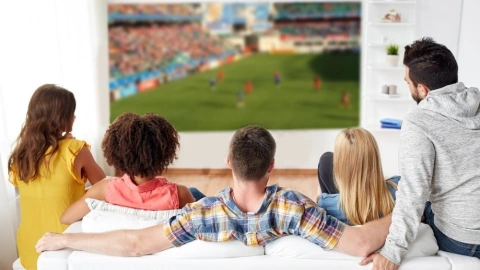 Before diving into the practical solutions, it is crucial to understand the prerequisites for setting up a projector system to watch TV without a traditional cable box.
1.    HDMI Cable and Port
In this guide, the devices we highlight all require an HDMI port on your projector. Therefore, procuring an HDMI cable becomes an essential step. Although you can purchase video adapters that enable HDMI devices to connect with non-HDMI projectors, doing so could hamper the overall quality of your viewing experience. So, investing in an HDMI cable should be a priority. >>> Find great HDMI cable options on Amazon
If an HDMI port is unattainable, ensure your projector has a DVI port. Both HDMI and DVI deliver pure digital signals that guarantee the clearest picture quality, irrespective of your content source. Numerous high-quality HDMI cables can be found on various online platforms, including Amazon.
2.    High-Speed Internet Connection
A high-speed internet connection is a non-negotiable requisite if you plan to watch TV on a projector without a cable box. Though an antenna might give you access to a few channels, to have a similar content range as a cable provider, you will invariably need a streaming service.
When deciding on your internet speed, a recommendation would be to opt for 25 megabytes (MB) or higher. Live TV streams significantly better with a faster internet connection. Speeds surpassing 50 MB might be worth the extra cost to avoid low-quality streaming and frequent buffering issues.
3. Wi-Fi vs. Wired Connection
Connecting your devices to the internet can be accomplished either via an Ethernet cable (wired) or through a Wi-Fi-enabled router. Generally speaking, a wired connection offers greater stability and higher transmission rates compared to Wi-Fi. However, it also necessitates longer wires to connect your devices.
On the other hand, Wi-Fi is a neater option that eliminates the need for ceiling-mounted devices and extra-long cabling to connect your media player to your projector. If you opt for Wi-Fi, ensure your router has the least obstructed line of sight to your projector to minimize connection issues. >>> Great Wi-Fi router deals on Amazon
WATCH YOUR TV SHOWS USING YOUR PROJECTOR IN A FULLY LIT ROOM
Embarking on the Streaming Journey
With your setup complete you are ready to begin watching your favorite programs on your projector. In this section, we will cover devices that enable streaming of cable content and services that provide all the entertainment you desire.
1.    Choosing Your Streaming Device
There's an abundance of gadgets available that facilitate content streaming. However, not all of them are suitable for a home theater setup. The ideal devices are those that plug directly into the projector with minimal need for adapters.
a.      Google Chromecast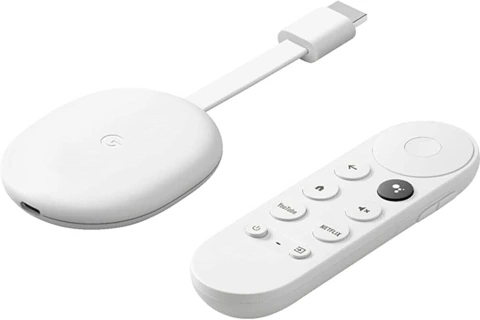 Google Chromecast is a compact device that broadcasts content from your phone or tablet to your projector. It effectively transforms your phone into a remote control, letting you browse and select content before projecting it onto your screen. An HDMI-enabled projector is necessary for using Chromecast.
b.     
Roku Streaming Stick
Roku's streaming stick is a slim, streamlined version of their home entertainment system. This device plugs directly into the projector's HDMI port and facilitates the installation of your favorite streaming apps.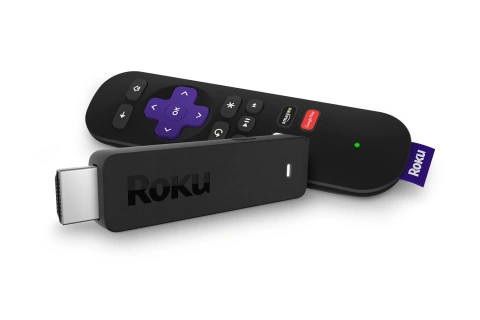 c.      Amazon Fire Stick
Amazon Fire Stick is another user-friendly, compact, direct plug-in device. Connect it to your projector's HDMI port to access a vast library of streaming apps, enabling a more intuitive way of watching TV on your projector. >>> Check the current price on Amazon
d.      Apple TV
Although larger than other options, Apple TV is still compact enough to avoid any mounting issues. With access to Apple's extensive app store, you can easily stream live TV. Just like the other options, Apple TV connects via an HDMI port.
e.       Your Home PC
Your home PC stands as the most versatile streaming device. Many live streaming services offer websites associated with their service, providing an alternative when certain streaming apps are unavailable on other devices. The only downside is that using your PC might require a longer connecting cable. The upside, however, is more connection options compared to other streaming devices.
2.    Streaming Services

There's an overwhelming number of companies offering streaming services. For this guide, we're mentioning a select few. Please note, the availability of these options may vary by location and country.
a)     Hulu
Hulu has established itself as a go-to platform for accessing the best TV shows shortly after they air on live TV. Recently, they have introduced a live streaming service, allowing users to watch live TV, including sports, without any delay.
b)     PlayStation Vue
PlayStation Vue mimics the feel of cable TV, except you use your computer, tablet, game system, etc., to view a lineup of live TV and sports. They also offer DVR and on-demand functions for viewing your favorites when you can't watch them live.
c)      Sling TV
Sling TV is akin to PlayStation Vue but with different channel offerings. Their standard service doesn't include DVR and on-demand but is available in some of their packages.
d)     YouTube TV
YouTube TV is a live service provided by this long-standing video company. Using this platform, you can seamlessly switch between the latest news, sports, and viral videos.
e)     Your cable TV provider
In a bid to stay relevant in the internet age, your cable or satellite provider likely offers an option to stream channels using an app or their website. You can use your PC, tablet, or the devices mentioned above to watch live TV channels. While you may still have a cable box somewhere in your home, at least it doesn't need to be connected to your projector.
Take The Leap
Equipped with the information provided, you are ready to embark on the journey of watching all your favorite cable content on your projector, without the need for a traditional cable box. Experience the joy of watching TV on a projector and enjoy your newfound freedom from the constraints of a cable box.
REFERENCES AND FURTHER READING