LG's line of ultra-short-throw projectors make it easy to switch from a TV to a projector in your home theater. Compared to most projectors, the LG HF65LA is remarkably compact, and it's portable as well, weighing less than 5 pounds. But can you really get a quality big-screen experience out of this little package?
Talking straight picture quality, the LG HF65LA delivers. It does have some serious limitations, however, ones that will take it out of viable contention for many users. A quick talk-through of its features will explain why. >>> Check it's pricing on Amazon
LG HF65LA Review – Main Specs
| | LG HF65LA |
| --- | --- |
| | |
| Resolution | 1080p |
| Brightness (Lumens) | 1000 |
| Contrast Ratio | 150,000:1 |
| Throw Distance | 1.4' - 2.3' |
| Screen size | 60.00" - 100.00" |
| Price | BHPhotoVideo.com |
Picture Quality
Let's start with the positives. The LG HF65LA has a high contrast ratio and crisp HD resolution. It uses LG's TruMotion technology for smooth frame transitions, so you can watch action-packed scenes with no motion blur. The HF65LA gives you a consistent picture, as well. There's no detail loss in darker portions of the screen and no hot spots in bright areas.
Unfortunately, the LG HF65LA does fall short for us in one key area: the brightness. As an LED-style projector, it can only produce around 1,000 lumens of brightness. This is fine in a completely dark room, but you'll want to be wary of other light sources, and get blackout curtains for any windows.
Set-up and Installation
You don't need to install the LG HF65LA so much as just set it down and turn it on. The ultra-short throw lens can produce a 100" image only 15" away from the wall. With an excellent throw distance of  1.4′ – 2.3,  the LG HF65LA is also included in our top ultra-short throw projectors picks. It goes easily on an entertainment center, end table, or shelf for a totally tool-free set-up. LG's new 4-corner keystone system locks the picture in place the first time without the need for frustrating, tedious adjustments.
The software set-up on the LG HF65LA is just as straightforward. It uses the same LG smart TV interface you'll find on their other projectors and televisions. There's a quick set-up wizard to get you started. After that, navigating menus and adjusting settings is pretty intuitive.
Pros
Get a big screen with only 15" of distance
Vivid, detailed picture at all screen sizes
Easy set-up and image adjustment
Directly stream sound via Bluetooth
LG Smart TV interface and Magic Remote included
Share the screen from Android and Windows devices
Cons
Requires a completely dark room
No 3D support
No screen sharing from iOS devices
Connectivity
The wireless connectivity of the LG HF65LA is a convenient, modern touch. You'll find a lot of projectors that offer the option of sending sound via Bluetooth, but not as many support the full streaming and screen-sharing features you'll find on the HF65LA.
You can download most streaming apps directly to the LG HF65LA through the LG Smart TV interface. It also has Wi-Fi connectivity, so you can share the screen from tablets and phones with Windows and Android operating systems (though not iOS, unfortunately). It still has all the wired connection options you'd expect, too, with both HDMI and USB inputs.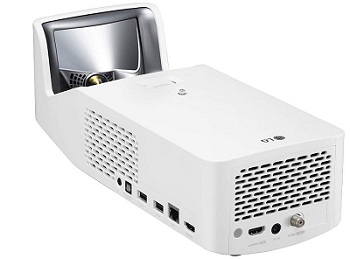 Final Thoughts of LG HF65LA Review
The LG HF65LA is the best projector for your home theater if you're looking for convenience. >>> Check it's pricing on Bhphotovideo. The installation and set-up are a breeze, and it's very flexible, too. It's lightweight enough to move from room to room, and the ultra-short throw ratio gives you lots of placement options. We also love the wire-free potential of the LG HF65LA. While you'll still need to use the HDMI port for things like gaming systems and cable boxes, it's great having the choice to wirelessly stream both sound and content. >>>You might still consider other LG projector – the LG HF85LA as an alternative.
Our only major negative with the LG HF65LA is the low brightness. If you're able to control the light level in your home theater, it's not as much of a concern. For some people, though, that's a definite deal-breaker—not everybody likes watching TV in the dark. Now that you know what the LG HF65LA is all about, you can decide for yourself if it's right for your home theater.