The 2019 LG HF85LA is an updated model of the 2017 version of the laser projector. This new LG HF85LA features smart new touches and improved visual processing for an even better big-screen viewing experience.
Whether you're considering an upgrade from an older projector or setting up your first projector-based home theater, there's a lot to love about the HF85LA. (>>>Check the price on Amazon) That's not to say it's perfect for every home, however. Let's take a look at its features in more depth so you can figure out if it's the right choice for you.
LG HF85LA Review – Main Specs
| | LG HF85LA |
| --- | --- |
| | |
| Resolution | 1080p |
| Brightness (Lumens) | 1,500 |
| Contrast Ratio | 150,000:1 |
| Throw ratio | .19:1 |
| Screen size | up to 120" |
| Input lag: | 58ms |
| Price | BHPhotoVideo.com |
Set-up and Installation
The ultra-short throw ratio on the LG HF85LA makes it very flexible when it comes to the installation. (LG HF85LA is included among best short throw projector picks) You can get a 120" screen from just 23" away. That's good news for anyone working with a smaller space. It includes a 4-corner digital keystone correction for aligning the image even if you can't position it head-on to the screen.
The LG HF85LA is designed to sit on a flat surface. It's not suitable for angled or ceiling-mounted installations, which is honestly one of the things that make the installation so easy. There's no messing with hardware—just put it down on the entertainment center and you're good to go.
One thing to note is that there are no speakers on the LG HF85LA, so you'll need to connect an external sound source. The good news is, it has built-in Bluetooth for wireless audio, along with a headphone port for wired sound set-ups.
You can cut down on wires in other ways with the LG HF85LA, too. It supports wireless streaming through Wi-Fi, easily mirroring content from Android and Windows devices. The Smart TV platform lets you download most popular streaming apps directly to the projector.
Pros
Ultra-short throw for more placement versatility
Sharp, detailed picture even at large image sizes
Built-in Bluetooth for sound
LG Smart TV platform for navigation
Wirelessly stream content and share screens through Wi-Fi
TruMotion technology for fluid on-screen action with no blur
Long lamp lifespan (up to 20,000 hours)
Cons
No speakers built-in
Low brightness requires light controlled room
Wireless streaming not compatible with iOS devices
Picture Quality
The LG HF85LA has native HD resolution (1080p) that's sharp and clear even at the maximum image size. This is where LG has really stepped things up compared to the 2017 model. It has an improved optical engine for richer colors and higher color accuracy. This is paired with a high native contrast ratio for deeper blacks.
TruMotion technology is another update over its predecessor. The improved video processing of the LG HF85LA uses Motion Estimation and Motion Compensation. This prevents choppiness and blurring, even when you're watching fast-paced content.
Our only quibble with the picture of the LG HF85LA is that the lamp is pretty dim. If you have a light-controlled space like a dedicated home theater, this isn't a problem. Having said that, you'll definitely need black-out curtains if you want to use this projector during the daytime.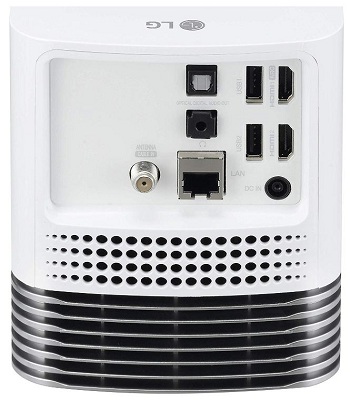 LG HF85LA connections
Ease of Use
We love that the LG HF85LA is plug-and-play. It includes a remote for easy navigation, and the LG Smart TV platform is intuitive with a guided set-up that anyone can use. While you can't install every streaming app, LG covers the basics. Changing settings is as easy as finding your favorite content.
One thing to note for smart home users: the LG HF85LA doesn't have built-in voice recognition, nor does it work with IFTTT. If you want to integrate it into a smart home, you'll have to do it the old fashioned way with HDMI peripherals and a smart outlet.
Can gamers use the LG HF85LA?
The measured input lag of the LG HF85LA is around 58ms. This is acceptable for gaming, though not ideal. Casual gamers won't have any issue, but it's not the best projector for serious or competitive gamers. >>>Find more suitable projectors for gaming here
The Verdict
The price is right on the LG HF85LA. (>>>Check the price on Bhphotovideo) While it's not exactly cheap, it's one of the more affordable laser projectors you'll find, at a cost under two grand. This makes it a great option if you want the best picture quality without spending a fortune.
The LG HF85LA is designed to go in a dedicated home theater. The 1,500 lumens it puts out aren't enough to compete with ambient light. If you're using it in a space with lots of windows, you'll want to make smart use of blackout curtains to get the best picture.