Laser-based home theater projectors used to exist only in the high end of the price spectrum. You no longer have to drop thousands of dollars to get your hands on this technology, though. More affordable options are now widely available, including the impressive Optoma HZ39HDR.
While no projector is perfect for everyone, there's a lot to love about the Optoma HZ39HDR. Let's look at the key stats in more depth so you can see if this is the right projector for you (>>> Check the price on Amazon).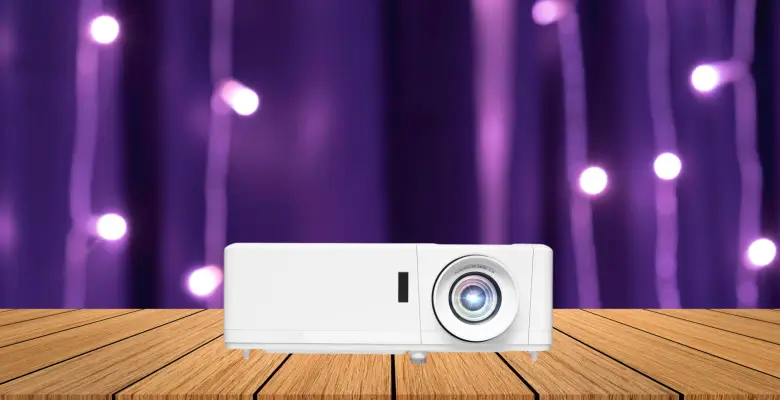 Optoma HZ39HDR Review – Main Specs:
| | Optoma HZ39HDR |
| --- | --- |
| | |
| Resolution | 1080p |
| Brightness (Lumens) | 4,000 |
| Contrast Ratio | 300,000:1 |
| Throw distance | 2'4" – 29'11" |
| Screen size | 27"-300" |
| Input lag: | 16ms |
| Price | Check on Amazon |
Set-up and Installation
The user-friendly Optoma HZ39HDR offers a 1.3x zoom for the lens, so focusing the picture is a snap. It also gives you a 30° vertical keystone correction, a very helpful feature if you're not able to install it perfectly head-on to the screen. Because it has a brightness of 4,000 lumens, you can use it in any space without taking extreme actions to reduce ambient light. Find some of the brightest projectors in our outdoor projectors' buyers guide.
You will need quite a bit of space to get a big image from this projector. For a 120" screen, you'll need to put the projector between 10 and 13 feet away. Most living rooms and home theaters can accommodate this, but it could be an issue for those with smaller or oddly-shaped spaces.
That potential problem aside, you'll find the Optoma HZ39HDR fits nicely into most existing home theaters. It offers a full range of connectivity options, including dual HDMI ports, VGA, USB, and a component hook-up for the audio. One thing to note is that you'll almost definitely be taking advantage of that audio hook-up. The speakers that come installed are pretty weak, with only 10 watts of power and almost no bass to speak of.
Picture Quality
You'll get standard HD definition with the Optoma HZ39HDR. That's not quite as sharp as 4K but is equal to what you'll get with most televisions. A high contrast ratio helps make sure the dark areas of the image are just as detailed as the bright colors and whites.
And as far as the colors—they're remarkably vibrant and true-to-life. It supports a 10-bit High Dynamic Range color gamut, basically the same technology utilized in cinema projectors. No matter what you're watching, you'll see it the way it was intended.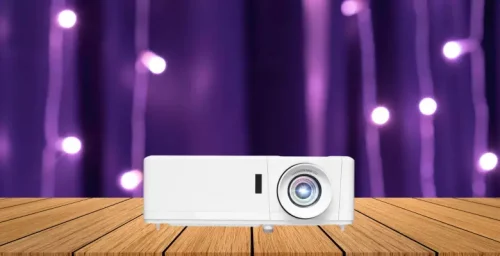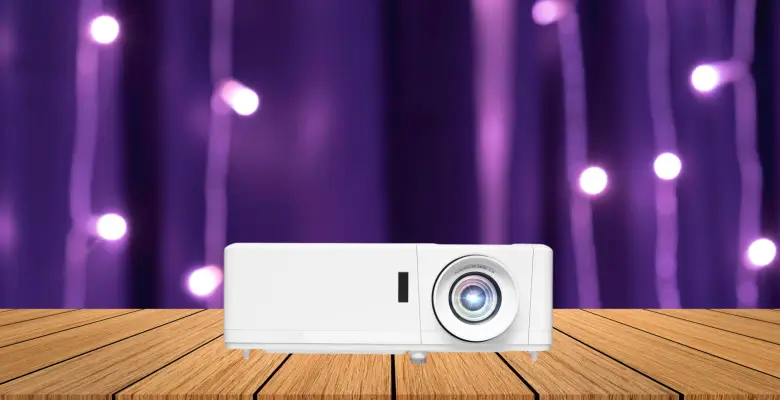 Pros
3x zoom and 30° vertical keystone correction
High contrast ratio
HDR10 and HLG color processing
Supports 4K input
Reliable lamp with long maximum lifespan
Bright enough to use in rooms with ambient light
True 3D content from all sources
Cons
4K content will play in standard HD (1080p)
Built-in speakers are weak
Needs a lot of space to produce a big image
Performance
For home theaters, you'll get the full content support and quality you need. This includes the option for 3D content from Blu-ray, game consoles, or broadcast signals. A 120Hz refresh rate keeps the image smooth in all formats, with no annoying flickering.
That high refresh rate is a good thing for gamers, too. With an input lag as low as 16ms, you won't experience delays even if you're playing graphic intensive, competitive games. You'll enjoy the same high image quality and color accuracy from games as you will from other content, too. Find the top projector options for gamers here
Reliability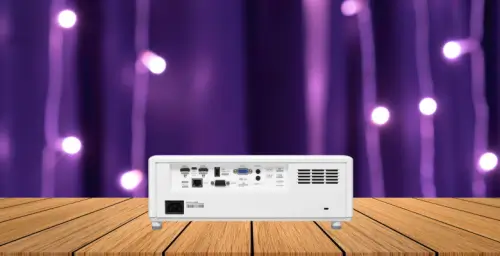 The DuraCore laser light source in the Optoma HZ39HDR requires almost no maintenance. It has a high dust resistance, which cuts down on the need to periodically change the filters to keep it running.
You also won't need to worry about replacing the bulb, the way you would with a lamp-based projector. The light source in the HZ39HDR lasts up to 30,000 hours in Eco mode. Even at higher levels of power use, it lasts around 20,000 hours. That's years of hassle-free, dependable entertainment.
What's the Bottom Line?
At a price of just over a grand, the Optoma HZ39HDR is a fairly affordable way to add a projector to your media room. It's not the best option if you're looking for the ultimate in picture quality, but for most the 1080p resolution will be plenty (>>> Check the price on Amazon).
We also love the versatility of this projector. It's suitable for both watching and gaming and is lightweight enough to either mount or move from room to room. The plug-and-play operation and easy image focusing are why we call it one of the most user-friendly projectors in the price range. Overall, it's a great buy if you're looking for a no-fuss way to add a big screen to your home.
REFERENCES AND FURTHER READING: